Sunday, February 28, 2010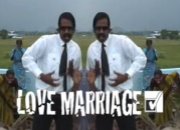 Stop everything! Whatever you're doing, knock it off! Doing the dishes? Let them molder! Feeding your children? Let them scavenge for bugs! Helping earthquake victims? Don't be a chump!
Continuing in the same vein of world music mega-artists such as Ireland's country superstars Crystal Swing, here's Wilbur Sargunaraj with his techno ode to matrimony, "Love Marriage." This jam is the dopest-ass anti-arranged marriage chronic EVER!
You may think I'm joking, but you also think donating money to help Chile is a worthwhile humanitarian endeavor, so you're obviously mentally imbalanced. This video is genuinely awesome. There's auto-tune. That's all you really need to know.
(In all seriousness, you can aid the disaster relief efforts in Chile by donating to The Red Cross.)
More like this story on Lawrence.com