Twelve years into its run, Hot Club of Cowtown is regarded as one of the most globetrotting Western-swing acts on the planet. Comprised of violinist Elana James, guitarist Whit Smith, and bassist Jake Erwin, the trio originally found its niche in the hot-jazz scene and has expanded to include Americana music, vintage pop, and folk. HCOC boasts tours with Bob Dylan and Willie Nelson, and in 2006 they also toured as musical ambassadors for the US State Department and performed in Azerbaijan.
Opener the Heebie Jeebies are a local folk and country duo consisting of Debbie Goldberg and Rick Frydman. With covers spanning Neko Case to Gram Parsons and a few originals peppered in, the Jeebs play songs both familiar and familiar-sounding.
The setup for a Cloud Dog show typically consists of a giant bass drum, some floor toms, cymbals, samplers, keyboards, and assorted percussion devices. Ringleader Jim Dandy and accomplices including Brett Grady and Curt Yazza – often shirtless and smeared in body paint – stir up a tribal ruckus straight from another dimension. The group is a kindred spirit to freaked-out experimental acts like Dan Deacon, Animal Collective, and F*ck Buttons, building songs out of jarring sample juxtapositions and loopy beats. The insanity is held together by addictive rhythms that invite dancing and/or beating on the nearest non-living thing (or living, if he/she is into that sort of thing). Bring a drum and some war paint and you can hop onstage and get in on the action — there are no boundaries at a Cloud Dog show.
Check out our podcast interview with the Cloud Doggers.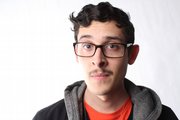 Hybrid Momentss is a monthly dance party hosted by DJ Iggybaby and friends every First Friday at the Taproom. Expect a bit of disco, a bit of house, a bit of boogie, a bit of techno, a bit of hip-hop, a bit more of this, and a ton more of that from the mustachioed deckmaster who also spins at NEON.
And in Kansas City...
No matter the temperature, First Fridays always has the potential to be a bustling social scene. The monthly artwalk showcases dozens of galleries in the Crossroads Art District of Kansas City (neighborhood of 18th and Grand). Besides the opportunity to see new works from KC's finest artists, many galleries offer free food and drink as well as live music. It's a mad scene so arrive early to get a leg up on the crowds.
Download a printer-friendly gallery map.
Musician/comedian Leslie Hall is in development with HBO for her own show based on the surreal spandex-clad personality that she either is or acts like (it's kind of hard to tell). Hall's rapper-posturing character is a farce, but she inhabits it so enthusiastically that it becomes lifelike. She spits rhymes about zombies, gold pants, the film "Willow," and other detritus from the compost heap of pop culture. Throw in a gold spacesuit, cellulite, and some "Stanky Leg" gyrations and you've got yourself an instant internet sensation.


And new in movies...
Me and Orson Welles
"Me and Orson Welles" is a sparkling love letter to a gigantic talent, a romance, a comedy, a drama. Above all it's a tale of puberty, the period between childhood and adulthood for both of its title characters (played by Zac Efron as "Me" and the extraordinary Christian McKay as wunderkind filmmaker Welles), and for America.
More like this story on Lawrence.com