Saturday, January 2, 2010
The high-flyin' Jayhawks are 12-0 and #1 in the country, but if you ask coach Bill Self and the talking heads at ESPN, they ain't done nuthin' yet. That's because the 'Hawks early-season schedule - once thought to be pretty stiff - has turned out to be a walk in the proverbial park (no offense UCLA and Michigan ... ok, actually go ahead and take offense). Cole Aldrich and company will face a much stiffer test when they head into the home court of the 18th-ranked Temple Owls and rebound-machine Lavoy Allen.
Local songwriter Mike Roberts (also of Blue Orleans) is the engine behind headshandsfeat, an acoustic outfit that plays classic country rock and bluegrass. Expect covers from the likes of John Prine, Steve Earle, and The Rolling Stones in addition to a bevy of originals.
Judging by their song content, you wouldn't want to let the women of MAW anywhere near your kids, husbands, or liquor cabinet. The local old-timey quintet sings about drug abuse, adultery, murder, hoboing, opium-smoking, Sterno-drinking, sticking their fingers in babies' eyes, and other unsavory things on their long-in-the-works debut album "Advice for the Young and Foolish." Some of the members hardly knew more than three chords when they started the band three years ago, but they've developed into a slick-pickin' quintet in the tradition of the Carter Family.
Check out our podcast with MAW.
Scenebooster Josh Powers spins rare funk, beautiful soul, and deep disco dance bizness.
The sound of satanic babies being made by Arch Enemy, Carcass, Iron Maiden, Shadows Fall, In Flames, Iced Earth and Death as performed by the shreddingest band in Pittsburg, Kan.
Influenced mostly by older blues and New Orleans jazz, RedLefty has also been known to throw in some western swing, ragtime and even a bit o' klezmer. Their set list ranges from dirty blues-harp boogies to swingin' horn pieces, all done with RedLefty's unique twist.
The Palpitaters are a new local group featuring singer and songwriter Sean McEniry (formerly of Tank Farm and Hellcat Trio), guitarist Chad Bryan, keyboardist Dave Randall, bassist Brad Nichols, and drummer Justin Parr (all except Parr also play in The Ants). The group's donkey-shaking cocktail of Bakersfield country, soul, and R&B; consists mostly of McEniry originals with the occasional Ray Charles or Gram Parsons number peppered in.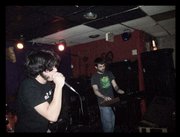 Wrath and Ruin formed in Lawrence in 2007, featuring members from Lash Canino, Jumbo's Killcrane, and Sentient. The group draws from metal, hard rock, industrial, and sci-fi influences while favoring dissonant melodies and haunting soundscapes. Wrath and Ruin is currently recording its debut EP to be released in 2010.
Opener The Melting Point of Bronze is a new local metal and heavy rock band.


And new in movies...
Me and Orson Welles
"Me and Orson Welles" is a sparkling love letter to a gigantic talent, a romance, a comedy, a drama. Above all it's a tale of puberty, the period between childhood and adulthood for both of its title characters (played by Zac Efron as "Me" and the extraordinary Christian McKay as wunderkind filmmaker Welles), and for America.
More like this story on Lawrence.com