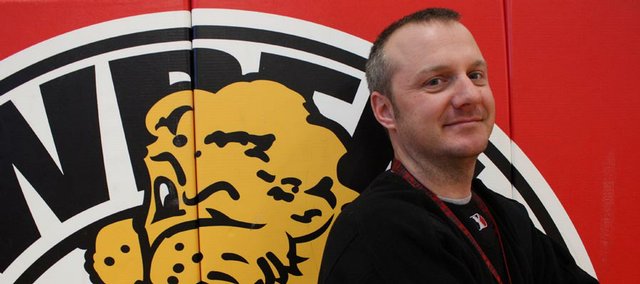 Teachers aren't people. They sleep on cots in their offices, emerging at 8 a.m. with lesson plans and 20-ounce coffees. They don't shop at the same places normal people do, and they surely don't go to rock shows.
That's the running gag Free State High School choir director Hilary Morton plays up with her students — at least until her cover is blown.
"I'll run into them at an all-ages show at The Bottleneck and they're like, 'Mrs. Morton, what are you doing here?' and I'm like, 'What are you doing here?'" Morton says. "Then again, sometimes they really like to see you in public. They're like, 'Oh my gosh, Mrs. Morton drinks milk!'"
For 13 years of elementary education, it's easy to separate the worlds of school and real life. But those worlds soon collide for high school grads who embark on careers as educators — especially when they end up teaching in the same schools they graduated from.
We interviewed four local high school teachers who have experienced the hallways from both sides of the coin to get a sense of the challenges and rewards of being a teacher alumnus. Then they retreated to their bunkers to power down, plug in their battery chargers and sleep on their cots.
Jo Huntsinger, LHS class of 1978
Jo Huntsinger is flipping out.
The excitable professor of anatomy has just discovered a new way to study for finals: Students text their answers, and she projects them on a big screen.
After 27 years on the job, Huntsinger is still finding new ways to be a better teacher. But she'll never learn quite as much as she did as a fresh-faced biology teacher straight out of college.
"I think you learn more your first year of teaching than you can ever comprehend learning in college," she says. "The best advice I ever got about teaching was to give it two years … because if you decided after your first year, you probably wouldn't do it."
Four years after she graduated from LHS, Huntsinger returned to her alma mater as a volleyball coach and science teacher. She still vividly recalls the culture shock of that first year.
"All of a sudden you're this alleged adult," she says. "The people you had as teachers are still here, and all of a sudden they're colleagues. To me, it was still Coach Wells and Mr. Browning ... That was the hardest thing to get used to, because you have so much respect for those people and you don't see yourself on the same level as them. I still don't."
At 24 years of age, Huntsinger was teaching the same classes as longtime career educators who had made biology their life and passion.
"That was extremely intimidating to me," she recalls. "I literally would stay up until 4 a.m. preparing lectures and assignments and labs, because I was comparing myself to them. You can't do that. All you can do is do the best that you can, and understand that you're going to get better."
Brad Stoll, LHS class of 1990
Brad Stoll has a flashback every time he passes the English wing of his old high school.
"That's where I got my dubious nickname that I can't seem to shake," says Stoll, an LHS baseball coach and adaptive education teacher who is known to his students and colleagues as "Sludge."
"My friend Andy Peck just picked up a dictionary and decided that the definition sounded like me," he says. "I don't really think I'm a nasty pile of muddy goo, but when you're in high school a lot of things don't make sense."
For Stoll, returning to LHS to coach baseball made complete sense — especially since he couldn't even make the varsity team while he was a student.
"I was a horrible player at best, but I always knew that I wanted to coach," he says. "There's an old phrase that those who do play and those who can't coach. Well, I was one that couldn't, but I had a huge passion for the game."
Stoll has proven to be a much better coach than a player: he led the Chesty Lions to a state championship in 2009. Though he can't inspire his players with yarns of batting titles and epic home runs from his playing days, he can inspire them with his lifelong passion for LHS sports.
"My Dad started taking me to LHS football and baseball games when I was 5 years old," he says. "We understand that this isn't just about us, it's about our school. If you believe that and the kids believe it, then they buy into it and play for more than themselves."
Stephanie Magnuson, LHS class of 1996
When Stephanie Magnuson walked the halls of LHS as a student, she was always too afraid of her volleyball coaches to get into trouble.
Nowadays, the LHS volleyball coach and math teacher is thankful she doesn't have to dole out punishment for some of the same things her teachers struggled to enforce.
"Attendance is done online now, but when we were here it was a piece of paper on the outside of the door and anyone could walk by and cross their name off," she recalls. "The things that the kids get in trouble for these days are definitely different than what we got in trouble for."
Two of those things are cell phones and iPhones, which are typically off-limits in LHS classrooms.
"My first year teaching I had a no-Walkmans rule," Magnuson says. "Well, they didn't know what a Walkman was, so I had to change that to no iPods."
One thing that hasn't changed at LHS, Magnuson says, is the chatter about how crowded the school is. Magnuson finished out her high school years just as Free State was being built.
"The kids still talk about how crowded the halls are, but back in my day there were a good 500 more kids running around," she says.
Hilary Morton, LHS class of 1998
At Hilary Morton's 10-year high school reunion, she watched in horror as a video showed her chanting "Free State sucks" on graduation day.
Little did she know she'd be directing the FSHS choir program six years later.
"I don't feel the rivalry that much, except when I go back to LHS," Morton says. "There are still some negative feelings from some staff members about the opening of Free State, because it was a big deal. This town is divided."
For her part, Morton is just happy to be teaching in the same town that she came of age in.
"I think people teach in Lawrence because they want to, not because they have to," Morton says. "I thought the world of my high school music teachers, and for me to be in this position now and have some kids look up to me in that way is such an honor and a responsibility."
Morton is now close friends with her former choral director, Cathy Crispino, who helped her make the transition from student to educator.
"As soon as I came back, I felt like I was treated like an adult by a lot of those people who were my teachers," Morton says. "Even those teachers that I was annoying to were happy to see me. I never felt like I was condescended to."
Morton even instituted a teaching technique she learned from Huntsinger, her high-school science teacher.
"If somebody fell asleep, she would make them stand up for the rest of the hour," Morton says. "It works."
More like this story on Lawrence.com