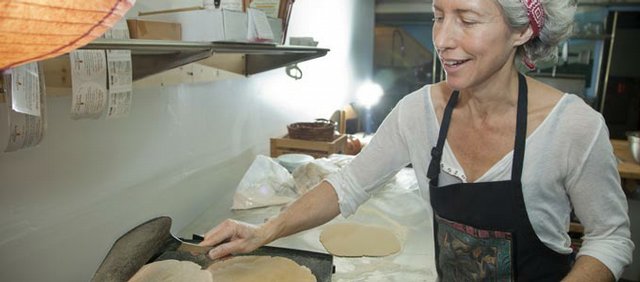 Wednesday, January 6, 2010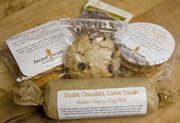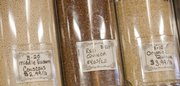 Rice? That is sooooo last century. The latest and greatest in the grain world? Everything that is old is new again.
Some of the world's longest cultivated grains - quinoa, teff, millet and amaranth - are gaining new life one bite at a time.
Long forgotten in favor of popular cereals like wheat and corn, these ancient foods have been rediscovered as light is shed on their nutritious properties by health nuts, foodies and people with gluten intolerance.
"They're ancient grains that have been forgotten about, and we're just trying to give them a little bit more credit and get them on the market again," says Casey Millstein, co-owner of The Casbah Market, which carries the grains in bulk and uses them in its in-store restaurant, Nice Cafe. "They're like super foods, basically."
Indeed, because they're not refined (like white wheat flour) or polished (like white rice), each of the whole grains contain copious amounts of protein, fiber and vitamins and minerals like iron, calcium, magnesium and folate, making them more nutritious than straight rice or the look-alike pasta couscous.
Harnessing the power of those super foods is easy, says Hilary Kass, owner and culinary force behind Ancient Grains Bakery, a Lawrence-based company that uses all the grains to create ready-made foods - flatbreads, cookies, pies and more - appropriate for people on gluten-free diets. She says just boil up water like you would for pasta and put the grains in using a ratio of 3-to-1 water to grain. Cook until fluffy. That's it.
"They can be cooked just like rice," she says.
Kass points out that though the grains are easy to prepare, it wasn't until just a few years ago that they began making their way on to the American table as more and more Americans began to show up with allergies to wheat and gluten, a protein found in wheat products. Kass saw this first-hand as a nutritional educator charged with counseling people with food allergies.
"(Wheat) is a great food, and it's everywhere you go all across the world," Kass says. "But certain people are sensitive to it and possibly, research has shown, more people are becoming sensitive to it."
Though Kass herself isn't sensitive to gluten, she fell in love with the grains for their taste, versatility and nutrition while talking them up to clients. She now incorporates the grains into cooking classes she teaches at the Community Mercantile, 901 S. Iowa, and eats them herself daily.
Also a fan is Hilary Brown, owner of Local Burger, and someone who discovered the grains after she herself went through testing and discovered a gluten sensitivity.
"I was a chef - I made wonderful croissants and crepes and all those types of things, so it was a little startling," Brown says. "But then I felt so empowered to give it a shot."
Brown's experimentation with the grains was so successful that she now uses quinoa and millet as the basis for her restaurant's veggie burger and in a pilaf side dish as well.
Want to give these ancient grains a shot yourself? Here's what you need to know about each tasty type:
Quinoa: The most popular of these "new" old grains, quinoa (pronounced keen-wa) is prized because it is the only food outside of the animal kingdom that contains all of the amino acids necessary to create a complete protein. It is also high in iron and folate. Though they probably weren't aware of its nutritional profile, the Inca considered quinoa to be sacred. The brown grains are actually seeds and have a nutty flavor to them.
"We really like cooking with quinoa, because we're a vegetarian store," Millstein says. "It's a really good source of protein."
Teff: With seeds less than 1 millimeter in diameter, teff, aka téff, tef or taf, is the smallest of these grains, yet there's quite a bit of nutrition packed into each one: A single ounce uncooked provides 12 percent of your daily iron and 129 percent of your daily manganese. It is a critical grain to the African nations of Ethiopia and Eritrea, where is used to make injera, a pancake-like bread. Kass uses teff flour not only to make homemade injera, but also biscotti.
Millet: Heavily used from India north to Russia, millet is a cereal grain that, until recently was most commonly seen in the United States in the form of bird seed (Yep, it's those little grains you see in a bird feeder). But because of its mild flavor, it has been gaining favor outside the bird community for several years now.
"I particularly liked millet because most everyone, including children, will eat it," says Brown of her early forays with these grains. "It doesn't have a flavor to it that's offensive. It's more like rice - it cooks up just like rice. It was so versatile."
Amaranth: This grain is a member of a class of herbs collectively known as amaranthus. The dozens of amaranthus species are noted around the world alternately as cereal grains, leaf vegetables, ornamental plants and weeds. Because it is easily grown (see its status as a weed) and nutritional powerhouse (it has ample calcium, magnesium and folate) it has been proposed as the "crop of the future" - a food that could be easily grown in areas of the world where food security is limited.
Tips for great grains from Hilary Kass
Basic cooking instructions for amaranth, millet, quinoa, teff: Place 3/4 cup of grain in pan with heavy bottom and tight fitting lid. Over medium heat, stir to toast lightly. Shaking the pan back and forth works, too. Grains will begin to pop and smell quite nice.
Carefully add 2 cups water and a pinch of salt. Bring to a boil, stir well, reduce heat, cover, simmer undisturbed until water is gone and grain is tender to your liking.
Check at 20 minutes. Insert fork to bottom — if there is water, replace lid and continue to cook for a few minutes. Sometimes you can just turn it off at this point and let it sit 30-60 minutes and the water will absorb. If it is dry and the grain is still hard pour a little water over the top, replace the lid and continue to cook.
Don't stir the grains until the cooking process is complete. At that point "fluff" by lifting up from the bottom with a fork.
Storage: Place leftover grains in a glass container and refrigerate for 5-7 days.
Morning grains: In the evening, prepare as above but rather than cooking, allow the toasted grain to soak overnight. In the morning, bring to a boil then reduce heat and simmer. They will cook a little faster and some say soaking makes grains more digestible.
Combinations: Mix it up by combining different grains before or after cooking.
Great grains recipes from Hilary Kass
Quick Lemon & Garlic Quinoa Salad
1 cup quinoa, red or white
8 cups water
Pinch of salt
1/2 cup carrots, chopped
1/3 cup parsley, minced
1/4 cup sunflower seeds
2-3 cloves garlic, minced
1/4 cup lemon juice
2 tablespoons olive oil
2 tablespoons tamari or low sodium soy sauce
Rinse quinoa and drain though a fine strainer. Place quinoa is a pan and dry-roast on low heat (about 5-8 minutes). Stir grains constantly until they begin to change color and give off nutty aroma. Bring water to a boil in large pot. Add salt and toasted quinoa to boiling water. Boil 10-12 minutes. Strain.
In a large bowl whisk together the garlic, lemon juice, olive oil and tamari. Add quinoa, carrots, parsley and sunflower seeds. Toss well. Serve at room temperature or chilled.
— Adapted by Hilary Kass from "From Feeding the Whole Family" by Cynthia Lair.
Teff Banana Bread
1/2 cup butter, softened
1/2 cup sugar
1 egg
1 cup mashed ripe banana (about 2 medium)
1/4 teaspoon anise extract
1 3/4 cup teff flour
3/4 teaspoon salt
1/2 teaspoon baking soda
1/2 teaspoon baking powder
1 teaspoon cinnamon
1/2 cup chopped dates
1 cup currants
1/2 cup chopped nuts
Preheat oven to 350.
Cream together butter and sugar until light and fluffy. Add egg and banana. Mix until very smooth.
In another bowl use a whisk to mix the flour, salt, soda, baking powder and cinnamon. Add the dates, currants and nuts and toss.
Add the flour nut mixture to the butter mixture. Mix gently until thoroughly combined. Bake in greased muffin, bread pan or 9-inch tube pan until toothpick inserted comes out clean.
— Recipe from Hilary Kass.
Amaranth Flat Breads
1 cup amaranth
1/3 cup corn flour
1/3 cup water
Optional salt or seasonings
Place flour and water in a small bowl. Mix until smooth. Add more water or flour to make a sticky but manageable dough. Place more flour on the counter. Flour your hands. Remove a piece of dough and place on the floured counter. Press into a disk. Flour a rolling pin and roll until they reach the thickness of a corn tortilla or just use your hands.
Heat a skillet rather hot. Cook either dry or add oil or ghee with a pastry brush.
These freeze well and heat up in a toaster. Recommended preparations include quesadillas, tostadas, as a crust for pizza toppings or slathered in butter and topped with cinnamon sugar.
— Recipe from Hilary Kass.
Millet Cakes
3/4 cup millet cooked in 2 cups water
2/3 cup dates
2/3 cups cashews
Place dates and cashews in the bowl of a food processor or chop finely by hand. Add millet and process just until combined well. Oil hands and make a ball of dough in your hands. Press into a disk about 1/2-inch thick.
Heat a skillet, add oil to cover. Place millet cakes on skillet and cook until brown. Turn and cook the other side.
Serve plain or with toppings like peanut or almond butter and fruit.
Uncooked millet cakes freeze well. Place on a plate and cover with plastic wrap. Thaw slightly and cook as above.
— Recipe from Hilary Kass.
Multi-Grain Wake-Up Bowl
Place a handful per serving of your favorite nuts and seeds in a small pan. Place desired amount of cooked grain over the top. Cook over medium low heat until the nuts/seed brown and the grain is hot. Serve with yogurt and maple syrup. You can also place a chopped apple over the grain and allow it to steam gently. Sprinkle with some cinnamon.
— Recipe from Hilary Kass.