Thursday, January 7, 2010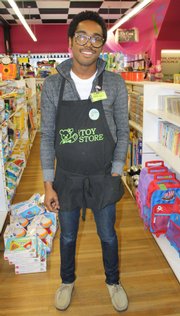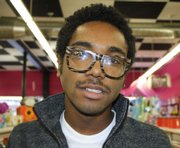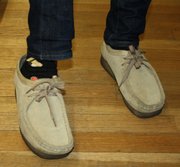 Phil Canty
Age: 22.
Sign: Pisces.
Time in Lawrence: On again, off again since 2005.
Hometown: Topeka.
Occupation: Toy Merchant and DJ.
What were you doing when scouted: Working at the Toy Store.
How would you describe your style: I'd describe my style as a combination of old and new wash-and-wear styles. I'm definitely broke, so that also factors into it, but I don't let that steal my shine. I enjoy heather grey tops and colored socks.
Who are your fashion influences: Yves Saint Laurent, Jamaal Washington, Martinez Hillard and Michael Jackson.
What are your favorite fashion trends: Braces (a term for suspenders), burnout shirts, raw denim and real fur.
What are your least favorite fashion trends: Torn tights, crust punk, New Era fitted caps and false modesty.
What would you like to see more of in Lawrence: Brown people and more girls in suspenders and bow ties. I think unisex is always kind of hot. Mullets on boys and girls. Also, more people in unwashed/raw denim. I'm tired of seeing whiskers and light fades. Lastly, real fur is always dope, despite what might be hip in Lawrence.
What would you like to see less of in Lawrence: I'd like to see less dirty dudes with flannel thinking they're fly and hating frat dudes feeling entitled. I feel like since there are so many like them, they feel like it's hot. Wrong. On the flip side, I'd like to see less people pretending they're being modest. Don't masquerade. Ball out and be proud.
People say I look like: Greg Enemy. That's my partner, but I think we've got a different style going on. I'm Prince, he's Michael.
Do you have any New Year's resolutions: Get famous.
Shirt: Purchased at American Apparel last spring for $16.
Jacket: BDG, purchased at Urban Outfitters, gift from last Christmas.
Jeans: Levi 510 Super Skinnys, purchased at Caliroots in Washington DC a year ago for $64.
Shoes: Clark Wallabees, purchased at the Clarks store in February 2009 for $115.
Glasses: Super Jaquard Ciccio frames purchased a year ago for 144 euros.