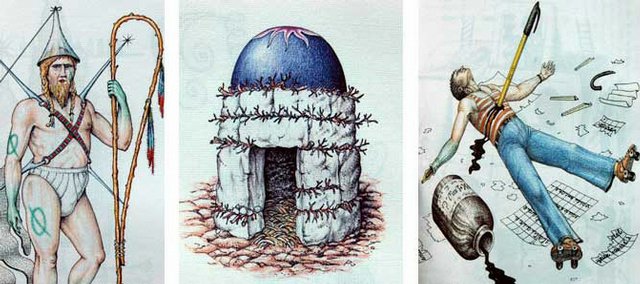 Overwhelmed by the invasiveness of iPhones, MacBooks and Nintendo DS players favored by my family, I vowed to stop the madness. So I determined during the holidays that I would give no gifts that required a power source.
This ban on batteries and cables meant less noise pollution, less reliance on technology and less detached reactions from my zombie-eyed kin. (Not even a Lawrence microburst can stir my 6-year-old when she's face-deep in a game of "Kirby Super Star Ultra.")
The subsequent shopping proved tricky. Most retailers thrive on the fact that Americans depend on their gadgets. It's a bond that grows alarmingly stronger each year. Clearly we've learned no lessons from the "Terminator" flicks.
In order to evade this modern hindrance, I relied heavily on presents that have been serving society well since the 8th century: books.
Kids books, photo books, major novels, minor coffee table time-passers. I dug around various local bookstores and online, eventually locating some awesome finds. But while trying to match the right tome with the right recipient, I came across a site called the Weird Book Room.
The British site claims to be "the finest source of everything that's bizarre, odd and downright weird in books." Never mind that all three of those terms mean basically the same thing, the site delivers on its promise. Where else could I find such titles as "Help! A Bear is Eating Me," "A Stress Analysis of a Strapless Evening Gown" and "The Gangsta Rap Coloring Book"?
The site breaks down its stock into categories such as weird books about animals ("Poop-Eaters: Dung Beetles in the Food Chain").
Weird "how to" books ("How to Survive a Robot Uprising").
Weird photo books ("The Stray Shopping Carts of Eastern North America").
It also spends a great deal of time touting the value of "Codex Seraphinianus," which it dubs the "world's weirdest book."
Painfully hard to describe, this 1981 work by Italian artist Luigi Serafini appears to be an encyclopedia from an alternate universe. Written in its own indecipherable alphabet, the chapters seem to depict the architecture, flora, fauna and machinery of this place, which is not entirely unlike our own. What does it mean when an image of a Disco-era dude lies on the floor wearing roller skates, with a fountain pen instead of a hand, stabbed through the heart with a ballpoint pen, lying next to a giant spilled ink bottle?
Hard to say.
But the book sounds like a perfect gift next Christmas for Uncle Danny ... Weird, weird Uncle Danny.
— Entertainment editor Jon Niccum explores facets of pop culture that have established a unique niche on the Internet in Net Worth. He can be reached at 832-7178.