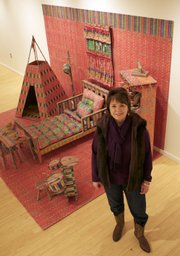 Check out our full preview of this opening. Artist statement: "My pieces are created from vintage fabrics and thrift store finds. The materials express subtle tactile qualities of past experiences and make everyday objects take on a sense of the sacred. Nostalgic sentiments emanate from textures of worn cloth, discarded candy wrappers, dishes, toys, and other found objects from the home. These materials become precious links with those who have handled them."
Tonight's stacked lineup at the Bottleneck features a lineup of heavy acts with an experimental bent, ranging from the berserker electrocore of BaioWolf to the sludgy doom rock of Mansion to the two-piece cacophony of Jabberjosh.
Since we last caught up with them in a parking lot with a handle of Jack Daniels, Lawrence's Rooftop Vigilantes have been mad productive. The group spent a week in Baltimore with producer J. Robbins (of Jawbox and Burning Airlines) recording the follow-up to their debut "Carrot Atlas." Tentatively titled "Real Pony Glue" (an anagram for "Replay Lounge"), the Vigilantes plan to release the record this spring on label they're keeping like a secret. One thing that's not in doubt: it will be packed with high-energy, punk-influenced pop jams that generally make their point and wrap things up by the 1:45 mark.
Check out our podcast interview with the Rooftop crew.
Openers The Yuppies and The Prairies are overdriven garage-punk combos from Omaha.
Mammoth Life's first album "Kaleidoscopic Art Pop" was already completed by the time the seven-piece outfit first hit the stage a couple years ago. What began as a collaboration between Nicholas Goss and Elizabeth Mead has evolved into a friendly collective of musicians, artists, filmmakers, poets and clothing designers who share a headstrong vision to craft cheery chamber-pop music and inject a little more sunshine into this crazy, crazy life. The recently hitched Goss and Mead brought two new songs along for our podcast with them last year, which also features half a dozen cuts of their earlier musics.
Lawrence's Panda Circus is putting the finishing touches on its debut album of "orchestral indie dance pop," tentatively titled "The Panda Magic Happy Fun Show." The Circus's cheery sound takes cues from bands like Beirut and the Decemberists en route to motivating bashful people to dance, or at least smile and bob their heads.
Local boy Rusty Scott hooked up with engineer Chris Crisci (of Old Canes and the Appleseed Cast) to help him produce his debut record. He played all the instruments on it—guitar, drums, banjo, harmonica, etc.—save some trumpet performances by his friend Kyle Robinson, who currently joins him onstage along with members of Ample Branches. Scott's down-home songs toe the line between folk, rock, and bluegrass, working their way into your subconscious with easygoing melodies and old-fashioned instrumentation. Check out our podcast preview of Rusty Scott's latest album.
In what's become a bi-annual tradition, members of Lawrence bands including Log Lady, Vegetable, and Billy the Squirrel pay homage to the ultimate weirdo combo since Captain Beefheart—Dean and Gene Ween.


And new in movies...
The Young Victoria
Emily Blunt shines in the title role as Britain's mighty 19th century monarch, in this deliciously dressed-up protofeminist biopic from director Jean-Marc Vallée. It's a portrait of a young lady taking to power - tentatively at first, but soon with fierce conviction, with relish. And with Rupert Friend as the soulful Prince Albert, at her side.
The Imaginarium of Doctor Parnassus
Director Terry Gilliam has the most uncanny visual imagination in feature films today - and the most slapdash story sense. The late Heath Ledger portrays a shady businessman saved from suicide by Dr. Parnassus, a sideshow mystic who ushers onlookers through a looking glass and into a world reflecting their own imaginations.
More like this story on Lawrence.com