Saturday, January 9, 2010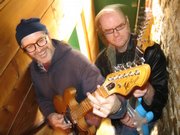 If "The Simpsons" has taught us anything, it's that the model UN is an important part of our school system culture. Thus, a group of bands (or a band of groups) is gathering for an event dubbed the Lawrence High School Model U.N. Benefit. The Eudoras, Bandit Teeth, Harrisonics and The Shebangs will perform, with proceeds going to benefit the cause.
Rising out of the '90s Drum 'n Bass scene, DJ Smoove became a fixture on the underground Breakz circuit in 2001 by DJing with Space Cowboys. These days his signature power-funk Breakz can be heard every weekend all over San Francisco, from underground warehouse parties to his venue residencies. Smoove was voted Best DJ 2008 by the readers of the S.F. Bay Guardian in their annual "Best of the Bay" issue.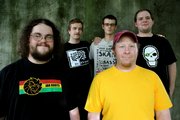 The Irietions (pronounced eye-ray-shuns) bring a mellow vibe to any evening, singing about herbs and positivity with the conviction of Jamaican shamans. These five Lawrencians are already deeply ingrained in the local music community after only two years on the scene. Check out our podcast interview with the band.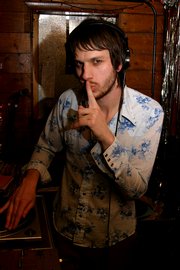 While DJ Gloria Vanderbilt has moved on to bigger and better things, fear not for long time 2nd Saturdays co-host DJ Candlepants is more than capable of "going-it-alone" and keeping the hott waxx on ice. Yes it will be a challenge for him to go to the bathroom from time to time, but don't expect any of the music to change. Fans of soul, funk, '80s, early '90s, hip-hop, and booty bass will find a home in the back (and front?) pocket of DJ Candlepants. If you've ever found yourself singing into a brush while dancing in front of a mirror, imagine that feeling times a thousand. Always ending the night with a slow jam, why go to a Zumba aerobic dance class when you could come dance with Candlepants?
California dwellers A Pack of Wolves rock parties with a two-piece electrorock sound reminiscent of Les Savy Fav and The Faint. The group also enjoys Clydesdale's Horses and getting hammered: a combo that should make for a wild night of entertainment when you figure in openers Starskate and Restless Breed.


And new in movies...
The Young Victoria
Emily Blunt shines in the title role as Britain's mighty 19th century monarch, in this deliciously dressed-up protofeminist biopic from director Jean-Marc Vallée. It's a portrait of a young lady taking to power - tentatively at first, but soon with fierce conviction, with relish. And with Rupert Friend as the soulful Prince Albert, at her side.
The Imaginarium of Doctor Parnassus
Director Terry Gilliam has the most uncanny visual imagination in feature films today - and the most slapdash story sense. The late Heath Ledger portrays a shady businessman saved from suicide by Dr. Parnassus, a sideshow mystic who ushers onlookers through a looking glass and into a world reflecting their own imaginations.
More like this story on Lawrence.com