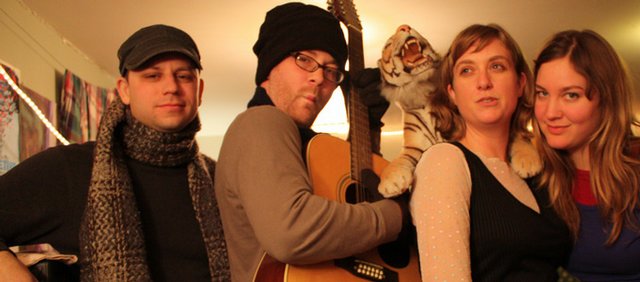 Thursday, January 14, 2010
Album Mp3s

Science is Magic
Past Event
Saturday, January 16, 2010, 10 p.m.
Jackpot Music Hall, 943 Mass., Lawrence
18+ / $5 - $7
Somewhere in the midst of putting on silver tights and a cape prior to a recent show at The Bottleneck, Rani Waugh had a revelation about her band.
"I remember as we were getting ready in the green room I said, 'You know, I always complain that I don't understand why we aren't taken seriously,'" says the keyboardist and singer of The Kinetiks. "I was asking this as we were drawing stuff on our faces with face paint."
The Lawrence act takes silliness seriously when it brings its new-wavey dance rock to local stages. The capes The Kinetiks wore at their record-release show were tailored by guitarist/vocalist Spencer Goertz-Giffen to achieve the ultimate "Gothic superhero" look. One gets the sense that they might have worn red pyramid hats if Devo hadn't already called dibs.
One accessory Goertz-Giffen neglected to sport at that show was sunglasses. She found those to be more useful for a matinee children's show at The Record Bar in Kansas City.
"I remember showing up to the show so hung over that I had to wear sunglasses inside," recalls Goertz-Giffen, who had performed a late show the previous night. "I finally understood why rock musicians wear sunglasses all the time. I had to wear them for the first set, because I couldn't handle the light. But by the second set I'd had a couple drinks and I could tolerate it."
Boys drool
Hung over or not, Goertz-Giffen is one of the better role models in Lawrence for budding young rockers. She teaches guitar lessons at Richard's Music Company, teaching hot licks to teenagers who probably have a much different set of idols than she came of age with.
"My influences were The Breeders and Belly and Juliana Hatfield," Goertz-Giffen says.
"I don't know if it was necessarily because they were female-fronted - I just really liked what they were doing."
The influence of those alt-rock staples as well as '80s icons such as Blondie and Cyndi Lauper is evident on The Kinetiks' second album, "Science Is Magic." The record's quirky hooks and zippy disco beats speak to a musical era when motivating people to dance was the primary objective. (That task is handled splendidly by drummer Jason Kniep and bassist Phil Gratz).
"Our hard and fast rule is keep it fast and short - and awesome," Waugh says. "There have been nights when I've seen some of my friends dancing who will not dance under any other circumstance. That's when I know we've succeeded."
Though she doesn't like to play up the "chicks who rock" angle in regards to her band, Waugh says she sometimes confronts skepticism amongst male counterparts who have yet to hear The Kinetiks.
"When we first started playing, I would tell people I was in a band and the men were like, 'Yeah, but do you rock?'" she says. "I was like, '(Heck) yeah we rock!' Guys just didn't believe it. ... People just thought we were going to be girly and simple."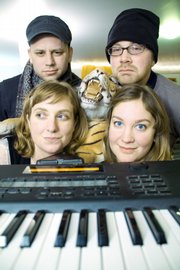 Austin calling
Those doubts have been put to bed time after time during The Kinetiks' four-year run in Lawrence, during which they've released two albums (the first, "Music History," came out in 2007). For "Science Is Magic," the group spent a week in Austin, Texas, recording with producer Stuart Sullivan.
Sullivan - best known for engineering Sublime's self-titled album and The Meat Puppets' "Too High to Die" - says that he was smitten by the group's "really good pop songs with a quirky edge."
"There's a great democracy in the band," Sullivan says. "(The recording session) was so casual and easy, and what came out of it was really spectacular. That speaks to a clarity of vision on their part."
The album's title speaks to The Kinetiks' fascination with sci-fi subject matter on songs such as "Planet Future" and "Chemical Sunset." Waugh coined the phrase, inspired by her experiences as a medical laboratory scientist.
"As a scientist, I find that people don't understand anything, and they think that things just happen magically," she says. "I try to explain to people that when they get their blood drawn it gets sent to the lab and I analyze it. They're so befuddled. ...So I just tell people, 'It's magic - don't worry about it.'"
The Kinetiks appear equally befuddled by the "magic" of the music industry - an ominous entity that they're seemingly not dying to shake hands with.
"We've never even tried to contact any record labels," Goertz-Giffen says.
"It's fear of rejection," Waugh jokingly retorts.
The group hopes to at least outpace the popularity of an Irish band by the same name that broke up last year. The Lawrence Kinetiks occasionally make stray friends on MySpace who think they've befriended the Irish outfit.
"We fall somewhat under the same genre of indie dance-rock," Goertz-Giffen says. "I was in Ireland last fall, and I thought about going and finding them and breaking their arms."
Then again, it's easy to spot a perpetrator in silver tights and a cape.
More like this story on Lawrence.com