Saturday, January 16, 2010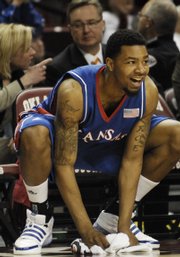 Ahh, that's better. Now that KU is no longer riding on the loser bus, we can all take a deep breath and watch the Big XII season play out. Notable story lines include the emergence of Marcus Morris as an offensive threat (or was that Markieff?), the importance of defined roles on a deep squad, and free-throw shooting that causes unsightly Syracuse flashbacks. But those are minor issues on an awesome team that's gunning for its 52nd straight victory at Allen Fieldhouse. Tonight they'll look to go 2-0 in the Big XII as they take on the 12-4 Texas Tech Red Raiders.
Lawrence's Deadman Flats blur the drunken line between fact and fiction, chronicling the misadventures of everyday boogans and dudes who pick up greeters at Wal-Mart. Only Hutchinson could have spawned such a bass-ackward brand of bluegrass, but only Lawrence could make it sound right at home. The group recently celebrated the release of its second album "Read 'Em and Weep," which ups the ante in both speed and creepiness.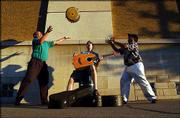 Anybody who thinks Ricky Martin puts on the sexiest Latin music performance has obviously never been to a Son Venezuela show. "There've been the girls that get seduced by the sound of the Latin music and they take it to the next level — sexiness out of control," lead vocalist Kelfel Aqui says. Such is the burden of being Kansas' most prolific Latin dance band. With sellout crowds packing the local clubs it frequents, Son Venezuela performs with enough fire to keep the dance floor burning and enough new material to keep Latin music fans on their toes.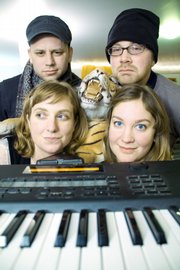 The Kinetiks new album "Science is Magic" is a bricoleur's rock and roll manifesto. Recorded and mixed by Stuart Sullivan (of Meat Puppets fame), the album is a carnival ride of disco, '80s pop-punk, and darker '90s themes. It's a fun, synth-filled distortion fest that channels a Pixies-esque modulation between loud and soft. The melodies are as contagiously idiosyncratic as the music is straightforward — everything centers on Spencer Goertz-Giffen's range of vivid vocal personas and penetrating electric guitar work.
Check out our preview of The Kinetiks' new album.
Read Jason Fox's full review of the new album.
It's been more than a decade since Brody Buster was anointed a harmonica prodigy and dished props from the likes of B.B. King and Jay Leno. Now that he's done grown up, Buster is a decidedly different personality - one who favors rock and roll as much as the blues. His band gigs relentlessly, loosening up crowds with fiery originals and a deep list of covers. Be sure to check out our podcast interview with Brody.


And new in movies...
The Bad Lieutenant: Port of Call - New Orleans
Werner Herzog's film - which shares a title and little else with Abel Ferrara's 1992 "Bad Lieutenant" - about a corrupt, drug-addled cop is a luridly entertaining police noir that boasts a ridiculously entertaining performance from Nicolas Cage. When Cage is good, he is very, very good, but when he is bad, he is even better.
The Book of Eli
A meteorite and a subsequent war 30 years earlier has scorched the earth. Across this charred land strides Eli (Denzel Washington), a mysterious man who carries the last remaining Bible, along with a knife and a shotgun. The Christian theme notwithstanding, the film is really only a sepia-colored, shoot-'em-up Western.