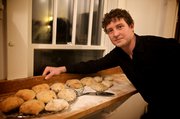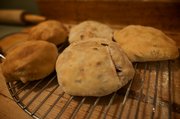 You'd think most Kansans would know about bierocks. After all, Kansas and Nebraska are bastions of America's bierock tradition, and bierocks play a significant role in Kansas' culinary heritage. But say "bierock" to a Kansan, and the general response is silence, or something about the music at a frat party.
So what is a bierock? Like the empanada, the calzone and the Hot Pocket, the bierock, simply put, is a filling encased in pastry.
Academically, a bierock is a cooked filling of chopped or ground meat (almost always beef), chopped onion (yellow, usually), and cabbage (often sauerkraut), wrapped in a bun of sweet, leavened dough and baked until golden--palm-sized, so you can slip a couple in your pocket.
The bierock originated in Russia, known there as pirogi. It spread throughout eastern Europe, constant in form but changing in name. German settlers on the banks of the Volga adopted the pirogi, christened it "bierock" and brought it to the Great Plains in the 1870s, along with red wheat seeds and roots of their beloved peonies.
In Nebraska, the bierock morphed into the runza sandwich, a variant differing in shape (the runza is rectangular), and in the occasional addition of pork and cheese to the filling. Runza restaurants, a Midwestern fast food chain based in Nebraska, sells swiss mushroom and BLT runzas — variations suited to the palates of the latest generation of runza-lovers.
Most bierock-makers stick to the family recipe, in part to honor tradition (nostalgia is a sublime seasoning) but also because making bierocks involves some time and a measure of exactitude, as most bread recipes do.
The baking skills Amina Hilger honed in Mostar, her home in Bosnia, came in handy when she met her husband, Russ Hilger, an information technician at Lawrence Memorial Hospital. "She's a good baker," Hilger says of his wife. "Between us, we make better bierocks."
As a boy, Hilger volunteered with his mother to make thousands of bierocks each year for his church's Oktoberfest fundraiser in Garden City. "We had bierocks for dinner every other week when I was a kid," Hilger says. Now, the Hilgers make bierocks a couple of times a year.
The Hilgers' recipe, handed down from Russ' Austrian-German grandmother, produces a classic bierock: hefty and thick-doughed, filled with ground beef, onion and a mixture of cabbage and kraut. "Serve them warm, with lots of butter, and that's all you need," Russ Hilger says.
But where would our world be without rebels and innovators?
"Grandma was appalled I changed her mother's recipe," confesses Ian Spomer, a partner in Artocrats, a Lawrence-based Internet art brokerage. Spomer, who learned to make bierocks at his grandmother's knee, now makes a batch two or three times a year, 120 at a time. "They freeze great," he says.
In truth, Spomer's changes aren't that drastic. He uses red cabbage in addition to green, and adds red and white onions to the yellow. He flouts convention by not wilting his cabbage beforehand — it goes into the filling raw. "I like some snap, not mush," he says.
Spomer's bierocks are larger than the standard, nearly big enough to fill a salad plate, and he rolls his dough thin for a crisper crust. But he's a stickler for tradition on two points: He uses lean ground beef, and his bierocks are served hot from the oven. "When the bierocks come out, you'd better be ready to eat," he says.
At the table, Spomer cuts a slit in the top of each bierock and drops in a pat of butter. "Some people give it a squirt of mustard," he notes.
Bierocks pair best with beer, ideally something chewy and dark. Spomer also serves up sausages — bratwurst or knockwurst — extra kraut, and coarse mustard at his bierock feeds. "The average person eats two or three of my bierocks at a sitting," he says. "A couple more beers, then a fourth."
The Hilger family recipe
For the dough:
1/4 cup active dry yeast
2 2/3 cups warm water
2/3 cup granulated sugar
2 sticks (8 ozs) oleo or butter
9 1/3 cups flour
2/3 cup dry milk
1 teaspoon salt
Combine yeast and sugar in warm water until dissolved. Add oleo or butter, then flour, dry milk and salt. Mix dough well, knead until smooth (about 10 minutes), and let rise until doubled.
For the filling:
5 pounds ground beef
1 head cabbage, chopped (about 12 cups)
1 large can sauerkraut (about 21/2 cups)
1 large onion, diced
Brown and drain ground beef. Add cabbage, onion and salt and pepper to taste.
Cook slowly until cabbage and onion are tender. Remove mixture from heat and stir in sauerkraut. Cool.
Baking:
Portion dough into 3-ounce balls. Roll out flat (about 1/4 inch thickness).
Place 1/2 cup of meat mixture in the center of each, pull corners of dough over filling and pinch together.
Place seam side down on baking sheet and let rise for 20 minutes. Bake at 350-375 degrees for 20 minutes until browned.
Remove from oven and brush with butter. Makes about four dozen.
Ian Spomer's Bierocks
For the dough:
1 pkg (1/4 ounce) active dry yeast*
1/2 tsp sugar
1/2 cup warm water
1/2 cup shortening
1/2 cup sugar
1 egg, beaten
1 1/2 teaspoons salt
1 cup water, boiling
1 cup milk
7 cups unbleached flour
For the filling:
1 pound lean ground beef
1 good sized onion (equal parts red, white and yellow onion), medium dice (a generous cup)
1 large head of cabbage (3 parts green cabbage, 2 parts red), cut in 2-inch squares (about 9 cups)
1/2 cup sauerkraut, or to taste
salt and pepper
Method:
Dissolve yeast and 1/2 teaspoon sugar in warm water.

Combine boiling water with milk. Cool to lukewarm.

Add 3 1/2 cups flour, salt, sugar, shortening, egg and yeast mixture to milk mixture. Combine thoroughly by hand.

Add remaining 3 1/2 cups flour. Knead by hand for 15 minutes, turning and folding, until smooth.

Let rise in the refrigerator for at least an hour, and up to three hours.

While dough is rising, brown ground beef. Combine beef with raw onion and cabbage. Add sauerkraut, and salt and pepper to taste. Reserve filling at room temperature.

When dough is risen, roll into large sheets1/8" thick. Cut into 6-8" squares.
Place a handful of filling (about 1/4 cup) in the center of each square. Fold each corner of the square snugly over center of filling and pinch tightly to seal.
Place bierock seam-side down on a floured surface while you assemble the remainder.

Place bierocks on greased baking sheet about one inch apart. Bake at 350 degrees for 25 min until tops are golden brown.
*While Spomer's yeast measurement seems low for the volume of flour used, it accounts for the crispiness of his bierocks.