Photo Gallery
23rd annual Martin Luther King Chili Feed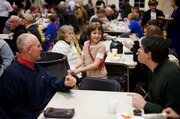 Concerns about New York School's closure helped draw more than 400 people to the school's 23rd annual Martin Luther King Chili Feed, which was Tuesday.
Nicole Allensworth, the school's PTO president, says a cross-section of Lawrence's community attended the event as well as Lawrence school district staff, including school Supt. Rick Doll.
"I was amazed at all the community support," Allensworth says. "A lot of it came from the school closure talks."
The district needs to cut another $3 million to make up budget shortfalls from the state for this school year.
Allensworth touts the teacher-student ratio at New York School, 936 N.Y., as well as the site's historic significance and use as a meeting space for organizations like the East Lawrence Neighborhood Association and St. Luke AME Church.
"I hope it showed Dr. Doll what big community support we have," she adds.
The St. Luke AME Choir gave a performance at the event, where children and adults danced to music during dinner.
"We had east Lawrence people there, west Lawrence people ... we had everyone. It was a great turnout and great support for us as a school," Allensworth says.