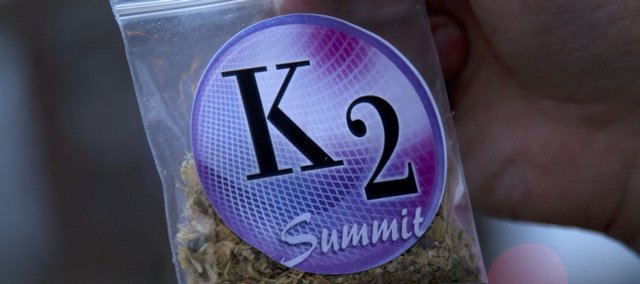 Tuesday, January 19, 2010
Topeka — Users and sellers of K2 pushed back Tuesday on attempts to ban the chemicals in the herbal mixture that some say produces a marijuana-like high.
"This is really about, 'we don't like people getting high,' " said Robert Bussinger of Lawrence, who said he used K2 before speaking to the House Corrections and Juvenile Justice Committee.
The committee took no action on House Bill 2411, but Chairwoman Pat Colloton, R-Leawood, indicated the panel would recommend approval of the bill next week. The full Senate is expected to debate a similar measure on Thursday.
The bills would make illegal two chemicals found in K2; JWH-018 and JWH-073, which are called synthetic cannabinoids.
K2 is sold as incense but law enforcement officials say it is being smoked as a legal substitute for marijuana. Law officials from Douglas County and other jurisdictions say it is becoming more widely used among young people, and they said they fear it may have harmful long-term effects.
Janine Gracy, director of the Regional Prevention Center, which provides substance abuse prevention programs in Johnson, Leavenworth and Miami counties, said she has heard of young people driving to Lawrence and purchasing K2.
"Their perception was altered. Driving their car on K-10, high as a kite, they could have killed someone on their path," she said.
But John Knox, an attorney representing the Sacred Journey, an herbal shop in Lawrence that sells K2, said the product shouldn't be prohibited because some may misuse it.
"There are lots of drugs that can be used to get a high, including alcohol," Knox said. "We know alcohol causes lots of deaths, we don't make it illegal."
He said there are no studies that show K2 has any detrimental health effects, and no other state nor the federal government has made the chemicals illegal. Sacred Journey, he said, refuses to sell K2 to anyone under age 18.
Hudson Luce, a patent attorney who practices in Lawrence, said the two chemical compounds have the potential to be used in treating a host of diseases and ailments, but that research would dry up if they were made illegal.
State Rep. Lance Kinzer, R-Olathe, asked Luce if the chemicals should be available for high school students to smoke. Luce replied, "I don't think high school kids should smoke anything."
State Rep. Stan Frownfelter, D-Kansas City, said the issue reminded him of when people realized model glue was being misused by people to get high.
"Do we outlaw everything? People have to be responsible for their own actions," he said.
Bussinger, the Lawrence resident who said he used K2, said he feared that prohibiting the product "would make lots of law-abiding people, criminals."
More like this story on Lawrence.com