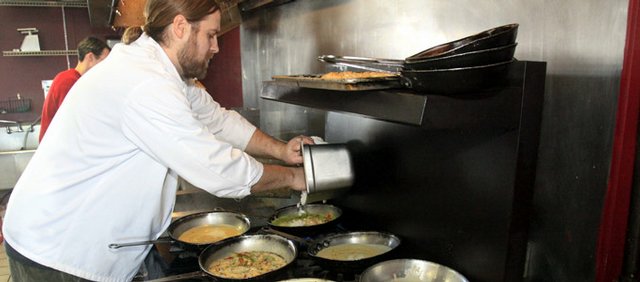 Wednesday, January 20, 2010
There are many places in Lawrence perfect for pumping gas. And most of them serve up something edible. But if your stomach craves a fill-up on the fancy side of the typical gas-n-go type fare, there's only one place in Lawrence to leave with both your tummy and tank topped off: Phillips 66 Gas Station at 3300 W. Sixth St.
Or, more specifically, the restaurant inside: Basil Leaf Café. Just a handful of tables and a closet-sized kitchen, the cozy Basil Leaf is serving up high-quality Italian food in the strangest of boxes.
Of course, chef Bradley Walters says his dream wasn't to open up a restaurant in a gas station. But getting started in this economy meant thinking small, in this case, really small: five tables.
"My dream's to be in Mass. Street but it's hard to find a place you don't have to dump a quarter of a million dollars into (it to) get going," says Walters, who co-owns the Basil Leaf with Jason Carter. "So, this came along and we were just like, it's a good opportunity, the overhead's low, it seems like it's launched a few establishments around town already, so maybe it'll be what we need to jump in, get our feet wet, start small, learn the ropes of opening a small business and then grow and go on from there."
Restaurant incubator
Indeed, the pocket-sized space has been the springboard for some popular locally owned restaurants in Lawrence. In the past five years, both Tortas Jalisco and Biemer's BBQ have moved from the gas station space into larger, free-standing restaurants at 534 Frontier Road and 2120 W. Ninth St., respectively.
Biemer's owner Jim Biemick, says he decided to use the gas station as a jumping-off point between his former mobile catering business and a big restaurant. He says building up a client base at the gas station was integral to the success he's had in his new restaurant, which opened in September 2008.
"Mine was just a stair-step, instead of just jumping into a big building and saying, 'God, I hope this works,'" he says, adding that starting small did, indeed, end up working for him. "The customers I had there at the gas station, I'd say 95 percent of them followed me, and the 5 percent that didn't, they lived at Boardwalk (Apartments nearby) and they walked to and from every place and this is a little further to walk."
After Biemick moved, he left open a space that the gas station's newly minted landlords, Shawnee eye doctors Marc Whitacre and Erica Farmer, leased to previous renter Angel Alvarez for an off-shoot of his restaurant Tortas Jalisco, which is located just behind the station. Alvarez eventually decided to fold the short-lived satellite operation, and the landlords chose to take their time to fill the space - avoiding suitors who didn't seem totally committed or who were interested in serving concession stand-style fast food.
"It's not that we weren't ... totally opposed to that, it's just that we were hoping to kind of team up with someone who was a little bit more professional and had a lot of experience behind him and that kind of thing and Brad, definitely has," Farmer says. "It's kind of amazing to me to walk in there at 7 or 8 o'clock at night and see him in a chef's outfit in a convenience store."
Interaction
And unless you use the drive-thru, if you patronize Basil Leaf, you'll probably get more than a glimpse of Walters in his chef's coat. He often goes out to tables, talking with the customers and getting a point of view - the customers' - that Carter says they never were able to get while working back in the kitchen of big restaurants. (The pair met while working at the former J.B. Stout's in west Lawrence.)
"Here, it's real personal and they really speak their mind about it, a lot of them do," Carter says. "Some people might come in every day (at J.B. Stout's), but we never know that in a big place. But here, we've had people three times in one day. And you know they definitely love it. And new people, we'll get one day and the next day they'll be back."
And those repeat customers aren't eating just the same old, same old pasta with red sauce, because for what the Basil Leaf lacks in physical size or fanciness, it makes up for in a menu that includes everything from breakfast lasagna to warm red cabbage salad to more than a dozen complex pasta dishes, including handmade specials such as gnocchi.
Repeat customer Danny Williams likes to describe the Basil Leaf to friends this way: "I like to tell them that it is incredibly delicious and creative Italian and breakfast cuisine that will lead you to believe you have just left an exquisite restaurant not just a little location inside of a gas station."
Walters and Carter, both career restaurant folks with 35 years combined experience, manage to also make made-to-order food for customers with special dietary needs, as well as cater large events out of the little space that seems more like Mary Poppins' bag than a commercial kitchen.
One event the team has done was an end-of-season banquet for the Lawrence High girls' volleyball team.
"The food was amazing, the portions were generous, and Brad himself came to the school and set everything up for us," says volleyball coach Stephanie Magnuson. "We chose macaroni and cheese, spaghetti and meatballs, chicken alfredo, salad and breadsticks. All of it was a hit."
The Basil Leaf has been so popular with customers Megan Boyd and Kandy Jones, that both have put up the menu in the break rooms at work and urged coworkers and family to drive there, which for Jones means from Lee's Summit, Mo. Customer Christopher Watts goes a step further, making a point of picking it up for business meetings and surprising the uninitiated.
"The Basil Leaf is really interesting and I'm a foodie," Watts says. "I'll spend a lot of money on the meal, but to have this, kind of like Italian fusion comfort food ... we're really pleased that he's there."