Thursday, January 21, 2010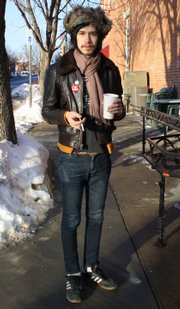 Jim Dandy
Age: 23.
Sign: Sagittarius.
Time in Lawrence: I've been in and out of Lawrence since 2005. I moved back here last year from South Dakota with my wife and kid.
Hometown: Nashville.
Occupation: I have three jobs right now. I work at Milton's, The Cave at the Oread Inn and The Bourgeois Pig.
What were you doing when scouted: Wiping down woodwork at the Pig.
How would you describe your style: I guess it's kind of thrown together. I like to look nice and be presentable yet characterize myself by my appearance.
What are your favorite fashion trends: Sunglasses when it's bright, gloves, face paint, feathers and glow-in-the-dark things.
What are your least favorite fashion trends: Wet socks and cold feet. When people are in groups together and all look exactly the same. Seeing people come out of Brothers wearing shorts or a short skirt when it's freezing outside. It doesn't make any sense. It's more funny than anything.
What would you like to see more of in Lawrence: I would like to see the music scene grow like it was before. Lawrence was a huge spot in the '90s, and it has slowed down. There's still a lot of good stuff going on like Chomp Womp. I'd like to see more things like that.
What would you like to see less of in Lawrence: Robberies at gunpoint. A lot of my friends have had guns pulled on them. And I'd like to see the snow disappear.
People say I look like: People say Keanu Reeves, but I don't see it. One guy at the Cave told me I look like Justin Long, the Mac Guy. He was really drunk.
Tell us a secret: I don't really have any secrets. I usually wear my heart on my sleeve.
Scarf: Merona, found at friends' house last October.
Jacket: Chess King, purchased at Wild Man Vintage two years ago.
Shirt: Vintage, purchased at Wild Man Vintage one year ago.
Jeans: Purchased at Urban Outfitters last October.
Shoes: Adidas, purchased at Savers in Sioux Falls, S.D., two years ago.
Hat: Purchased in Vermillion, S.D., last October.
More like this story on Lawrence.com