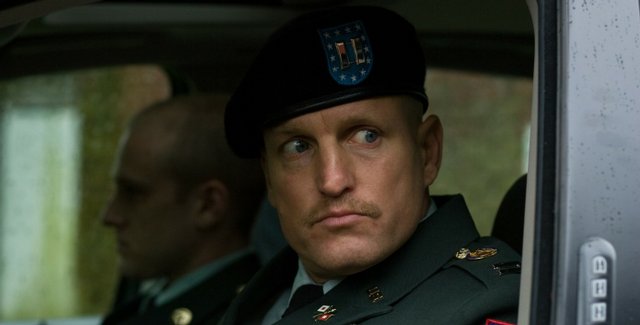 Movie
Messenger
****

Ben Foster and Woody Harrelson portray Army Casualty Notification officers, delivering tragic news to everyday New Jersey families within 24 hours of the soldier's death. This is a poignant war movie, but it's also a buddy movie with a difference. The characters grow in ways that surprise us while remaining consistent with their natures.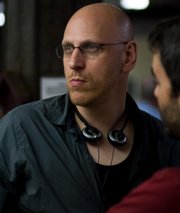 Audio clip
Oren Moverman on the most surprising aspect of directing his own script
It's been a good year in Hollywood for Israeli directors named Oren.
First, Oren Peli eclipsed $100 million at the box office with his lo-fi horror effort, "Paranormal Activity." Now, Oren Moverman has enjoyed a batch of honors from the Golden Globes to the Independent Spirit Awards for his filmmaking debut, "The Messenger."
The potent drama, which opens today in Lawrence, stars Ben Foster and Woody Harrelson as officers who are assigned to the Army's Casualty Notification service. Tasked with conveying the tragic news to the loved ones of slain soldiers, the brunt of their duty begins to shape the men in moving and surprising ways.
"There were a lot of days that were very intense — a lot of crying and hugging," writer-director Moverman recalls of the shoot.
The Israeli-born Moverman (who co-wrote the feature with Italian-born Alessandro Camon) has been active in Hollywood for a decade through scripts such as "I'm Not There" and "Jesus' Son." His next project is an adaptation of "Queer" by the late Lawrence author William S. Burroughs. (The film will be directed by Steve Buscemi, who also stars in "The Messenger.")
Moverman spoke with the Journal-World about the challenges of bringing "The Messenger" to the screen.
Q: How did your experience in the Israeli military influence the script?
A: It didn't really influence the script that much. But it influenced the directing in the sense that I felt I understood the emotional landscape of a combat soldier, and I felt I could communicate that to the actors. There's nothing in the script that's from my personal experience. It's really more in the preparation in discussing the world of the military and that thing we call in the movie "coming back from another planet."
Q: Did you see a lot of combat in the military?
A: Not really. I was part of the occupation of Lebanon and the occupation of Palestine. I saw certain things, but I wasn't in a classic battlefield. There were incidents here and there, but it was not one campaign.
Q: I inadvertently watched "The Hurt Locker" and "The Messenger" on consecutive nights. Could you view these stories as companion pieces?
A: They're definitely parallel in terms of what's going on. "The Messenger" doesn't have any scenes from the war zone. But it has all these emotional battle scenes. "The Hurt Locker" is very intense and gripping when caring for the lives of the people that you see. But every time somebody gets blown up in "The Hurt Locker," there's a notification going on within 24 hours.
Q: Did you have much interaction with actual notification officers when you were writing the project?
A: We spoke with a few in the script stage. As we got closer to production, the Army came onboard to support the film and gave us access to people. We talked to a whole lot of people who had combat experience and casualty notification experience. To a man, every single one of them said, "I'd rather be in combat than go to a family and tell them their loved one is not coming back."
Q: Was the Army pleased with how the project turned out?
A: We have no official Army policy about the movie. But we spoke to a lot of retired and active-duty Army guys. We had very strong emotional reactions to the film. I don't want to be presumptuous, but I haven't heard from soldiers who hated the movie. ... But it's also a generational thing. A lot of Vietnam vets really claim it as their own. They really connect with it immediately. Then a lot of guys who are coming back from Iraq or Afghanistan, it's a lot harder for them to see this movie. And when they do, the ones we spoke to are just grateful that the portrayal of the soldiers in the movie is respectful and attuned to the problems they're dealing with right now.
Q: What's the most unusual reaction you've received from a viewer of your film?
A: What happens quite often is that people want to tell you a story. It's usually something that happened to them — it's not necessarily about the movie either. It's really about grief. We all get notified in life. We all get bad news about someone we know who we've lost. People connect to the movie emotionally.
Q: Was the Christian fish symbol shape of the scar on Ben Foster's eye intentional?
A: Yes. It's interesting because very few people have picked up on that. I really appreciate you noticing.
Q: Do you consider this a patriotic film?
A: Patriotic? That's a very dangerous word because that's a much-abused word. If patriotism means loving one's country, then sure. It's made by people who love this country — myself and Alessandro are both immigrants, and we came to this country because we like this country a lot. This movie came out of caring, not out of being an exposé. In many ways, this movie is very loving of soldiers. It doesn't take its patriotism as political, which many people abuse that term to that end. There are no politics in this movie. No right wing patriotism or left wing patriotism. It's a movie that takes an "in war" perspective, not anti-war or pro-war. It's people who are associated with the war in a personal way.
Q: Are you both American citizens now?
A: Yes we are. Totally legal.
Q: Since you've been working on the Burroughs adaptation of "Queer," have you been to Lawrence?
A: No, I never made it out there. But James Grauerholz (the personal secretary and longtime companion of Burroughs) is someone I work closely with in doing the adaptation. Obviously, Lawrence holds a dear place in my heart. I hope to make it out there one day. Burroughs is so associated with that. The first thing that comes to mind is Lawrence, Kansas, when I think of Burroughs.
Q: Did you attend Sunday's Golden Globes?
A: I did attend the Golden Globes. It was funny. It's always a surreal thing to be in a room that has so many interesting, talented, quirky people. Also, it's a show that includes lots of eating and drinking. People are in a good mood and a little looser than at other awards shows. It was fun.
Q: Are you anticipating any Oscar nominations for "The Messenger"?
A: I'm wishing for more people to see this movie and talk about it and get something from it. If it so happens that it moves through that world, I'm not going to complain.
EDITOR'S NOTE: Oren Moverman and Alessandro Camon were nominated Feb. 2 for an Oscar in the Best Original Screenplay category.