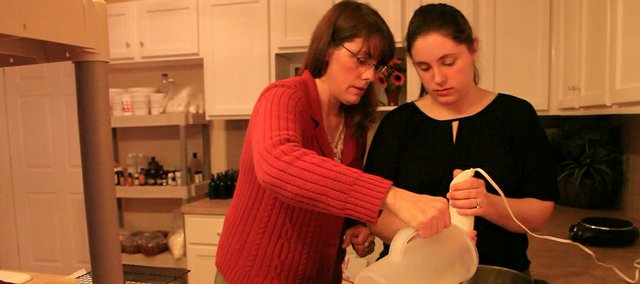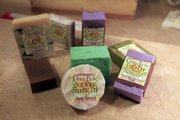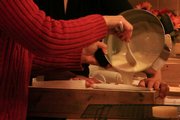 For more than 20 years, Kathy Richards perfected her hobby of making soaps and lotions, mixing all kinds of different natural ingredients. Eventually the products overflowed the house, and a business was born.
"When you like doing something, especially making soap, you wind up with too much of it," Richards says. "Since I like making it, there's only so much you can give away before you realize you can sell it instead of having it piled up around my house."
Richards started her Internet business, PrairieBellaSoaps.com, about six months ago after her daughter and sister encouraged her to offer her products, which now include soaps, body and shaving lotions and lip balm, to a larger clientele.
Richards says she made her first patch of an old-fashioned lye-based soap more than two decades ago. Since then, Richards, who lived in Lawrence for a while and still works here as a residential housekeeper a couple days a week, has spent much of her free time working with natural ingredients and scents like oatmeal, various clays and even cacao beans.
"I spent hours creating different recipes of my own," she says. "I wanted a real moisturizing soap, and I wanted one that wouldn't be dry, and I wanted one as natural as possible."
While Richards buys many of her ingredients at local grocery stores or online, some of her ingredients like vanilla beans and coffee and several different wrapping papers come from her sister in Hawaii.
Richards has always lived an organic, natural lifestyle. She now lives on 40 acres in the small town of Denison — about an hour northwest of Lawrence — and raises free-range chickens and cattle. She grows an annual garden and even uses all-natural cleaning products at her job in Lawrence.
Richards is not a trendsetter for this type of lifestyle in the surrounding community. She thinks customers in the area will be very attracted to a natural, local soap and lotion alternative.
"This area's actually pretty good for people that want more natural products without a lot of processing and in this area there seems to be lot of people who want to buy locally made products on a smaller scale as opposed to a corporation," she says.
Richards' daughter, Jessica Selleck, encouraged her mother to start a business after literally growing up around the soaps and lotions for much of her life.
"They are very moisturizing and they don't cause a lot of irritation, which I have really sensitive skin myself, and a lot of different soaps and lotions will irritate my skin more than it helps," Selleck says.
She also agreed that her mother's products should fit a niche in the local, natural market in the area.
"I personally am really big into keeping business in the community as much as possible, and with a product like that that's not too expensive I think that's really good for the community," Selleck says.