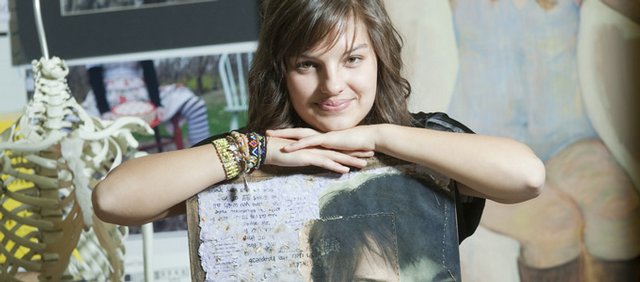 Tuesday, January 26, 2010
ArtStar
The ArtStar program, co-sponsored by Jayhawk Dental and The World Company, recognizes seniors in Lawrence high schools who demonstrate outstanding achievement in the fine arts. Honorees also must excel academically.
Nine monthly winners (September-May) will be selected via nomination by fine arts teachers and featured in the Journal-World and on 6News.
An overall winner will be chosen from among those and designated ArtStar of the Year. The annual award will come with a scholarship.
For more information, contact Jon Niccum, Journal-World entertainment editor, at jniccum@ljworld.com or 832-7178.
In most cases, Lawrence High School art teacher Angelia Perkins tells students who want to graduate early that it's the worst idea she's ever heard. But when Carlin Francis decided she would be done with high school after the first semester, Perkins knew only good work would come of it.
"She is doing more work in her art than she ever did before, and there's nobody telling her to do it," Perkins says.
Francis grew up in an artistic household. Her mother is an artist, and it's been a way of life.
"We've had an art table in our house since before I could walk," Francis says. "I've always done it, and it's definitely what I want to do."
All that creativity led to an artful high school career. Francis is the ArtStar for January. The award is sponsored by Jayhawk Dental and The World Company.
Francis has dabbled in just about every type of art there is to work with. She draws. She paints. She takes photos. She can do it all. And her well-rounded abilities inspired Perkins to nominate Francis.
"I think she's more of an idea person," Perkins says. "She has these really strong ideas and concepts, and really whatever media you put in front of her, she utilizes that media to get her message across."
Even though Francis practically grew up with a paintbrush in one hand and a pencil in the other, she didn't discover photography until high school, but soon found an affinity for snapping pictures.
"I love that now," Francis says.
And her love of photos led her to mixed-media artistic endeavors since she can't choose a favorite type of art to stick with.
"I've just put them all together because I can't choose one. I'm working a lot with mixed-media stuff now because I can use a little bit of everything," she says.
Francis is technically a Lawrence High graduate ("I needed to be done with high school," she says) but is still working hard putting together her portfolio and trying to snap up some internships before her college career begins.
And Perkins is impressed with Francis' ability to function as a real working artist.
"For her to really be able to have the opportunity to not be at school, not have a job and be able to 24/7 concentrate on her art, I think that's something that all of us who are artists would love to do," Perkins says. "She really is like a working artist. She is not like a student."
While Francis excelled at just about every art she tried, Perkins says her best assignments were those involving an aspect of self-portraiture.
"There's not a whole lot of high school students that can look at themselves objectively," Perkins says. "She's really able to explore everything that's within her mind."
Francis reveals her piles of journals and books filled with mini-pieces of art are her way of communicating with the world.
"It's my way of thinking," Francis says. "That's my diary or that's my way of talking. This is just how I think, but visually. It's just relieving."
As a sophomore, Francis was a finalist in the "Kansans ... As Talented As You Think!" competition sponsored by Native Sons and Daughters. She also attended a pre-college program with a full scholarship at the Columbus College of Art & Design in Columbus, Ohio, last fall and focused on fashion design.
Columbus is one place on her list of potential colleges.
"I've applied to all art schools. They're New York City and Boston, Columbus and Milwaukee," Francis says. "A lot of schools offer visual critical studies or a humanities art history course along with studio art. I don't want to give up liberal arts all together. I want to do both of them together at the same time."
It's no surprise she wants to mix college curriculum like she mixes her art forms. But Perkins thinks no matter what Francis chooses to do in life, she will be creative, and she'll think outside drawn lines.
"She's really able to take multiple solutions to a problem," Perkins says. "It will be something creative, but it could be anything. Nothing's really going to stop her."
As for her future, while she's a little concerned about being labeled a starving artist, Francis can't imagine doing anything else.
"It'll be worth it," she says.