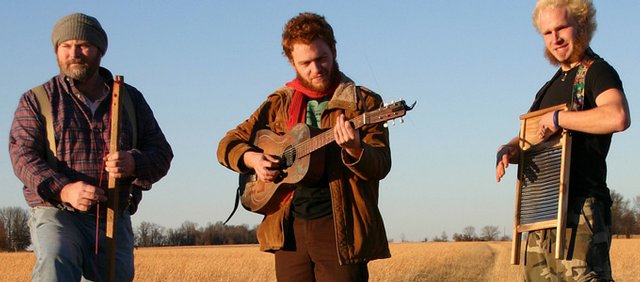 Past Event
Friday, January 29, 2010, 9 p.m.
Bottleneck, 737 New Hampshire, Lawrence
All ages / $8
Ben Miller went down to the crossroads, but he didn't sell his soul.
Five years ago, the itinerant folk-blues musician went on a pilgrimage through the Deep South to play impromptu gigs at every little juke joint and greasy spoon that would allow it. He blazed a trail through Oklahoma, Arkansas, Louisiana and Mississippi that brought to life the dusty blues music he had only previously experienced via the crackle of remastered 78s.
"I had to go there to understand it in the way I wanted to," Miller says. "Just to see how hot and humid it was, what people walk like and talk like, what kind of bugs were in the air, what kind of food they ate - all these things that flesh out this picture I have of the music that I really loved."
The trip was a leap of faith for Miller, who had spent the previous two years stocking shelves at a small-town Oklahoma Wal-Mart and taking care of his stroke-addled father.
"A friend of mine that I had known in Germany wanted to come to America and go to the Mississippi Delta to hear the music that both of us loved," says Miller, who is now based in Joplin, Mo. "I said, 'Well, if you get a plane ticket and come here, then I'll quit my job and we'll go down there and see if we can play as many places as we can on a shoestring.' We did, and I've never really looked back. I've made more money doing this (than working at Wal-Mart) and been hugely more satisfied."
Miller time
When Ben Miller sings about the hardships he encountered stocking shelves, it sounds only a couple of generations removed from old tenant farmers lamenting their plight.
Miller's melting-pot take on "homespun, homemade people music" begins with Charlie Patton and Bukka White and runs all the way though Nirvana and Beck. He's been known to pull "Heart-Shaped Box" out of his back pocket when the occasion strikes, though his version is built on minor-key Appalachian banjo frailing.
"I hate that word 'cover,' because I don't think what we're doing is covers," Miller says. "They're just good songs that I'm playing my way. I'm not in any way trying to make them sound like the original; I just think that they're what the people need to hear at that moment."
There are no set lists when Miller rolls through town with his band mates Doug Dicharry (on drums, washboard and trombone) and Scott Leeper (on washtub bass). The trio has been a frequent visitor to Lawrence ever since Miller settled in Joplin four years ago.
The well-traveled vagabond never expected to be in one place for that long, but he's found a degree of comfort in cheap Midwestern living and constant touring across a four-state area. Living out of a van is nothing new for Miller, who enjoyed a similar lifestyle while traveling up and down the coasts in his early 20s.
"I think it's a really decent way to live," says Miller, now 30. "People will look down on you for not having a home, but I thought it was the cleanest way to live, and it made me happy. I didn't consume very much, and I had a lot of freedom. It had its challenges, but challenges are wonderful things if you're doing something that you really like doing."
In fact, it was a challenging situation that brought Miller to the blues. He followed a lover to Sweden, and since he couldn't understand the language, he shunned TV and learned how to play the blues.
"I just listened to CDs and played guitar for hours on end, trying to replicate what I was hearing," Miller says. "At a certain point I thought that I was good enough to play on the streets. The first time I did it, it was really frightening to put myself out there amongst the wolves. That was a big step for me. I got maybe $20 for a few hours, but I thought, 'I've made it. I'm in the money now.' That's sort of what I've been chasing ever since."
Washboard meets washtub
Miller connected with Dicharry and Leeper at an open mic night in Neosho, Mo.
"I have some friends in Neosho, and they told me to bring my trombone out because there was this awesome blues player," Dicharry recalls. "Scott brought a washtub bass out, and it just clicked."
Miller hauled a washboard along to the jam session, but it took a bit of prodding to get Dicharry to strap it on.
"I hadn't played for a while because one time I went to jam with my buddy's old man and he told me never to play washboard again," Dicharry says with a laugh.
The Ben Miller Band picked up a weekly gig in Fayetteville, Ark., that doubled as a rehearsal. With a time slot that began at 6 p.m. and lasted until the bar closed, the trio had plenty of time to work out a deep catalog of material.
"If Ben has a new song, he brings it to the show and says, 'Here you go, boys - figure it out,'" Dicharry says. "I think he had a few original songs when we started, but he knew just about every Bob Dylan song and every old blues song. I thought he wrote all those songs until we got in a van to drive to a gig and he threw in some CDs."
The trio is gearing up to release its first proper album this spring: a 50-song collection called "Ton" that will be spread out over two discs. The project is seemingly cursed, having already crashed two computers and suffered through a botched first-run.
"We opened one up and listened to it, and there was this clicking noise throughout the whole thing," Miller says. "It came very close to breaking my heart."
Carpetbag-free zone
Since his inaugural trip to the Deep South, Miller has returned on a couple of occasions. His most recent trek resulted in a once-in-a-lifetime chance to jam with 90-year-old blues relic T-Model Ford in Clarksdale, Miss. (home of the legendary "crossroads" where Robert Johnson supposedly sold his soul).
"We got to play with T-Model at this little juke joint across the railroad tracks from the nice part of town," Miller recalls. "We caught a little flack for being white guys because they don't play with washboards down there. We brought our little homemade instruments in and they were like, 'We hope you play the right kind of blues.' Once we got going, they saw that we weren't carpetbagging with dumbed-down instruments for a Branson show."
If impressing T-Model Ford at a Clarksdale juke joint is the key to the blues kingdom, Ben Miller might just survive with his soul intact.