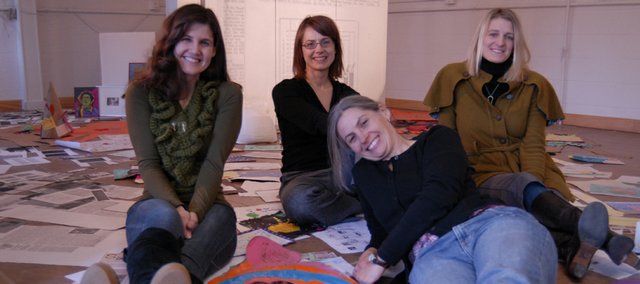 Saturday, January 30, 2010
Although the walls of the Percolator gallery will be lined with art and memorabilia from the grade schools of east Lawrence, the event highlighting these artifacts of innocence is far from child's play. Save Our Schools, intentionally abbreviated to the distress signal S.O.S., is an exhibit intended to keep Cordley and New York schools from permanently closing their doors.
"As we understand it, the school board is saying $4 million in cuts have to be made for next year," says Alee Phillips, member of Save Our Neighborhood Schools and S.O.S co-organizer, herself with two children attending Cordley, 1837 Vt. "We're trying to think creatively and help them think creatively so those cuts can come from somewhere other than the closure of our schools. We believe strongly that can be done."

Through interactive and multimedia pieces, the S.O.S show and opening reception will kick off a campaign that aims to start a conversation about the endangered bond between east Lawrence and its schools. "Our mission is to draw connections between community and neighborhood and schools and learning — that's the most important thing we want to show in this exhibit," says Lora Jost, a regular artist at the Percolator and mother of a Cordley student. "We're showing pictures of neighborhoods alongside school assignments. There are pictures of our bodies and our children's bodies interconnected next to information about the history of our schools. All of these things represent the parts of the whole thing — our neighborhoods and our schools are all combined and mixed together."
The organizers of S.O.S. firmly believe the shuttering of Cordley and New York, 936 N.Y., would not only be a loss for the families who have invested so much in these schools, but a loss for Lawrence at large.
"I think saving our schools is important because of the fragility of these older neighborhoods," says S.O.S. co-curator Paige Comparato, with two children at Cordley. "Without a common institution where these communities and families can gather and thrive, the neighborhoods will eventually deteriorate."
It's a concern about the future character of Lawrence these mothers think should be shared beyond the east side.
"This show is about showing the past and the present, but also about how we've invested in these communities for our future," says Kristin Morland, S.O.S. co-organizer, whose two children attend New York. "It's not just a celebration of the past, it's to remind people that the community is not going to be here if we don't put the work into investing in it. It's going to be gone. We don't want to see it thrown away just because of a budget crisis. This community is still really vital, and we want it to stay. Let's find other ways to make the cuts that need to made. In 2003, three eastside schools were closed. The east side has already taken a big hit in school closures. We just can't afford any more."
The schools that closed in 2003 were Centennial School, 2145 La.; East Heights School, 1430 Haskell Ave., now an early childhood program center; and Riverside School, 601 N. Iowa.
Perhaps an art gathering, the thinking goes among these east-side activists, can achieve the sort of impact that three minutes at a microphone in front of a school board meeting can't convey.
"It's not just an opportunity to say what these schools mean to us, it's an opportunity for school board members, legislators, movers and shakers and people from other parts of town to come and see what this is all about," says Dave Loewenstein, famed Lawrence muralist and the Percolator point man for S.O.S. "I think it would be a tragedy if young kids didn't have the opportunity to go to school on the east side. That's sort of what we're faced with now. That's an incredible tragedy for many reasons. It would be a loss of the wealth of knowledge and history and creativity that this part of town is known for. These places are irreplaceable, in my estimation."
While this will be a celebration of the schools and communities of east Lawrence, with everything from poetry readings to portraits of playing children, the festivities and their organizers will be driven by an underlying urgency.
"If your neighbor's house is on fire, do you watch it burn? No. Well, we're not going to watch this burn," Loewenstein says. "We're going to go in there, and even if it requires some risk, we're going to save it."