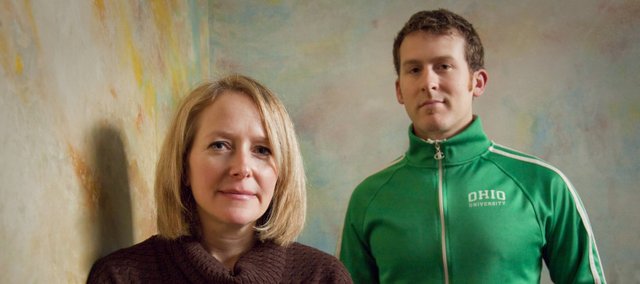 Past Event
Monday, February 1, 2010, 7 p.m.
Lawrence Arts Center, 940 New Hampshire St., Lawrence
All ages / Free
Audio clip
Langston Hughes Award-winner Amy Stuber reading an excerpt from her short story "When Thou Art King."
Audio clip
Langston Hughes Award-winner Jeff Tigchelaar reading his poem "Least Weasel (Mustela nivalis)."
Amy Stuber is amply familiar with legendary Lawrence writer Langston Hughes.
"I taught college writing for about 10 years, and his work was one of my favorite things to teach," she says.
"I loved to see the different reactions to his poem 'Theme for English B.' Because it's about this outsider kid who perceives the world differently because he's African-American. Teaching that to KU students was a completely different thing than teaching it to Haskell students. I'm generalizing, but that's the way it was."
Hughes' legacy has now become entwined with Stuber's own work. Stuber is a recipient of this year's Langston Hughes Creative Writing Award.
A ceremony honoring fiction winner Stuber and poetry winner Jeff Tigchelaar will take place at 7 p.m. Monday at the Lawrence Arts Center. The pair will read from their winning entries.
Stuber's submitted work was a short story called "When Thou Art King," whose title was taken from a line in Shakespeare's "Henry IV, part 1."
"We lived in D.C. for a couple of years, and my husband taught at a school that is very much like the school described in my story. I was always fascinated by the place - where it was in the city, and that there were monks who were so much a part of the school's culture, but so archaic in so many ways," says Stuber, who has been based in Lawrence on and off since 1988.
"What started me thinking of this particular story was seeing these 12- to 18-year-old boys with all this potential but not knowing what to do with it. I was thinking, 'When Thou Art King,' they'll grow up and do these amazing things."
Stuber has collected many of her short stories into a volume but hasn't found a publisher yet that will commit.
She says, "I've been to the final round with some big presses, but at the end of the day they're like, 'This is too sad to sell too many copies.'"
Rhythm and ear
While Stuber has consistently published in literary journals since 1993, writing has taken a backseat to her current full-time occupation: raising two young children.
Coincidentally, that's a trait shared by fellow winner Tigchelaar, who is also a stay-at-home parent.
"I think of myself as a little more nontraditional than people who come from the academic scene," Tigchelaar says of his material. "I'm coming in from a different perspective."
Originally from Grand Rapids, Mich., Tigchelaar recently followed his wife to KU after she was accepted into a Ph.D. program. But he's quickly incorporated his new surroundings into his poetry.
One of the poems in the 18-page manuscript he submitted to the competition was inspired by a placard at the Spencer Museum of Art. Another was provoked by something he overheard while riding the T.
"Another piece was based on a conversation I had with a stuffed weasel at the Natural History Museum," he admits.
Tigchelaar earned his undergrad in English at Trinity Christian College in Illinois, but he ended up in the field of journalism, spending five years writing news and features for the Advance Newspapers chain in Michigan.
"The newspaper stuff really helped me with cranking things out and getting a rhythm and ear for language," he says.
The Langston Hughes Award isn't the first time Tigchelaar benefited from submitting his poetry to be judged. He's a past recipient of a fellowship grant from the Ohio Arts Council.
"I was impressed by Tigchelaar's ability to synthesize works of art into his writing," says Denise Low, former Kansas poet laureate. "He goes outside of himself to explore the world through his own and other artists' sensibilities. His sequence about the Spencer museum especially shows this talent."
Low was part of the Langston Hughes Award Committee this year, which also consisted of Gary Lichliter, Jerry Masinton, Rick Mitchell, Denise Low, Beth Schultz, Heidi Raack and Mary Wharff.
Both winners received $500 from the competition that was sponsored by the arts center and The Raven Bookstore.
Moving forward
The 33-year-old Tigchelaar has seen his work published in various journals. Still, he understands poetry is a hard sell for many readers, who often come in with preconceived notions about the art form.
"People think it's flowers and rhymes. They think it's inaccessible; it's not fun. Part of what I'm doing is to make it fun and entertaining but not let the craft go by the wayside. I focus on the details of sound and rhythm," he says.
Stuber, who earned a Ph.D. in English at KU in 1998, hopes to finish a novel at some point - but she admits her talents are more suited for short stories.
"It's hard for me to keep so many things in the air at once," the 40-year-old says.
Regardless, she continues to pursue the craft - even though she frequently treats it like an underground diversion.
"I'm not like a 'writery' person. It's always something that people don't know that I do," she says. "I don't ever feel like I've been full-force, 100 percent into it. I think that's yet to come."