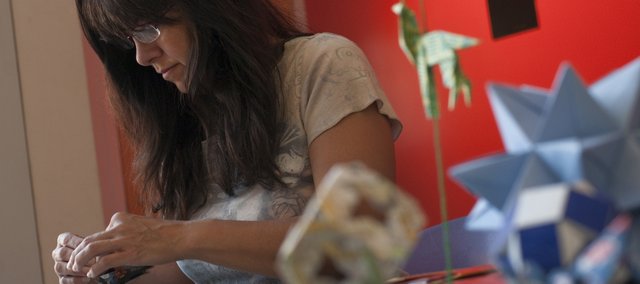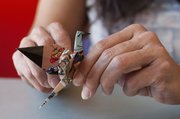 Art isn't always created behind studio walls, a velvet curtain or stage door. Yet, that's the impression visitors might have gotten in the past when they crossed the Lawrence Arts Center threshold.
"Previously, when you came in, you'd have to go pretty far into the building before it was clear that art is actually being created behind every closed door," says Susan Tate, LAC director.
That was the impetus of the Art in the Open project, a program that brings artists of all mediums into the main lobby of the center to create and display their work, while visitors watch and engage them in conversation.
"We've had a variety of participants," Tate notes, "from someone composing music, performing music, doing modern dance. A recent recipient of a Warhol Rocket Grant was creating and performing dance in our lobby for an entire week last month. We've had painters, sculptures, people working in groups and people working individually. We've been really pleased at the energy it's brought to the lobby."
The program started the first week in February with Marty Olsen as the featured artist "in the open."
"I jumped right on it when I first heard about it," Olsen recalls. "That big lobby, for the longest time, was relatively unadorned and not used, except for receptions. I thought it was a terrific idea to draw people in."
With a few basic supplies — easel, drop cloth, table and electric cord (for blow-drying his paint) — Olsen, who typically works in solitude, set up a makeshift studio and started a painting in full view of the public.
"What I've told other artist friends who have considered it is that if you're not used to having people looking over your shoulder, it might not be for you," Olsen explains. "I'm pretty social and, being a hairdresser, there are people around me all the time anyway, so I don't mind people watching me. But I did find that I can get a basic start on a painting, and then there's a point where I have to have a private conversation with it. And that's when I quit. There's no time limit stipulated with this. The Arts Center is very easy to work with."
For origami artist Debbie Dillon, featured this week at the center, the program is a great way for patrons to connect with the creative process.
"I love the concept," Dillon says. "I'm always fascinated by the Art Walk every fall. I love going into artists' studios to see how they make their art, what their materials are and what kind of equipment they use. I like seeing how to get something out of your mind and make it a physical object."
This week, Dillon folded decorative paper into delicate birds and flowers in front of throngs of children, coming and going from summer classes at the center.
"Lots of kids are fascinated with origami," she explains. "I think it's the concept that you can take a plain piece of paper and turn it into something three-dimensional and representational. It's a little like magic."
As a bonus and, perhaps, an incentive, Art in the Open participants are permitted to sell their work, if they choose.
"I am selling some things," Dillon says, "but, mostly, I just wanted to put it out there for people to see."
LAC patron and volunteer Eliza Bullock, Lawrence, says Art in the Open helps to bring art out of the ivory tower and into the mainstream.
"It makes the making of art seem very accessible to people," Bullock says. "It takes the scare out of it a little for people who are going into the gallery to admire the artwork. Showing the artists at work makes it an attainable reality for the general public."
Tate says the positive response to the program has prompted LAC staff to look at other ways to bring art and artists out from behind closed doors.
"Our exhibitions director is also curating other (previously unused) spaces. So, we're getting into the habit of putting art on the walls of the public spaces, as opposed to making those just for a special occasion," she says.