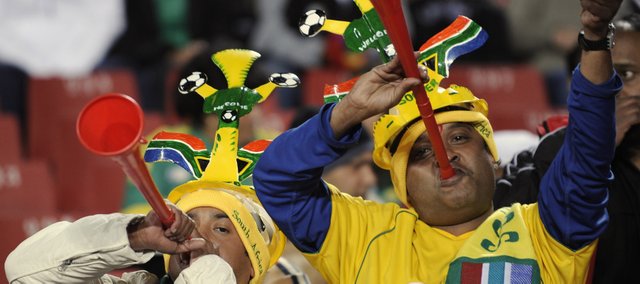 Like many Americans during the last few weeks, I've become mildly interested in the World Cup.
The key word is "mildly." Because even when spurred by the patriotic fervor of seeing our empire nation attempt to throttle an impoverished country the size of Michigan, it's hard to completely care.
That's due to the fact that international soccer is a sport for whiners and crybabies.
"Oooooh, ref. Somebody just brushed up against me. That's why I'm crumpled here on the ground behaving like I just lost a limb. Please wave a yellow card.
"Wah. Wah. Wah ..."
Can you imagine what would happen to an NFL player if he pulled that garbage on the gridiron? Back in the locker room he'd be treated like a stoolie in federal prison.
Anyway. The other reason that the World Cup has proven less than compelling is the rampant use of vuvuzelas.
This word refers to a 2-foot plastic horn that produces a loud, monotone note when blown into. The vuvuzelas — also called stadium horns — are an unavoidable byproduct of soccer being played in South Africa, where they are as much a part of the sports culture as Confederate flags at NASCAR races. But to those outside the region, they are likewise regarded as a titanic annoyance.
When I watched the U.S. team play its first game a few weeks back, I literally thought something was wrong with my TV. Then the droning sound made me wonder if a swarm of yellowjackets was amassing in the attic, or if actress Kathleen Turner was gargling syrup in the bathroom.
Obviously, I wasn't the only one who felt that way. Now the Internet is buzzing with tricky ways to handle the vuvuzelas.
On the amusing side is Vuvuzela Time!, which allows you to "view any website like you're at the South Africa World Cup." Basically, it superimposes an image of a vuvuzela-wielding fan onto the target site/video while adding this harsh sound of crowd exhilaration.
I've found it really spices up that "JK Wedding Entrance Dance" on YouTube, transforming it into a bloodcurdling, "Shining"-esque gathering.
On the practical side is Pocket-lint. In a posting titled "How to cancel out the vuvuzela on your TV," the site reveals steps utilizing the sound settings on your television that involves cutting the 300Hz frequency and raising the adjacent levels. It works surprisingly well.
Now if I can just find a site that can filter out the interminable droning of Glenn Beck.
— Entertainment editor Jon Niccum explores facets of pop culture that have established a unique niche on the Internet. He can be reached at 832-7178.