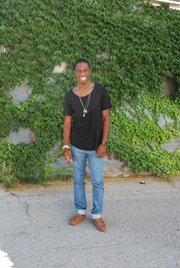 Age: 20.
Sign: Gemini.
Occupation: Student, salesperson, frontman in The Lattimore Circuit, musician.
Hometown: Topeka / Chicago.
How long have you been in Lawrence? Two years.
What were you doing when scouted? I was downtown, on my way to work.
How would you describe your style? Kind of like what would happen if all of the different cliques at school got into a big fight and I came by and stole all of their clothes. I take a minimalist approach but throw in bright colors and different accessories.
What are your favorite fashion trends? I'm not gonna lie, I'm kind of into the nautical thing going on. The white and navy and the stripes. Also, believe it or not, I like the comeback in denim shirts and jackets — it can look pretty good when it's done right.
What are your least favorite fashion trends? Uggs, most camo, anything that's excessively flashy. Not knowing your size in things. People wearing things too big or too small. You don't have to rock skinny jeans ... if you do though, just rock 'em in your size.
What would you like to see more of in Lawrence? Sweet clothing boutiques so people don't end up running around in the same clothes as much. Also it was recently brought to my attention that there's no Putt-Putt golf course in Lawrence. Crazy, right?
What would you like to see less of in Lawrence? Muggles ... haha. No more potholes!
Who are your fashion influences? Designers like Marc Jacobs and Billy Reid. Runway shows in general along with celebrities that dress well like Kanye West and Jude Law. Also style blogs like The Sartorialist and Street Etiquette.
Do you have any piercings or tattoos? Nope, I'm not that cool.
People say I look like: Not a fair question. …I've gotten so many weird ones. Everyone from Don Cheadle to P.Diddy to Kid Cudi. But in a movie I'd want Anthony Mackie to play me. He was in "The Hurt Locker" and played Tupac in "Notorious"…so after playing Tupac, playing me wouldn't be much of a stretch.
Tell us a secret: I'm really into "Glee." I tried to show my friends it was cool, but when I did, it always ended up being the episodes where they did something dumb, like "Ice Ice Baby."
Key Necklace: January 2010, gift.
Icon Pendant: 2003, gift.
Watch: Nixon, April 2010, gift.
Bracelets: May 2010, homemade.
Shirt: Urban Outfitters, June 2010, $14.
Pants: Urban Outfitters, June 2010, $68.
Shoes: Urban Outfitters, May 2010, $10.
More like this story on Lawrence.com