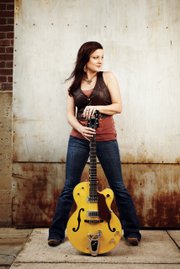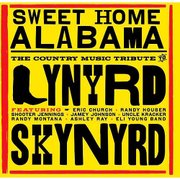 Past Event
Saturday, July 10, 2010, 8 p.m.
Granada, 1020 Mass., Lawrence
All ages / $15
Audio clip
Clip: "Sweet Home Alabama"
As a young girl growing up on a farm just outside Lawrence, Ashley Ray recalls being exposed to music that made a lasting impression.
"I remember being a little girl, and my dad had a bunch of Southern rock and roll records," Ray says.
"He would stick on a Skynyrd record and play it over and over again. For hours he'd set the needle back. It was a good thing I liked it, because I didn't have a choice. I couldn't reach the top of the stereo cabinet."
While Ray is currently best known as a Nashville-based country artist, that childhood baptism in Skynyrd has served her well.
Ray is joining seven other artists on "Sweet Home Alabama — The Country Music Tribute To Lynyrd Skynyrd." The album will be available July 20 exclusively at Wal-Mart stores.
Despite being a native Midwesterner, Ray earned the distinction of performing the title track, one of the most enduring Southern rock anthems of all time.
"I'm still trying to figure that out," says Ray, who joins acts such as Shooter Jennings, Uncle Kracker and Eli Young Band on the tribute. "I don't know if I was the last person they asked after everyone else said no."
Her arrangement of "Sweet Home Alabama" is still plenty recognizable, but she "took it to a completely different place" by slowing it down and adding a moody, hypnotic vibe.
She says, "Let's face it, there's never going to be a version as good as the Ronnie Van Zant version. It's the song you think about immediately when someone says Lynyrd Skynyrd. I knew I couldn't turn it down, but I also knew in my heart I couldn't (expletive) it up."
The tribute is hardly the only thing the 26-year-old singer-songwriter has going for her these days. Her self-titled EP was released in May on Show Dog-Universal, a mighty Nashville label that boasts a 10-artist roster featuring such heavyweights as Toby Keith and Trace Adkins.
"I was on another label before this one, and I'm still fighting with this one. I think I will be fighting with them all," she says. "For some reason, it's a little tougher for women in this business. I don't know why everyone is so damn scared of us. I don't know why they're so timid with putting out girls. We can do this!"
'Crazy opportunities'
Ray was in fifth grade when she began playing acoustic guitar, a cheapie her mother had purchased from a pawn shop. The first song she worked up was Patty Loveless' "You Don't Even Know Who I Am." But she had already been fiddling around with her own poetry, which she attempted to weave into melodies.
By the time she graduated from Lawrence High School in 2002, Ray had determined to pursue a career in music. She headed to Nashville to get a music business degree at Belmont University, the quintessential training ground for country industry professionals.
"I never knew another place, I never lived anywhere else. I never spent more than a week away from Lawrence before I moved away to pursue my dreams," she says. "That whole entire town has made me. It's like if you could have that song 'The House that Built Me,' it's really 'The Town that Built Me.'"
It's taken eight years toiling in the Nashville scene, but Ray has finally begun to see the work pay off. After years writing material for other artists without a proper recording of her own, she's witnessed two albums released within the span of a few months that showcase her own sincere, twangy voice.
"A bunch of crazy opportunities have been happening," says Ray, who also just came off the Country Throwdown Tour with fellow Lawrence singer-songwriter Sarah Buxton.
"I've been experiencing the downs of the music business, the hurry-up-and-wait games. But I'm happy to be able to push forward."
Malia Axsom of Nashville-based Rogue Music Group, which manages Ray, recalls her first time seeing the artist perform.
"I remember thinking how unique and striking her voice is," Axsom says. "I was first taken in by her voice and then was impressed with her stage show. You can tell she is having the time of her life up there!"
Road warrior
Ray returns to Lawrence Saturday for an 8 p.m. show at The Granada, 1020 Mass. The performance will be the first to feature her new band.
She's looking forward to the opportunity because her family still lives in the Lawrence area. And getting back to Kansas is often difficult because of her perpetual touring.
"I don't even know where I live. I live on the road," she admits. "I have an apartment in Nashville and a futon in Dallas with my best friend. I guess I call Nashville home now. But it's also nice when I'm on the futon because I know I'm on the road and things are busy."
Whether it's a dive joint, a club venue or an outdoor arena, Ray feels cut out for the road life. That's probably why she's currently courting a Jim Beam sponsorship when so many of her fellow female artists are more interested in being backed by Revlon.
"I'm definitely not your flower dress-wearing, daisy kind of girl. I'm more a whisky-drinking, bar kind of girl," she says.
And she's probably more rock and roll than her fellow country artists ...
"I actually had that conversation with one of my Kansas friends," she says. "We were sitting in a bar in Nashville, and they were playing Bad Company and Bob Seger and Tom Petty and Skynyrd. I got criticized by someone in my camp for enjoying 'all those redneck rock songs.' I said, 'That is what I grew up on.' The country fans in the Midwest want to hear that as much as they want to hear a George Strait song or a Willie Nelson song."
Note: That's not an invitation to request "Freebird" at her show.