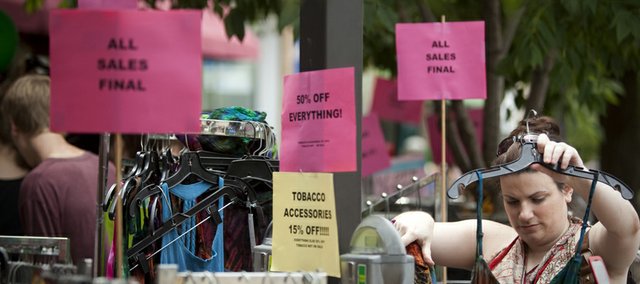 Document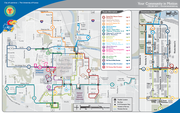 Thousands of people are expected to pack the streets on Thursday, July 15 for the annual Downtown Lawrence Sidewalk Sale.
Stores are open from sunrise (6:08 a.m.) to sunset (8:46 p.m.) and many stay open late. But you may want to arrive early. Shoppers will find big discounts at participating stores, and merchandise will sell quickly.
Be sure to check in with LJWorld.com throughout the day. We'll have a live stream of Massachusetts Street as well as photos, videos and updates from reporters at the sale.
You can also submit your photos from the Sidewalk Sale for our gallery.
Free bus rides
The T is also offering free rides on the day of the sale. Regular service on the T is from 6 a.m. to 8 p.m. Routes 1, 2, 3, 4, 6, 7, and 11 travel downtown. Download a system route map for the T.
Win cash
Lawrence Marketplace is looking to put cash in your pocket the day of the sale. Visit their booth at Ninth and Massachusetts streets to enter to win $25 and $50 VISA gift cards. The booth opens at 7 a.m.
You can also win by completing the trip we've set up on Gowalla, a location-based social network similar to Foursquare. Anyone who checks in on Gowalla at all 11 destinations the day of the sale is entered to win a $50 VISA gift card.
On Twitter
If you're going to the sale and you use Twitter, tag your tweets with #swsale. Anyone who tweets using that hashtag on the day of the sale is entered to win a $50 VISA gift card.
Your #swsale tweets will also be displayed as a live part of our news coverage. Let us know where you found a great deal and what you bought. Our CraveLawrence and LJWMarketplace Twitter accounts will also be tweeting deals and specials.
Learn more about participating vendors and contest rules by visiting the Sidewalk Sale resource page at ljworld.com/swsale.