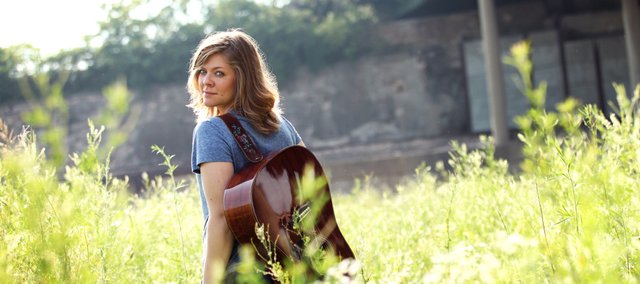 Past Event
Thursday, July 15, 2010, 2:30 p.m.
Capitol Federal Park @ Sandstone, 633 N. 130th St., Bonner Springs, KS
All ages / $44.50 - $255
Audio clip
"Time To Go"
After an 11-year absence, the Lilith Fair has returned.
An eclectic celebration of things both female and musical, the all-day festival boasts headliners such as Sarah McLachlan, Emmylou Harris, Metric and Heart. But it also showcases up-and-coming talent.
Three acts with Kansas City roots are making their Lilith Fair debut during today's gathering at Sandstone in Bonner Springs. Each has taken a distinctly different route to get to the Lilith stage.
Sara Swenson
In 1999, Sara Swenson was a student at Platte County High School when she was introduced to the Lilith Fair.
"I think I won tickets on the radio for it," she says. "I'd maybe been to one concert before. It was an overwhelming crowd with a cool vibe. And there were lots of women."
Flash-forward to January 2010, when singer-songwriter Swenson decided to enter the Lilith Local Talent Search offered by OurStage.com. At each stop on the tour, one regional winner gets selected to open the festival.
"I thought it was a real long shot, to be honest," she says. "But that doesn't really scare me away from trying things."
So the Platte City, Mo., native entered and promptly forgot about it.
"Then in early May I got an e-mail from OurStage and remembered I had entered the contest, so I decided to check in and see. And I was in the top 10 at that point. Thousands of people had listened and rated songs. I was so surprised and encouraged. You expect your friends and family to give you positive feedback, but when it's a whole lot of strangers telling you the songs are good, hey, that's cool," she says.
Although the 29-year-old artist didn't finish in the top spot, she ended up being selected because a portion of the contest was based on who Lilith organizers felt represented the best fit for each tour stop.
Swenson will provide a 30-minute set of material from her latest album, "All Things Big and Small" (which literally just arrived at her doorstep during this interview). Live, she is joined onstage by Jeff Larison, who provides pedal steel, dobro and electric guitar to her own acoustic accompaniment.
"As far as my singing voice goes, warm and folksy/bluesy is the best description of it. It's in the same genre as Sarah McLachlan or Norah Jones. But there are also songs along the lines of Kathleen Edwards," she explains.
"As far as the voice in my lyrics, it's a clear and honest voice that's sometimes compared to Joni Mitchell or someone like that. I enjoy having content that is relatable to a lot of people."
Whereas Swenson was a student at Platte County High School during her first Lilith experience, she now is an employee. She teaches ninth-grade English and newspaper journalism at her alma mater.
There's no telling if Swenson's freshman students know about her high-profile gig, because school was already out when she was informed of her win in June.
"It will be a big surprise if any are out there," she says.
"They're not in the loop of where and when I'm playing, because generally I'm playing in bars."
Julia Othmer
Audio clip
"The First Day"
"Someone once told me that my voice sounded like a place they wanted to live in," says Julia Othmer.
To Othmer, that place is emblematic of Kansas City, where she has enjoyed an on-again, off-again relationship since she was born.
"It's one of my favorite cities in the entire world, and I'm really glad to be here for the show," says Othmer, who left home for college at age 17 before returning to K.C. She then made various stops in San Francisco and Philadelphia until settling on her current base of Los Angeles.
"I am loving following music, wherever it is that it takes me. I'm very fortunate to be in a profession where I do what I do, but 'what I do' is constantly changing," she says.
As a rising artist, Lilith organizers actually contacted Othmer about the show because of her connection to the city. It will be the only date on the tour where she performs.
"Just to be in the company of all of these women is beyond an honor for me," the 33-year-old says.
"Sarah McLachlan is unbelievably inspiring, not only for bringing this tour together but for her incredible songs. And Emmylou Harris has been in my CD player for over a decade."
Although the piano-skilled Othmer is plenty secure playing solo, for Lilith she's importing a band.
"They're traveling out from Los Angeles to play with me, which is really comforting. And I'll be playing with Kansas City's Shane Borth, who is a world-class violinist. It will be a blend of my L.A. band and my K.C. band."
Othmer's voice has been described as "Macy Gray meets Alicia Keys with a dash of Alanis Morissette." She's best known for her boisterous live shows that showcase her down-to-earth magnetism. (Her first-ever release was a 2002 disc titled "Live at Tin Angel," recorded at a club in Philadelphia.)
Currently, she is finishing writing the follow-up to her 2006 studio debut, "Oasis Motel."
"I soon hope to be touring nonstop to support it," she says.
Until then, Othmer is thrilled to be heading back to her hometown, where she describes the crowds as "incredible, enthusiastic and supportive."
"I'm not saying that you don't find that on the coasts, but I find that in Kansas City in particular people are very supportive of the arts," she says. "You don't need a lot of coaxing for Kansas Citians to take a chance on something new, and that's so thrilling for those of us who do music."
Vedera
Audio clip
"Safe"
Kristen May is ready to bask in a concert environment where women outnumber men.
"We haven't played shows with girls, so I'm just excited to talk to females about the industry. I've been around a bunch of dudes for a while," says May, lead singer of the Kansas City band Vedera.
Those dudes include her husband, guitarist Brian Little, his brother Drew on drums, and Jason Douglas on bass.
May concedes the family partnership has grounded the Epic Records act in reality.
"I can't get away with being a diva for nothin'," she says, laughing. "And the boys can't get away with being rock stars. In some ways maybe that plays against us, because labels these days want you to be that larger-than-life persona. But at the end of the day, you can only be yourself."
She's hoping that honesty shines through on the band's third album, "Stages," which is its first on a major label. The commanding pop-rock outfit has proven a consistent draw in the regional music scene since 2004 before finally breaking through as a national act last year.
Like a mantra, "stay true to yourself" is what May says has kept steering the quartet in the right musical direction.
"It's something I'm going through right now both artistically and personally because we're doing a lot of writing for our next album," she says. "I always have to come back to what's real in my life. You can really get lost in the fairy dust of it all. I want to write about real things, not about $2,000 dinners."
Vedera has also benefited greatly from a different kind of reality: an appearance on MTV's pseudo-reality drama "The Hills."
"We've had a lot of people take notice online since that. ... Just having that connection to those fans who wouldn't maybe know we were playing in a bar across town, they've started to come out to our shows now," says May, who also plays guitar and keyboards in Vedera.
Lilith won't represent the first time the members have stood on the Sandstone stage. The band (which first formed as Veda in Blue Springs, Mo.) played at the Buzz Under the Stars show in 2006 with headliners Weezer and Cake.
Today won't mark Vedera's last experience with Lilith, either. The group follows the Bonner Springs performance with festival dates in St. Louis, Chicago and Shakopee, Minn.
Despite all the major-label jetsetting, the 27-year-old May believes Vedera will likely continue to remain based in K.C.
She says, "(The music business) is a crazy, chaotic world, and we work better not in a chaotic, crazy world."