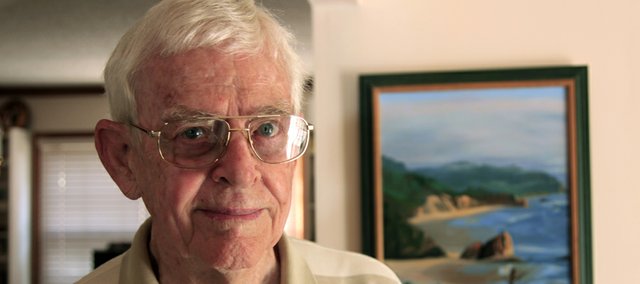 Despite seeing first-hand some of the atomic bomb's devastating power, losing his wife of 63 years and having to give up tennis, Jay Hines retains a zest for life and a strong belief in the value of freedom and America's independence.
Hines was born in 1924 in Scott City and moved to Salina in 1932, where he started a lifelong love affair with tennis.
"Our neighbor Dr. John Harvey invited me to play with his son Scott on their tennis court," Hines recalls. "I bought my first racket at Woolworths for 50 cents. My allowance was 25 cents weekly, so getting a 50-cent racket was a major commitment for an 8-year old."
A year later he got the job of taking care of the clay court.
"I'd water it down, drag it with a wooden platform with blades weighted down with heavy rock, sprinkle it again, mark it out with wooden pegs and string then mark it carefully," he explains.
"Having that court ready for weekend play was a thing of pride."
Tennis became a lifetime sport. He played at college and national levels, reached the national doubles final in the Senior Olympics with his friend Jim Seaver, and despite knee replacements, continued playing until hard courts bested him.
"It's not fun falling on those hard courts when you're 80," he admits.
"If Lawrence had clay courts and I could slide like Nadal did in the French Open finals, I'd be playing yet."
He graduated from Salina High School in 1942, enrolled at Kansas University, enlisted in the Air Force in 1943 and attended Butler University Air Force Flight program in Indianapolis. When he failed the stringent pilot's eye exam, he was assigned to a B-29 bomber crew as a gunner sergeant. Two emergency surgeries kept him from overseas assignments. His last posting was in Alamogordo, N.M., where the atomic bomb was tested.
"We were flying over the desert when I looked out my gunner window and saw what looked like a large, glasslike pond where the bomb's power had fused the sand," he explains.
"When we returned to town I saw large groups of Hereford cattle with totally gray-white coats. They were dying and being shipped to Oak Ridge for examination and research. It made such a deep impression on me, I still see it."
He married in 1946 and worked for Investors Diversified Services while completing a business administration degree at Wesleyan University, Salina. After several promotions, he moved to the IDS head office in Minneapolis, became vice president of sales development in 1978 and relocated to a smaller Kansas City branch in 1977 to spend more quality time with his three children.
Hines retired in 1989, moved to Lawrence and, after taking art lessons from Phil Starke, took up painting. He's exhibited and sold his work but abandoned his brushes last year when his lifelong love, Phyllis, died.
With support from family, a wide circle of friends, including his Muncher's Bakery coffee group, and his faithful dog, Howdy, Hines is ready to paint again.
"Life is good," he says simply.