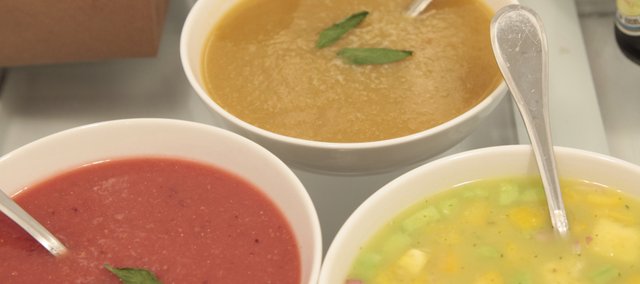 Cold, refreshing and tasty.
Can't get much better than that on a sweltering July day.
That said, try this sweet substitute for grilling out: chilled soups. They'll fill you up, use summer's best ingredients and cool you down when it feels like your kitchen is located on the surface of the sun.
Make them ahead and let them chill for an extra-frosty meal that can keep you cool, even while sitting out on your deck enjoying the sauna we call a Lawrence summer.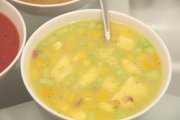 Pineapple Gazpacho
3 cups chunked pineapple, divided
1 medium cucumber, peeled, seeded and chopped, divided
1 cup chopped yellow bell pepper,
divided
2/3 cup chopped red onion, divided
1-1/4 cup pineapple juice
2 tablespoons Italian salad dressing
2 tablespoons granulated sucralose sweetener or sugar
2 tablespoons chopped cilantro
1 tablespoon chopped jalapeno chilies
Combine 1 cup pineapple chunks, 1/2 cup cucumber, 1/2 cup bell pepper and 1/3 cup onion in medium bowl; set aside
Combine pineapple juice, Italian dressing, sweetener, cilantro, chilies and remaining pineapple chunks, cucumber, bell pepper and onion in blender or food processor. Cover; blend until smooth.
Stir into reserved pineapple mixture. Cover and refrigerate 2 hours or until chilled. Serve.
— Recipe from www.dole.com.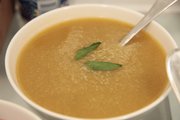 Chilled Peach Soup
6 large ripe peaches
2 cups water
1 cup apple juice
1/4 cup honey
Zest and juice of 1 lime
Salt and pepper to taste
Mint sprigs
Bring a medium pot of water to a boil. Cut a small "X" through the bottom of each peach, then drop them into the water to blanch for 20 seconds. Using a slotted spoon, transfer peaches to a bowl of ice water. When peaches are cooled, drain well then peel them, starting from the "X" at the bottom of each peach. Discard skin and pits and transfer peaches to a blender.
Add water, apple juice, honey, lime zest and juice, salt and pepper and blend until smooth. Transfer to a bowl, cover with plastic wrap and refrigerate until well-chilled, about 2 hours.
Pour soup into bowls or cups, garnish with mint and serve.
— Recipe from www.wholefoodsmarket.com.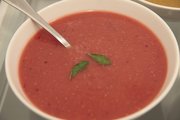 Chilled Watermelon-Raspberry Soup
2 cups raspberries
3 tablespoons brown sugar
1 mini watermelon, cubed
2 limes, juiced
Mint cut into ribbons as needed
In a bowl, gently combine the raspberries and the brown sugar.
Chill in the refrigerator for 30 minutes. In a blender, add the watermelon and the lime juice and puree until smooth.
Next add the raspberries and blend until smooth. Place in the refrigerator for 1 hour.
To serve, ladle into a soup bowl and garnish with a few mint ribbons.
— Recipe from www.melissas.com.
Chilly Cucumber Soup
4 cups plain nonfat yogurt
2 cups minced cucumbers
1 red bell pepper, finely minced
1 tablespoon mild-tasting vinegar, preferably white
2 to 3 cloves garlic, finely minced or pressed
1 to 2 tablespoons finely chopped fresh mint
1 tablespoon chopped fresh dill weed (or 1 teaspoon dried)
1 teaspoon salt
Lots of freshly ground black pepper
Mix all ingredients together well. Chill for at least 3 hours. Mix again before serving.
— Recipe from "The Rolling Prairie Cookbook" by Nancy O'Connor.
Chilled Tomato Basil Soup with Garlic Baguette Toasts
2 1/2 tomatoes cored and cut into chunks
1 tablespoon cornstarch
1/2 cup beef broth
1 tablespoon lemon juice freshly squeezed
10 whole basil leaves
Sour cream for garnish
Extra virgin olive oil for drizzling the soup
1 clove garlic, roasted and minced or forced through a garlic press
1/4 cup olive oil
French baguette cut lengthwise into 6 long wedges
In a food processor purée the tomatoes and force the purée through a fine sieve into a saucepan, pressing hard on the solids. In a small bowl stir together the cornstarch and the broth and stir the mixture into the tomato purée. Bring the mixture to a boil, stirring, remove the pan from the heat, and stir in the lemon juice, the sugar, the whole basil leaves, and salt and pepper to taste. Let the soup cool and chill it, covered, for at least 8 hours. The soup may be made 2 days in advance and kept covered and chilled.
Discard the whole basil leaves, ladle the soup into 6 bowls, and garnish each serving with a dollop of the sour cream and some of the chopped basil. Drizzle the soup with the oil and serve it with the toasts.
For the toasts, in a small skillet cook the garlic in the oil over moderate heat, stirring, until it begins to turn golden, brush the bread wedges with the oil, and on a baking sheet bake them in the middle of a preheated 375-degree oven for 10 minutes, or until they are golden. Sprinkle the toasts with the salt and break them in half. Makes 12 toasts.
— Recipe from www.melissas.com.
Great Gazpacho
4 large tomatoes, diced
1/2 cup minced red onion
1 medium-sized cucumber, peeled, seeded and diced
1 medium-sized green bell pepper, diced
1 medium-sized yellow bell pepper, diced
1 hot pepper, seeds removed, minced (optional)
2 cloves garlic
1/3 cup minced fresh parsley
2 1/2 cups tomato juice or tomato-based vegetable juice
Juice of 1 lemon
2 tablespoons red wine vinegar
1 tablespoon olive oil
1 tablespoon honey or other sweetener
1/2 teaspoon salt
Freshly ground black pepper to taste
1 1/2 cups cannellini beans, cooked, rinsed and drained
Just mix all ingredients together in a large bowl. Refrigerate for several hours. Stir again before serving. If you prefer a finer texture, you can certainly use a blender or food processor. Of course, you'll want to leave the beans out until everything else has been blended. Other option is to blend half your veggies (tomatoes, onion, cucumbers, peppers, garlic and 1 cup of the tomato juice) to create a thick base, then add the rest of the chopped veggies, seasonings and beans. Serves 6 to 8.
— Recipe from the "Rolling Prairie Cookbook" by Nancy O'Connor.
Creamy Mango and Strawberry Soup
2 mangos, peeled, seeded, and cubed
8 large strawberries, cut in half
1/4 cup sugar
3 tablespoons fresh lemon juice
1 1/2 cups plus 4 to 6 tablespoons fat-free vanilla yogurt, divided
Zest of one lemon
Place mangos, strawberries, sugar, lemon juice and 1 1/2 cups yogurt into blender or food processor container. Cover; blend until smooth.
Cover refrigerate at least one hour. Ladle into bowls, top each serving with one tablespoon yogurt and a sprinkle of lemon zest.
— Recipe from www.dole.com
Savory Honeydew and Almond Gazpacho
1/3 cup whole blanched almonds, preferably Marcona almonds, plus more for garnish
3 tablespoons lime juice
1 tablespoon red wine vinegar
6 plum tomatoes, cored and roughly chopped
1/2 medium honeydew, seeded, peeled and cut into (1-inch) chunks (about 4 cups), plus more for garnish
Salt and pepper to taste
Put all ingredients into a blender and purée until smooth. Serve right away, garnished with chopped almonds and thin slices of honeydew, or chill well before serving.
— Recipe from www.wholefoodsmarket.com