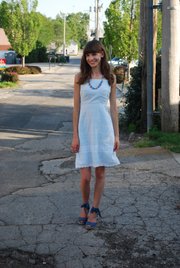 Age: Let's just say twenty-something (while I still can).
Sign: Pisces.
Hometown: Lawrence.
Time in Lawrence: My whole life.
Occupation: Montessori preschool teacher and part-time bartender.
What were you doing when scouted? Going to meet some friends at Star Bar.
How would you describe your style? During the workweek, I am all about being casual and comfortable. During the weekend, I try to spice it up a bit. When it's nice out, I often wear a dress or skirt and more fitted clothing. When it's cooler, I wear jeans and a cute top. I never wear shorts — ever.
What are your current favorite fashion trends? Right now I really like high-waisted skirts and ruffles, and I'll be in sundresses all summer long. I tend to stick to classic items that stay in style for a long time rather than trying out the trends that come and go, but if I like something, I'll wear it whether it's trendy or not.
What are your least favorite fashion trends? Hmmm. Maybe the '80s revival. I've been there and done that. I really don't need to be reminded.
What would you like to see more of in Lawrence? There's nothing I like better than sitting on a patio with friends when the weather is really nice. So some more options there would be good. Oh, and more dance parties. Maybe some dance parties on patios. That would make me happy.
What would you like to see less of in Lawrence? Humidity, bad drivers and people being rude for no good reason.
Do you have any piercings or tattoos? I have one small tattoo (don't tell my kids at school). I have my ears pierced several times, as well as my belly button from way back when (better not tell the kids that one either).
Who are your fashion influences? I'm not going to lie, if there is an important occasion, my sister Katy pretty much tells me what to wear and buy. I have to think it looks good and feel comfortable in it, but I trust her… mostly. I do find things all by myself sometimes, and when she enthusiastically approves, I'm very proud.
People say I look like: My mom. And a couple of people have said Jennifer Garner.
Tell us a secret: Rather than planning ahead for the future and working hard for success, I'm counting on my dog getting discovered by a talent agent and making it big in show biz. I'm still waiting very patiently.
Dress: Secondhand store in Berkeley, Calif., May 2010, $15.
Sandals: Plato's Closet, 2009, $12.
Purse: Borrowed from my sister earlier today.
Sunglasses: T.J. Maxx, 2008, $10.
Jewelry: Made by my mother,
December 2009.