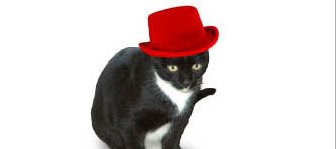 I don't usually take requests for Net Worth.
Suggestions, you bet. Last week marked my 100th column, and I'll admit that at least half the ideas came from somebody forwarding me something.
But requests are a little different, and I've had at least five people this week say, "You've got to write about that cat thing."
Normally, "cats" and "write about" don't mix with me, except for the rare occasion when I utilize the opportunity to mention that I'm not a big fan of felines. I'm allergic to them. And I simply prefer dogs ... and every other kind of animal.
However, this particular requested topic is so laugh-out-loud amusing that I'll admit, yes, I do have to write about that cat thing.
The cat thing in question is a purportedly real exchange between blogger/graphic designer David Thorne — also, clearly not a fan of cats — and co-worker Shannon, who sends him a picture of her missing pet, Missy, and asks him to design a poster that she can photocopy and post.
"Missing Missy" is the mixture of back-and-forth e-mails, which sports Thorne's increasingly more ridiculous and combative poster designs. The whole exchange can be found on his website called 27b/6.
Poor Shannon. At first Thorne provides her with a movie poster for a film called "Missing Missy: A Shannon Production," in which the cat's photo takes up barely a blip on the page.
"It's a design thing," he explains. "The cat is lost in the negative space."
Eventually, he designs a poster to her specifics but instead runs a different cat's picture as the centerpiece.
She writes, "That's not my cat. Where did you get that picture from? That cat is orange. I gave you a photo of my cat."
He responds, "I know, but that one is cute."
The real Thorne is a 38-year-old Australian humorist who has carved a unique niche for getting into crazy e-mail exchanges with a variety of folks who he continues to goad with misinformation.
The name of his 27b/6 website is based on a George Orwell reference, who lived in Apartment 27b on level 6 while writing the dystopian novel "Nineteen Eighty-Four." Thorne is also the author of the 2009 book "The Internet is a Playground," which is a collection of these conversational threads.
Two of his other standouts on the site include an overdue account notice for a bill amounting to $233.95 that Thorne tries to settle in an unusual way:
"I do not have any money so am sending you this drawing I did of a spider instead. I value the drawing at $233.95 so trust that this settles the matter."
Hilarity then ensues.
Another involves a co-worker named Simon who needs Thorne to design a logo and some pie charts for a new peer-to-peer networking project that he can show prospective clients.
First, Thorne submits a pie chart that displays "David's enthusiasm for doing free work for Simon," which features color-coded sections such as "The tiniest bit" and "Rather be lost in a forest."
Next, when Simon tries to emphasize the value of his social networking concept, Thorne replies, "So you have invented Twitter. Congratulations."
He then offers a pie chart that depicts the "Probability of Simon selling his project for 40 million dollars and sending me a postcard from his yacht":
"Blue = None."
"Gold = If using a time machine."
Supposedly, these postings are all based on real exchanges with real people. It's hard to confirm that assertion, but if so, then Thorne can indeed lay claim to a positively Orwellian existence.
— Entertainment editor Jon Niccum explores facets of pop culture that have established a unique niche on the Internet in Net Worth. He can be reached at 832-7178.