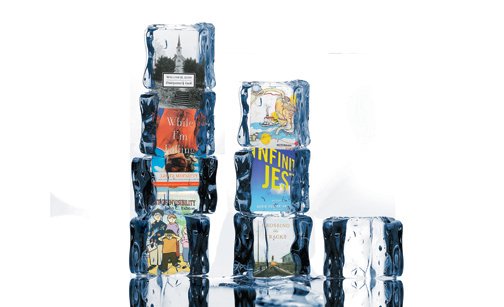 WHAT ELSE TO READ
Other recommended summer reading from our book store sources:
"Winter's Bone" by Daniel Woodrell
"2666" by Roberto Bolaño
"Libra" by Don DeLillo
"Witz" by Joshua Cohen
"The Lacuna," by Barbara Kingsolver
"Motorman," by David Ohle
"Crossing the Tracks," by Barbara Stuber
"Into Thin Air" by Jon Krakauer
"Summer World" by Bernd Heinrich
"Nesting Season" by Bernd Heinrich
"Insectopedia" by Hugh Raffles
"The Depression Cure," by Stephen Ilardi
We don't have a beach along the ocean. No, all we've got are waves and waves of heat.
But don't worry, Kansas is just as good as Hawaii when it comes to enjoying a beach read.
Seriously.
There's no reason not to enjoy a page-turner from the comfort of your air-conditioned living room. Sure, the ambiance won't be exactly right, but you won't have to battle sunburn either.
"I would say that most people are looking for something enjoyable," says Kristy McKinney of her summer customers at Signs of Life, 722 Mass. "Almost like a 'can't put down' kind of read, for a lazy afternoon — on a hot afternoon."
We talked with McKinney and other local book sellers about what to read during summer's sweltering days.
Miss popularity
The must-have reads this summer?
The Stieg Larsson series about a Swedish girl and her exceedingly famous body art.
"I would say that the most requested book is, of course, 'The Girl with the Dragon Tattoo,'" says Heidi Raak, co-owner of The Raven, 6 E. Seventh St., before adding, while laughing, "We call it 'The Girl who Paid for our Electricity.'"
The book is the first in "The Millennium Trilogy," so-called after the fictional magazine featured in the books. All three books, "The Girl with the Dragon Tattoo," "The Girl who Played with Fire" and "The Girl who Kicked the Hornets' Nest," have been turned into Swedish movies, with the first coming out in the United States this spring and the second in theaters now. But Raak says the books are so good, you should read them even if you have already seen the movies.
Other popular reads? Josiah Earle, assistant manager at The Dusty Bookshelf, 708 Mass., says there's one book that rivals Larsson's series this summer.
"There's a book called 'The Help' by Kathryn Stockett, which I think a lot of book clubs are doing," Earle says.
Recent blockbusters are still popular. "We are still selling a lot of, sort of 'buzz' books from the past couple years, like 'The Kite Runner' and 'The Secret Life of Bees.' They're really light reading sorts of things," Earle says. "Good summer reads."
Pulitzer winners
Two recent Pulitzer winners are also books people are asking for by name. For McKinney, it's "Gilead" by Marilynne Robinson, and for Raak, it's "Tinkers" by Paul Harding.
"It's also cool because it's set in Maine," Raak says of "Tinkers." "But it was a book that was published by a really small publishing company and they only printed like 5,000 (copies) or whatever, and then it just out of nowhere won the Pulitzer."
"Accomplishment" reads
Raak says she has a customer who is working her way through Agatha Christie's mysteries.
"It's really kind of fun to have a project," says Raak, who admits she'd love to borrow the idea. "She's having a nice time. She's purchasing some from us, but she wants to get used books. It's just kind of a fun adventure to go to all of the bookstores and find things."
She says other books folks are tackling this summer include those big "door stopper" books like "War and Peace" and "Infinite Jest" that are so large and so complicated that they may have been abandoned before.
"A lot of people think, 'I have the summer, I'm going to do it this time!'" she says.
Childhood favorites
Sometimes one of the most enjoyable books to pull out on a lazy afternoon is one you've read before, says McKinney. What she calls "the old classics" have become very popular recently.
"Not children's literature, but young adult literature," she says. "Recently 'Winnie the Pooh' has been a big thing."
Earle also sees similar requests at The Dusty Bookshelf.
"We gets adults coming in and buying Roald Dahl or Laura Ingalls Wilder and that kind of thing," Earle says. "There's a lot of interest."
True tales
Raak says there's one book she finds fascinating.
"You know what's a cool book that no one is buying? There's this one called 'Fordlandia' about this weird thing that Henry Ford did in Brazil," she says. "He built this weird, like, Americana place where he had all these natives live in these kind of American villages and planted these rubber trees for his tires. Freaky, crazy book."
Local stories
You can also keep cool by reading something written by someone who might live just down the street.
"If you are hunkering down in the air-conditioned indoors, why not stay close to home with a book by a local author?" asks Raak before ticking off some great reads by Lawrencians. "Laura Moriarty's 'While I'm Falling,' is set in Lawrence and Kansas City in wintertime. John Ralston's 'The Secret of Invisibility' takes you on a magical journey around town without leaving the cool, cool house."