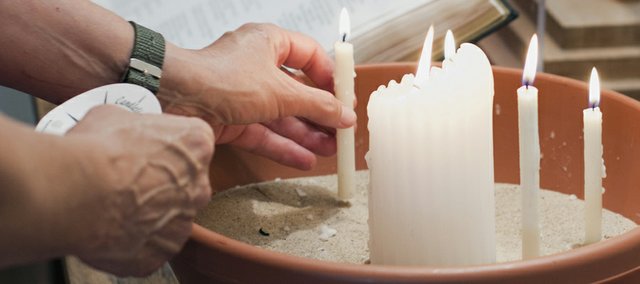 The worshippers sit silently in short rows on a steamy summer night as two men begin to strum softly on guitars near a minister-less altar.
The parishioners join the stringed instruments in unison, somewhere between singing and chanting.
Bless the Lord, my soul,

and bless God's holy name,

Bless the lord, my soul,

who leads me into life.
Then, the voices and strings unite for another round of the same song. Then another. And another. Until four or five minutes and up to 20 repetitions of those verses have been sung.
Welcome to Taizé.
Welcome to a style of music, a style of worship, a town and a community all defined by one thing — the hope of peace.
"There's a bit of confusion because Taizé is a town. And Taizé is music. And Taizé is a prayer service," says Judith Galas, the leader of a Taizé-style service at Plymouth Congregational Church, 925 Vt. "And so what I always say to people is, it's a reflective prayer service that includes music and readings that is ecumenical in spirit and focused (on) peace within and peace within the world."
Galas and others hope to expose Taizé, pronounced ta-ZAY, and head off the confusion by hosting a special Taizé-style service in honor of Hiroshima Remembrance Day at 7 p.m. Friday at Corpus Christi Catholic Church, 6001 Bob Billings Parkway.
"We have so many people in Lawrence within faith communities and even not faith communities who are really activists in spirit and sometimes in protest on issues of peace," Galas says. "Maybe if people understood Taizé grew out of the post-World War II peace movement, Taizé will grow in Lawrence."
Peaceful worship
Taizé is a unique style that crosses Christian denominations. It is dominated by chants, short songs sung over and over again, 15 to 20 times at a clip, explains Lara West, who will be heading up the music for the special Hiroshima service.
"We repeat the same thing over and over and over again. The idea of that is that you can then just internalize the song and so it becomes a sung prayer as you repeat it over and over again," West says. "Maybe you don't have to think about it so much and maybe you can pray it and then you take it with you in your mind when you go away."
That style of singing and the service in general was born in Taizé, France, as a reaction to the violence of World War II. The worship style was founded by Brother Roger, a Swiss-born Protestant who lived in Taizé during the dawn of the war and sheltered refugees. After the war, he created an official brotherhood of seven religious-minded men.
Today, there are more than 100 brothers of differing Christian backgrounds and nationalities worshiping at Taizé in the style created by Brother Roger — a mix of repetitive singing, silence, readings and prayer.
For each service, hundreds gather, and church leaders of many denominations, including the late Pope John Paul II, have attended worship with the brothers.
One of the worshippers back in 1999 was West, who was living in Germany at the time and decided on a whim to head to Taizé for a long weekend.
"At Taizé there was maybe 1,000 people, so you could sit out and just listen for a little while, you could come back in and sing with renewed spirit, you could listen to the music and pray," West says. "It was just an incredible coming together of people from different countries, who spoke different languages and really living simply."
Signing on and singing on
Taizé services in Lawrence are infrequent, happening at some churches during holy periods of Lent and Advent. The only consistent and enduring Taizé service has been the one Galas and the Rev. Lew Hinshaw have been hosting at Plymouth Congregational at least once a month for a decade now.
The group meets on the final Friday of each month and attendance is small but consistent, says Galas.
"I think what happens is it resonates with some people. They come to one, and if it really is something that reflects their own way of praying, they sign on," Galas says. "We have people here who have been coming 10 years, eight years, whatever it is — they signed on."
The group is hoping to get others to sign on after experiencing the peaceful music for themselves and keep the peaceful movement growing.
"We think it can be very enriching for people's spiritual lives," West says. "But they have to come, and a lot of times people just don't come because it's something they don't know anything about."