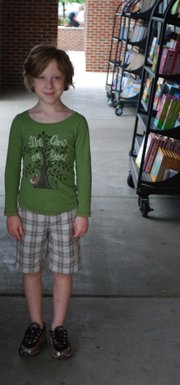 Jack Foster
Age: 9.
Sign: Libra.
Occupation: Fourth grade student.
Hometown: Lawrence.
Time in Lawrence: My whole life.
What were you doing when scouted? Shopping for a journal at Borders with my mom.
How would you describe your style? Soft, silky fabrics and comfortable, washable clothing.
What are your favorite fashion trends? Prints, patterns, artsy-shirts — nothing boring. I also like skinny jeans but nothing too small!
What are your least favorite fashion trends? Clothes that look better on the hanger than on people — they look better on plastic than on skin. And I'm picky about plaid. I wear plaid shorts but not plaid shirts.
What would you like to see more of in Lawrence? More places to buy jeans for people my age, and more cool, torn jeans.
What would you like to see less of in Lawrence? Less gray clothing unless the gray colors are mixed in, like in faded denim.
People say I look like: My dad, Bryan. People used to call me "Mini-Bryan" because we look so similar.
Tell us a secret: I own two leather jackets, but I'm embarrassed to wear them.
Shirt: Old Navy, 2009, $10.
Shorts: Gap, 2009, $15.
Shoes: Brown's, 2010, $44.
More like this story on Lawrence.com