As the screws turned on the U.S. economy a couple years ago and people everywhere were fearing the worst, Amber Lehrman and Jessi Asmussen had their minds on food.
Specifically, the two were worried about food security in the Lawrence area.
"We wanted to get more people gardening," Lehrman says. "There are enough uncertainties in the world that we need more people growing food and eating quality food."
So they started the Lawrence Food Garden Tour, which is 9 a.m.-noon today. It's a free, self-guided tour of 15 diverse gardens in the community.
"We try to showcase on the tour the wide variety of things that you can do to grow food," Lehrman says. "We want to show people that gardening can be beautiful, that it doesn't have to be that tilled-up square of dirt that everyone thinks of as a garden."

The Lehrmans' Garden
2409 Brookside Drive
When you drive by her west Lawrence home, you know immediately why Amber Lehrman started the garden tour. It's evident that for her, gardening is no mere hobby to be relegated to a corner of her yard. Hers is quite obviously a garden planted by an activist — it consumes every last corner of her yard. And some of her neighbor's yard.
"Awhile back they offered in passing to let us use the strip by their driveway so that they didn't have to mow it," she says. This year Lehrman took them up on it, because she'd managed to cultivate every last space in her own yard.
It wasn't always like this. The first three years that she and her husband, Jeremy, lived there, they had the usual 4-foot-by-12-foot raised bed. Then in 2006 they decided to build three more beds that size. The next year they built four more. The next year, they built as many raised beds as they could reasonably fit in their yard. Now everything is planted, down to the strips between the street and sidewalks.
Between the two of them, they spend about 30 hours a week gardening. It cuts the summer grocery bills in half, and they stretch a lot their produce into the winter.
"We preserve, we can, we freeze, we dehydrate," Lehrman says. "We do sell some things to Jessi and Kevin's C.S.A. Mellowfields. Strawberries are a cash crop for us — they pay for our manure habit," she laughs.
But that's not really what motivates her. Nor is it her drive to get more people gardening, necessarily.
"This really is fun," she says. "Who wouldn't want to spend time in this kind of environment? I come out here every day before work, and it's just like, 'Ahhh. Nice.'"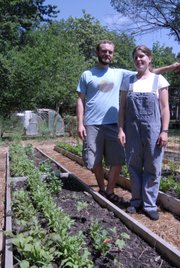 Mellowfields Urban Farm
1832 N.H.
It's little wonder Asmussen ended up a full-time gardener. Her whole family farms in South Dakota — albeit commodity crops like wheat, corn and soybeans — and her mother, her grandmother and great-grandmother all had gardens she remembers well from growing up.
"I've always been around gardens," she says. "So a lot of things about gardening I think I just kind of know. But I'm still learning things, like crop rotation and more advanced techniques."
After starting her first garden in 2004, Asmussen and her husband, Kevin Prather, now work four substantial garden plots around town. They grow enough produce to sell at the DeSoto Farmer's Market and to the 20 subscribers of their Mellowfields C.S.A. (Community Supported Agriculture).
Their original garden — the one in their backyard — is the one on the tour.
"There are a couple other garden tours in town — the water garden tour and the master gardeners' tour, but neither focus on food growing, so we felt like we needed to fill that gap," Asmussen says.
She says last year 60 to 100 people stopped by.
"Mostly people were wanting to know, 'What's this?' or 'Why did you do this?' or 'Where can I find this?' or 'How do I get started?'" she says. "A lot of people wanted to know how much space they needed to feed, say, two people. The short answer is, 'It depends.'"
The long answer is something they will happily discuss with anyone on the tour.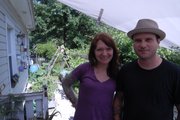 Pryor Extended Family Garden
1015 N.Y.
Matt Pryor and his wife, Christine Kosirog, started their garden about six years ago.
"She's always been a plant person, but I didn't get into it until I started cooking a lot. I don't really grow anything other than vegetables," Pryor says.
Kosirog also grows native flowers and herbs, both culinary and medicinal. Relative to the Mellowfields garden and others on the tour, the couple's garden is quite small — probably smaller than the typical backyard garden in Lawrence. They've seized unlikely spaces to grow their garden — like planter beds in a walkway that feels more like a New York City courtyard than an east Lawrence yard.
"I think what our garden showcases is how to work with small spaces and really awkward spaces," Kosirog says. "And working with kids, too — we have to leave a lot of space for them."
Adds Pryor with a grin: "For them to destroy."