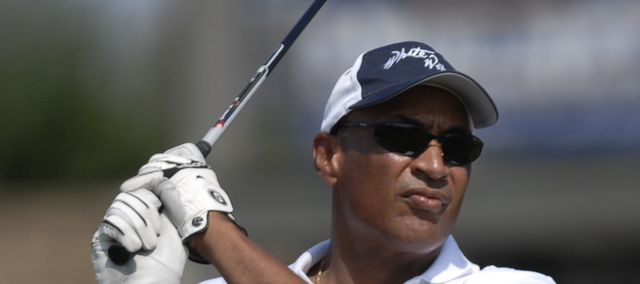 Upcoming events
June 14
Dad Days Community Speaker: Bud Stallworth: "Mentoring & Success in School and in Life," 5 p.m., Lawrence Public Library auditorium, 707 Vt.
• Dad Days Film Festival, 7 p.m., Lawrence Public Library auditorium.
June 15
Dad Days Declaration by Mayor Mike Amyx at the Lawrence City Commission meeting, 6:30 p.m., City Hall, Sixth and Massachusetts streets.
June 16
Dad Days County Declaration by Commissioner Nancy Thellman at the Douglas County Commission meeting, 4 p.m., Douglas County Courthouse, 1100 Mass.
• Dad Days Film Festival: Independent Filmmakers Contest awards ceremony, 7 p.m., Lawrence Arts Center, 940 N.H.
June 18
Professional development: Dad Days Workshops for human service professionals, 8 a.m.-noon, Community Health Facility, 200 Maine.
June 19
Community Festival, with games, contests, motorcycle display and more, 10 a.m.-2 p.m., Douglas County Fairgrounds, 2110 Harper St.
While many organizations like Mommy and Me celebrate a mother's connection with her children, few events specifically encourage a father's involvement with his kids.
The inaugural Dad Days event June 14-19 in Lawrence is intended to spread the idea that dads are just as important as moms in the healthy upbringing of a child.
"The goal of the event is to bring awareness for supporting dads in their roles as fathers at the community level and to celebrate the great things that they are doing for their children," says Jenn Preston, supervisor of the Lawrence Healthy Families Program through the Kansas Children's Service League.
Preston also served as administrator over a one-year grant, which will cover part of the cost of the event, from Circle of Parents. The grant, along with the Dads of Douglas County, a local group for fathers to meet and discuss parenting issues, helped plan the various events.
Events include an independent film festival, movie screening, various workshops and speaker Bud Stallworth, a former KU basketball great, all focusing on the importance of fathers. The week ends with a community festival from 10 a.m. to 2 p.m. at the Douglas County Fairgrounds. The festival, like all the other week's events, is open to all, and families are encouraged to participate in different games and contests, a motorcycle display, free food and many other events with the fathers, husbands, grandfather, uncles and any other father figure.
Rich Minder, a member of Dads of Douglas County, says parents he talks to are encouraged and pleased that fathers are receiving just acknowledgement and encouragement.
"I think that over time what has happened is that the importance of fathers in the lives of families has become less and less understood and appreciated and just in terms of having that perspective represented," Minder says.
Both Preston and Minder say fathers provide an important aspect to the upbringing of a child in terms of building trust, guidance and responsibility, among many other characteristics.
"Dads do things that women can't do with their children or don't have that innate experience the way (dads) talk and relate with kids," Preston says.
Though this is the first year of the event, Minder says he is encouraged by the large number of sponsors and donations from the community. He says he hopes to continue the event near Father's Day for several years and hopefully expand the events as the community becomes more aware of it.
Minder says the independent film festival and a declaration of Dads Days by the Lawrence and Douglas County commissions will help spread awareness throughout the community. He says local filmmakers were contacted about the festival competition, which will accept three-minute-long films that must have a father and son or daughter, and an umbrella, somewhere in the film.
Minder also says he encourages fathers and their families throughout the surrounding area to attend the city and county commission meetings on Tuesday and Wednesday nights, respectively, for the declaration of Dads Days and the importance of fathers in a child's life.
For more information, contact Preston at 843-0721 ext. 336.
Contest
As part of the Lawrence event dubbed Dad Days (June 14-19), an original film competition is being staged. The entry must follow these guidelines:
The film must be no longer than three minutes long.
Say something positive about fatherhood.
Include the character of a father and a son and/or daughter.
Include an umbrella.
Adult and high school student entries will be judged separately. First place winners receive a $150 Best Buy gift certificate. All entries must be submitted by June 9. For more information, call 842-8719 or contact Successby6@sunflower.com.