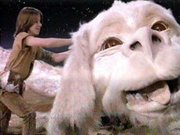 "The NeverEnding Story" is a modern cult classic of fantasy cinema. Some interesting facts about the 1984 film:
-It's based on the 1979 German novel of the same name by Michael Ende.
-The film only covers the first half of the book and deviated so much from the source material that Ende sued the production. Failing to get the film to change its title, Ende did succeed in getting his name removed from the opening credits.
-The film was shot entirely in Germany and Canada.
-Gerald McRaney (aka, Major Dad and Rick Simon) played Bastian's father.
-Due to child predator laws, Falcor the luck dragon has to go door to door introducing himself whenever he moves into a new neighborhood. Video below. (Via Videogum)
More like this story on Lawrence.com