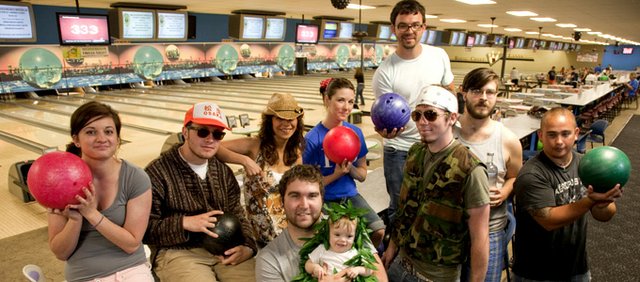 Past Event
Thursday, June 10, 2010, 9 p.m.
Granada, 1020 Mass., Lawrence
18+ / Free
Past Event
Saturday, June 12, 2010, 11:30 p.m. to 2 a.m.
Liberty Hall Cinema, 644 Massachussets Street, Lawrence
All ages / $5
"Way out west there was this fella, fella I wanna tell ya about. Fella by the name of Jeff Lebowski. At least that was the handle his loving parents gave him, but he never had much use for it himself. Mr. Lebowski, he called himself 'The Dude.'"
—The Stranger (Sam Elliott), "The Big Lebowski" (1998)
And so began the magnum stoner bowling opus that became one of the biggest cult movies of all time. Released in 1998 to little box-office fanfare, "The Big Lebowski" has gone on to inspire a legion of White Russian-swilling, bathrobe-wearing acolytes who quote freely from the book of Dude-eronomy. It is a movement that will manifest itself this week in two different screenings by devout Lawrence Lebowski-ites.
Made by Oscar winners Joel and Ethan Coen, they of "Raising Arizona" and "Fargo" and "No Country for Old Men" fame, "The Big Lebowski" is a slacker slapstick take on hardboiled Raymond Chandler detective stories. The film revolves around Jeff "The Dude" Lebowski (Jeff Bridges), an unemployed marijuana enthusiast who spends a majority of his time wasting away in a Los Angeles bowling alley with league partners Walter (John Goodman) and Donny (Steve Buscemi).
The Dude unwittingly gets wrapped up in underworld intrigue after a case of mistaken identity and his rug - which really tied the room together - is urinated upon. From there, the Dude stumbles mostly unawares through a caper of severed human toes, German nihilists and pornography kingpins. Coffee mugs are thrown at his head, and a marmot assaults him in his own bathtub. Throughout it all, with the assistance of Kahlua and cream, the Dude manages to abide.
"This movie has really become the new 'Rocky Horror Picture Show,'" says Malcolm Miller, co-organizer of Midnight Movie Madness at Liberty Hall, who screened "The Big Lebowski" last year as part of the late-night series. "It was crazy - people were dressed up, and everyone was yelling out all the lines from the movie."
The response was so overwhelming that Liberty Hall will be bringing back "The Big Lebowski" for a command performance Saturday, the first time a film has been screened twice at Midnight Movie Madness.
"We were expecting it to be busy, but we weren't expecting 500 people," says Liberty Hall employee Jeremiah Johnson of the sold-out engagement last year. "A bunch of people were dressed like the Dude, wearing robes and sunglasses. We even had a few Walters. Lots of people dressed up, and there were tons of people swilling White Russians. We had stuff ready, but we couldn't keep up. We went through four huge, economy-sized bottles of Kahlua."
The demand for everything Lebowski is so insatiable, apparently, that The Granada will be hosting its own screening tonight. The Granada event will be much more of a miniature Lebowski Fest, the typically weekend-long gatherings of Dudeheads that have sprung up around the country. (Honestly, they're a real thing - yet another sign of the film's unexpected cultural import).
"Showing the movie is going to be the main thing, but leading up to it there will be different games, events and drink specials to go along with it," says Granada manager Cameron Lauer of their Lebowski Party. "There's going to be a booth where you can throw coffee mugs at the Dude's head while he's sitting at a desk, there's going to be Bobbing for Severed Toes - lots of things along those lines themed with the movie. Obviously, Caucasians (White Russians) will be served."
The communal Lebowski experience, almost as much as the movie itself, is a primary draw to both events.
"It strikes a chord with everybody that works around here," says Lauer of the Granada staff. "It's a movie that everybody around here has seen over 100, but less than 300, times. It's something that I knew everybody enjoys and would have a good time dressing up as their favorite characters for and watching in a bar setting."
And it's also nice to give your dog-eared DVD of "The Big Lebowski" a rest once in a while.
"One of the big things is that movies that are a hit on video, that weren't a big hit in theaters - like 'The Big Lebowski' - tend to do really well at Midnight Movie Madness," Johnson says. "People who came to know and love them at home, they didn't come to know and love them in a theater. So when people have the opportunity to go see it on a big screen, as they didn't the first time around, seems to be a big draw for people."
Both organizers insist it's a coincidence they're holding the dueling Dude proceedings on the same week, but perhaps there's more to it than mere coincidence - perhaps there is a collective Lebowski unconscious at work. Maybe the film is like a cosmic rug, tying together not just the room, but the entire universe.
"That, and I just think 'The Big Lebowski' is awesome," Johnson says. "The Dude is a counter-cultural icon."
Could the Dude also, therefore, be a spiritual and religious leader?
"I don't know if he's a spiritual leader, because I don't know what kind of religion that would be," shrugs Lauer. "But he's just as good as anyone else I suppose."
"Sometimes, there's a man. Well, he's the man for his time and place. He fits right in there. And that's the Dude in Los Angeles. And even if he's a lazy man - and the Dude was most certainly that, quite possibly the laziest in Los Angeles County, which would place him high in the runnin' for laziest worldwide. But sometimes there's a man. Sometimes, there's a man. Aw - I lost my train of thought here."
—The Stranger