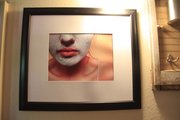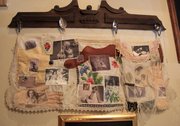 2009-2010 monthly ArtStar winners
September
Megan Bracciano
Free State High School
piano, sax, flute, choir, marching band conducting
October
Ally Koppes
Lawrence High School
painting
November
Addison Frei
Lawrence High School
piano
December
Jasmine Tse
Bishop Seabury Academy
ceramics, jewelry, sculpture, painting, piano
January
Carlin Francis
Lawrence High School
painting, drawing, photos
February
Ben and Nate Rosenbloom
Free State High School
drama
March
Haley Fischer
Lawrence High School
photography
April
Luke McDaneld
Lawrence High School
filmmaking
May
Drue Davis
Free State High School
design
Carlin Francis can barely contain her enthusiasm.
"I'm so excited to leave Lawrence and go to college," the recent Lawrence High School graduate says.
Today marks a fine start for her post-high school adventure, as it finds her flying to Africa.
Together with her sister Hayley, an LHS senior, and two other girls, Francis is embarking on the first global trip for the school's social awareness club. The destination is Kenya.
While her friends and family in Lawrence will be celebrating the fact that Francis has been named the ArtStar scholarship winner for the 2009-2010 school year — a $500 award sponsored by Jayhawk Dental and The World Company — she will be immersed in an entirely different cultural experience.
"We're going to be working with a school for mothers with disabled children," Francis says. "Each girl is going to be matched up with a student our age. They'll be along with us the whole time. They're our 'Kenyan sisters.' We'll go to school with them for a day, full uniform. Then we'll be working a lot in the displacement camps."
But for the 18-year-old Francis, the two-week trip also represents an opportunity to shape her art in ways never before imaginable in Kansas.
"I'm definitely taking my camera," she says.
"I decided to major in photo next year. Just documenting the trip in general is a priority, so I can come back and tell people about it. In terms of an art aspect, I want to share different individual stories from who we meet. Inspiration-wise, I'm sure it's going to be overwhelming. There's going to be so much happening emotionally there, so I think that will affect me a ton while I'm there and when I get back."
Francis graduated LHS a semester early to focus on her art. The decision paid off almost immediately. After being selected as the ArtStar for January (which honored a monthly recipient from September to May), Francis caught the attention of many within the art community.
Among those was Bill Staples, chair of the sociology department at Kansas University, who also serves as curator of Gallery HTL3, the art space at the Hobbs Taylor Lofts.
"I saw the piece on her in the LJW and was immediately drawn to her work," Staples recalls.
"I thought her use of mixed media was terrific, and I found how she put herself at the center of a lot of her art was interesting. It was not done egotistically but rather appropriately for her age. She is using her art to understand her own place in the world and exploring themes like family, body, sexuality and the like. I think she is very talented."
Tangible meaning
Also taking notice were the faculty at the Art Institute of Boston, who gave Francis a full-tuition scholarship.
"Art school is so expensive, so it was great to know all that work in high school paid off. Otherwise, I wouldn't have ended up going to this school," says Francis, who admits she sold four pieces at her Gallery HTL3 show.
Francis also applied to art schools in New York City, Columbus, Ohio, and Milwaukee, Wis. But she eventually picked Boston after she "fell in love with the photo department" during a campus visit.
"It's real experimental and up-and-coming, and they encourage the different aspects I'm interested in now. Since I've been leaning more toward multimedia lately, they're a lot more friendly to that mindset in experimentation," she says.
Although initially known for her painting and drawing — she was a finalist in the "Kansans ... As Talented As You Think!" competition as a sophomore — Francis started to delve into photography since being introduced to it two years ago by LHS art teacher Angelia Perkins.
So does she approach a paintbrush and a camera with the same aesthetic eye?
Francis says, "I think I do. I haven't straight-up painted in so long. It's always a combination of things. It's always with the same artistic mindset."
In addition to the camera introduction, Francis says Perkins stressed an invaluable aspect of the art world.
"She taught me how to talk about what you do or write about what you do, which is so important in order for you to be able to continue this in college. She made it more tangible rather than, 'Oh, this is pretty.' It has to mean something more than that. And you have to explain it," she says.
Raised with art
The oldest sibling in her family, Francis took to creating art immediately.
"I had an art table since before I could walk. It's always been a part of my household," she says, speaking from the apartment-like space above her parents' garage that she utilized as a working art space throughout high school.
The walls of the stairwell are covered with the new pieces created since graduating early, from self-portrait photos to mixed-media collages.
A Texas native who moved to Lawrence at age 6, Francis was raised by her American artist mom and British soccer player dad (who now coaches the Kansas University women's soccer team). The fostering of art and sport was always present in her household.
"Even though the rest of my family is super-athletic, I'm sure not any good at soccer," she says, laughing. "I've tried pursuing other things, but (art) has always been the consistency since the beginning."
Francis plans on also minoring in sociology or women's studies this year at Boston. Beyond that, she's not sure where her art trek will lead.
She says, "I'm hoping that playing around with so many different aspects of photo next year is going to help me figure it out. ... Art is definitely going to have something to do with what I end up doing, but I just don't know what."