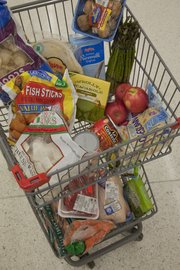 Eating cheap
What it looks like to eat on the cheap
An sample menu from Lawrence coupon expert Jenn Hethcoat at SuperJenn.com. Here's what Hethcoat, who strives to spend $50 per week on groceries for her family of 5, had planned for dinner the week of March 21 to 27, 2010:
Sunday: Leftovers
Monday: Roast, red potatoes, carrots, homemade dinner rolls
Tuesday: Ravioli lasagna, homemade French bread.
Wednesday: French dip sandwiches, broccoli and cheese
Thursday: Chicken Tetrazzini, asparagus
Friday: Fish stick tacos, chips and guacamole
Saturday: Date night for the parents, leftovers for the kids.
Her shopping list:
• Asparagus
• Cole slaw mix
• Mushrooms
• Apples (for a later apple crisp)
• Tortillas
• Chips
• Guacamole
• Rice milk
• Ravioli
• Fish sticks
• Adobo peppers
• Orange juice
Notes: Monday's roast was made from venison already on hand in the freezer, and the carrots and potatoes were already purchased. Wednesday's sandwiches are made using left over venison roast, and the broccoli and cheese is on hand from a recent sale. Thursday's chicken is on-hand and frozen.
How much do you spend on groceries each week? $100? $150? $200?
Ever spend just $68.88 for the entire week? How about that amount for a family of four? That's $17.22 to cover 21 meals per person.
Seem like a tough task? That's reality for more than 38 million Americans on the federal Supplemental Nutrition Assistance Program, also know as food stamps.
That amount, $68.88, was the national average assistance for a family of four enrolled in the program at the end of 2009. In Kansas and Douglas County that number is almost doubled, says Michelle Ponce, director of communications for Kansas SRS. She says the numbers for April 2010 indicate that the average four-person household in the state receives $117.45 and families in the county see a smidge more at $118.73 per week.
Still, not very much to bring home the bacon.
Of course, food stamps are meant to supplement a shopper's food budget, not be the sum of it. That said, local coupon expert Jenn Hethcoat says it's possible to eat well on a food-stamp budget.
In fact, her family of five eats on less than half the Kansas average and almost $20 less than the national number.
"When I started couponing two years ago, my family spent $900 a month on groceries. And now we spend $300," says Hethcoat, who blogs and writes about coupons as half of the Journal-World's Shop Talk team. "It cut back pretty quickly, but I'd say it took me a full year to get down to be able to spend $50 in a week."
Hethcoat says that with a little willpower and skill, it's possible for anyone to eat well on the amount doled out by food assistance programs or even less. Here are some tips:
Plan, plan, plan. This is the cornerstone of Hethcoat's money-saving method and is something she suggests anyone should implement, limited grocery budget or no. She plans dinner seven days a week and even breakfast, lunch and dinner on the weekends.
"Just sit down and make menus," Hethcoat says. "Look around the house and see what you have, make menus for the next two weeks, and then you have a game plan to go off of."
Try cooking from scratch, but cook what you know. It's both healthier and more economical to buy ingredients rather than processed foods or whole meals. Bulk rice and fresh veggies are always going to be cheaper per meal than a frozen, processed rice bowl.
That said, one of the big mistakes new home chefs often make is gathering a lot of new recipes filled with ingredients they don't have on hand, Hethcoat says. And that's a recipe for a huge grocery bill.
"Go with what you know," she says. "And if you see all these neat things you want to try, try one a week. And don't make it anything extravagant."
Avoid unnecessary calories. Linda Rippetoe is a registered dietitian with the Lawrence-Douglas County Health Department who works with mothers in the county's WIC program. Many of the women receiving WIC benefits are also on food stamps and will often be on a strict grocery budget. Because of this, Rippetoe and WIC advisers often recommend cutting excessive items.
"If their child is drinking a lot of juice or a lot of milk, we tell them, 'You really don't need to be buying that much milk, you can cut down and save that for some other choices in the food budget,'" she says.
Let nothing go to waste. One of the benefits of planning is the chance to schedule meals that use similar ingredients so that nothing goes bad waiting to be used up, Hethcoat says.
"Plan your menus and look at what your ingredients are and plan your next week's menus, so that they kind of correspond," Hethcoat says. "So, if you're (making) something that only uses half a can of something or half a carton of cheese or whatever, then you can utilize that right away instead of buying more for something else later."
Another tip for avoiding waste? Buy frozen veggies rather than canned or fresh, Rippetoe says. That way, there's no stress stemming from needing to finish up what wasn't used.
Have leftovers? Hethcoat recommends planning for a stir-fry or casserole that utilizes what you have already prepared.
Take a calculator. Bring a calculator to the store, but don't start adding up your purchases. Rather, start with your budget as a baseline and work your way down to zero. Hethcoat says that way you'll be much more discriminatory with your purchases.
Another use for the calculator is sitting down with your grocery bill and list after a shopping trip. Add up every item that wasn't on your original grocery list, and it'll be easier to stick to your list the next time after seeing what straying will cost you, Hethcoat says.
And don't fret about the about money you're not spending — just because your grocery bill isn't huge doesn't mean it's any less nutritionally sound, assures Hethcoat.
"We eat better than we did before," she says.
The Associated Press contributed to this story.