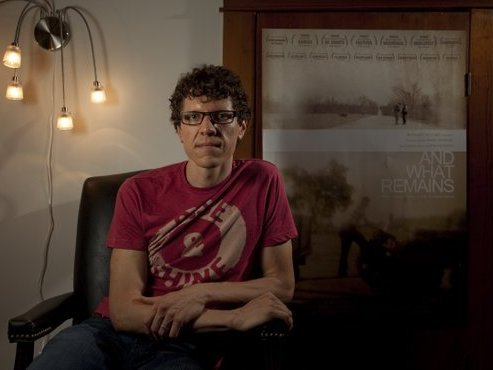 Past Event
Friday, June 18, 2010, 7 p.m.
Oread, 1200 Oread Ave., Lawrence
12+ / Free
COMPLETE FESTIVAL LISTING
Ballston Spa (Aug. 2010)
Iowa Independent Film Festival (July 2010)
Humboldt Film Festival (April 2010)
WorldFest Houston (April 2010) Winner Platinum Remi
Phoenix (April 2010)
Soul 4 Reel (March 2010)
Fargo (Feb. 2010)
Anchorage Intl Film Festival (Dec. 09)
Damah Japan (Dec. 09)
Myrtle Beach Film Festival (Dec. 09)
Miami Short Film Festival (Nov. 09)
Moving Image Film Festival (Oct. 09)
Hot Springs Documentary Film Festival (Oct. 09)
Redemptive Film Festival (Oct. 09)
Bend Film Festival (Oct. 09)
Damah Film Festival (Oct. 09) Winner Best Film
Raindance Film Festival (Oct. 09)
Edmonton International Film Festival (Oct. 09)
DC Shorts Film Festival (Sept. 09) Winner Festival Director's Choice
Rome International Film Festival (Sept. 09)
Washougal Film Festival (Aug. 09) Winner Best Short Film
EuroAsia Film Festival (June 09)
Breckenridge Film Festival (June 09)
deadCenter Film Festival (June 09)
Gone With The Film Festival (May 09)
Newport Beach Film Festival (April 09)
Indie Spirit Film Festival (April 09)
Florida FIlm Festival (April 09)
Burbank International Film Festival (March 09)
Cleveland International Film Festival (March 09)
San Luis Obispo International Film Festival (March 09)
International Family Film Festival, Los Angeles (Feb. 09)
Sedona International Film Festival (Feb. 09)
Festivus Film Festival (Jan. 09) Winner Best Editing
Tallgrass Film Festival (Oct. 08)
Heartland Film Festival (Oct. 08)
Temecula Valley International Film Festival (Sept. 08)
After dragging the large, flat box up the stairs to his Lawrence office/studio, filmmaker Marc Havener tears into the container.
"Say a prayer," Havener quips as he opens the box, revealing a few hundred "one-sheet" posters.
"Whew. Big relief," he says while proofing the poster details that promote his film "And What Remains."
"You don't see a lot of posters for short films. But you also don't have a lot of short films that people spend four years on."
The time spent on his 10-minute project has paid off critically, commercially and emotionally for Havener. Already having played at more than 40 international film festivals and earned numerous awards, "And What Remains" debuts today in Lawrence with a succession of screenings at The Oread, 1200 Oread Ave. Havener will host a Q&A; after each showing.
"It's a film about the human experience. We all are either a son or daughter, and a lot of us are a father or mother. There's something innate about this experience of connecting with our parents or children and what we are passing on to them," the Wichita native says.
"And What Remains" explores the complexities of a father's relationship with his son while pondering the desire to leave behind something that lasts. It focuses on Rick Cree, a Californian who takes his son to the small Kansas town of Paola, where his late father grew up. Utilizing a unique visual composition that blends panoramic cinematography with Cree's childhood home movies, the project functions as a hybrid of documentary and narrative storytelling.
The basis of the story is culled from Cree's writings, which was then shaped by Havener and his co-writer wife, Jenea, into the structure of the story. The genesis of the collaboration began after a mutual producer friend first introduced Havener to Cree.
"When I came on, my heart was not in this," Havener admits. "I had no idea what I was doing. We didn't have much of a script. It was completely a for-hire job. 'Let's do it and move on.' Then there was a point in the editing room where it grabbed me on an emotional level."
Havener claims that was primarily due to the fact he had become a new father.
"Fatherhood stuff never tugged on me," he says. "Then all the sudden you're a dad, and everything makes you cry. The point where it happened was a few weeks into editing when they delivered the home movie footage. That's when the magic occurred and where it became a universal story. It drew me in, particularly a shot where there's this little boy who is holding up a necktie and looking into the camera kind of longingly. I was like, 'That's my boy.'"
A tricky balance
For a film that could have turned out so personal and internal, "And What Remains" has cultivated a widespread connection.
"Both Marc and I were surprised at the universality of this film," Cree says. "It really touched people on all sides of fatherhood. There is really a deep connection to dads, even if those dads were not very good ones."
Cree, who still lives in Southern California, says he and Havener struck a balance between holding the project loosely enough to allow it to breathe and yet giving it the importance it deserved. He's particularly pleased with the filmmaker's distinctive picture-in-picture approach, which supplies the piece with its characteristic style.
"When you watch the film, look at all the shots of hands, for example," Cree says. "My son, Micah, has hands that move just like my father's, though they never met. Marc found truly beautiful ways to include that kind of detail within the confines of his medium. The story was mine to give, and Marc gave it in a way that I alone could not. My dad would have liked it."
Cree also hopes "And What Remains" represents a significant step in the relationship with his own son.
"I wish I could say that it has made me the perfect father, but it hasn't. I hope because of this process that I am more aware of this fact: Whether I prepare and plan to teach my children, or whether I never say a word to them, I am teaching them. They see and learn from the best and the worst of me," he says.
Hollywood lessons
Posters aren't the only "And What Remains" product Havener is currently wrangling. Promotional activity abounds at his bustling office located at the Art House, 912 Ill., an artist collective that also features a recording studio and gallery workspace.
Two young street teamers spend time addressing packages for the hundreds of DVD orders that have come in. For once, this kind of cinematic groundwork is being conducted by someone other than Havener himself.
The 36-year-old filmmaker spent a decade in Hollywood upon graduating from Kansas University in 1996 with a film degree. Most of it was served as a production assistant on big-budget films. (His office embraces remnants of his PA past — like the $600 chairs he bargained for that functioned as Kennedy-era White House props on the set of "Thirteen Days.")
Despite such glamorous highlights as escorting Jim Carrey to the top of an L.A. high rise for a helipad scene and riding a shuttle boat in the Pacific Ocean to reach the set of "Pirates of the Caribbean," much of it was thankless and unfulfilling.
"I was making no money," he recalls. "And I was still a few hundred days away from being able to join the Directors Guild as a second assistant director. ... I did not want to be managing someone else's movie for the rest of my life. I was ready to make my own movies."
In response, he launched Resonate Pictures and moved back to Kansas.
Yet the return to the Midwest did not come without some emotional wrestling. For one, he didn't want his family — specifically his dad, Ken — to think he'd failed at his Hollywood career.
"Probably the scariest thing to tell your dad is, 'I want to be a filmmaker,'" Havener says.
"But he's been such a supporter of me through this whole thing. ... I remember getting an e-mail when 'And What Remains' won the Damah Film Festival, which came with $5,000 and a trip to Japan. He e-mailed me with five words: 'I'm so proud of you.'"