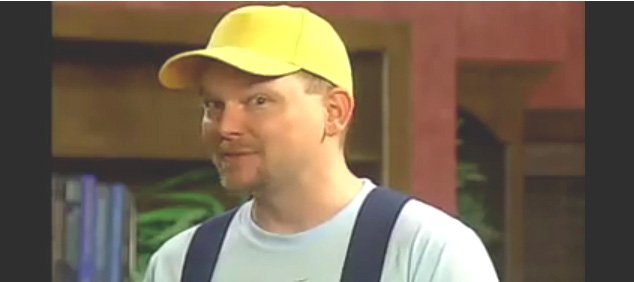 The yo-yo first achieved mass popularity in the 1920s. But the yo-yo prank has only recently begun to enter the public's consciousness.
This is owed to the emergence of a man who usually goes by the name of Kenny "K-Strass" Strasser — or sometimes Karl "K-Strass" Strassburg.
Garbed in a yellow hat, blue suspenders, green shorts and a gray demeanor, K-Strass has made a half-dozen live appearances on regional morning news shows. Usually claiming to be from whatever local area the station he is visiting serves, he gets announced as a "yo-yo expert" and then is interviewed by the chipper host/hosts of the program.
These interviews do not go well.
Frequently, K-Strass spends more time rambling on about his family problems or complaining about how he's been banned from working with children.
During an appearance on WSAW's "Sunrise 7" in Wisconsin, Strasser opens the interview by answering how he got started as a yo-yo master: "Honestly, I'm a 35-year-old kid at heart. I'm twice divorced. I have no kids. Don't have a girlfriend. Don't want one."
Then he's interrupted by his cell phone, and he actually TAKES THE CALL.
The station decides to cut to a commercial during this painful derailment, and then — astonishingly — comes back to him again in the studio.
The increasingly flustered young female host asks, "How often do you actually mess around with your yo-yo?"
"Honestly, not that much," he explains.
Just when the interviewer can suffer no more of this clumsy banter, she gives the man room to do what he came to do. But similar to Albert Brooks' classic sketch involving a shadow puppeteer who must perform with a broken hand ("Now here's a bunny hiding behind a rock."), K-Strass never manages to deliver an actual yo-yo trick.
Sure, he's got a yo-yo. But as the morning hosts discover on KQTV's "Hometown This Morning" in St. Joseph, Mo., perhaps it's better if he doesn't try and use it.
On this particular appearance, Strasser explains he will demonstrate a new trick he named after the station, although he gets the station's call letters wrong. Then his display kicks off with him accidentally smacking himself in the chin, followed by a shot to his groin.
This is nothing compared to the awesome spectacle he puts on with four yo-yos at a time for Action 12's "Good Morning Four States" show in Joplin, Mo. (Oh, those gullible Missouri journalists.)
Here, his trick consists of spinning in a circle while swinging a tangled quartet of yo-yos around his head like a tetherball wrapping around a pole. K-Strass eventually falls down, then apologizes because he "got dizzy."
It takes surprisingly long before the cast and crew of these stations realize they're either sharing a studio with an escaped mental patient or they've been conned by a Borat-like jokester. Or maybe the stations simply don't care what goes on as long as they fill up their allotted timeslots.
So far, no one has been able to determine the identity of this man, even though he's got a website devoted to him. If he seems vaguely familiar, it's because his outfit, demeanor and Northern accent is reminiscent of the character named Gavin popularized by comedian Bruce McCulloch on the old HBO series "The Kids in the Hall." Like K-Strass, he boasted things he couldn't deliver and was prone to incessant rambling.
Hard to say how long this enigmatic personality can keep up the charade. Remember what happened to Borat: The more successful he got, the more impossible it was for him to continue. In the pre-Internet days, K-Strass could likely have hit all 50 states without anyone catching on. But YouTube and Funny or Die are already outing him to millions of viewers.
Now the only people who won't be in on the gag are those without a computer. Fortunately for this yo-yo champ, that's the same demographic who still watches local morning news shows.
— Entertainment editor Jon Niccum explores facets of pop culture that have established a unique niche on the Internet. He can be reached at 832-7178.