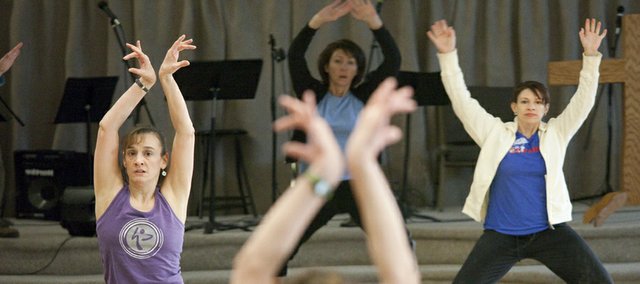 Zumba has helped Amy Ash put diabetes in abeyance, lose weight and embark on a third career path.
Like many women, Ash gained weight with two pregnancies, and, despite dieting, walking and running couldn't seem to shift the extra pounds. During a routine medical visit three years ago she learned she was pre-diabetic and needed medication.
"I didn't want to start medication at age 38," she explains.
"I told the doctor I'd control it through weight loss and exercise. She agreed to let me try for six months."
Ash started Zumba classes, attended Weight Watchers, lost 20 pounds, and her blood sugar has remained within normal range since.
"When I started Zumba classes I realized how much I'd missed the joy of dancing I'd experienced as a child and teenager," Ash says.
"I discovered a huge part of me had been lying dormant for years while I was getting an education, working and starting a family."
Ash, born in Topeka, graduated from Kansas University with a Bachelor of Arts in journalism in 1988 and a law degree in 1991. She worked at the Revisor of Statutes office in Topeka, then moved to Washington, D.C., with her attorney husband, Greg, and worked at a congressional office on Capitol Hill. They missed Kansas and returned to Lawrence in 1993, and she worked at KU's Beach Center on Disability. Her job involved mostly legal research and writing, but she loved talking with parents who struggled to get educational or social services for their children.
"I enjoyed helping parents more than doing the research," she says. "I decided to return to school part-time to get my master's in social work with an emphasis on children and families."
When her first daughter was born shortly after graduation, Ash became a stay-at-home mom for two years. She then worked part-time for Kansas Children's Service League until her second child was born in 2003, six weeks before the untimely death of her father, James Buchele, a Topeka district court judge.
During this stressful period Ash's extra weight refused to budge until she started Zumba. Within a few years, she'd memorized most of the choreography and thought she'd like to teach it. In early 2008 she attended instructor training in Lincoln, Neb.
"I was extremely nervous and afraid I'd be the oldest person there and the only mom," she recalls.
"I needn't have worried. There were people from every life stage. I came away from the workshop awed by how much I had to learn and excited by the challenge of trying something new," Ash says.
She is licensed to teach Zumbatomic for kids and Zumba toning, teaches a Zumba Power lunch class for Lawrence Parks and Recreation, leads classes at Lawrence Gymnastic Academy's Dance and Cheer Studio and attends national Zumba conventions.
"I love sharing the joy of music and dance with others," Ash says.
"It's a beautiful thing to watch students have fun and improve their fitness. I enjoy helping people reach their goals, whether they want to lose weight, get healthier or just have some time for themselves and relieve stress."