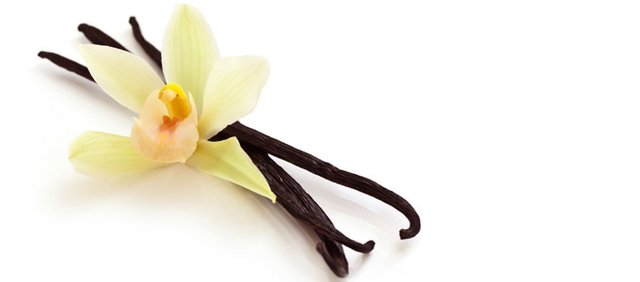 We all know that real stuff just tastes better.
The examples are endless in any grocery aisle: butter vs. margarine, real bacon vs. the turkey kind, homemade cookies vs. fat-free "cookies."
Why should spices be any different? It shouldn't.
And therein lies the case for the vanilla bean.
"Vanilla bean" is not just something that appears on the carton of higher-end ice creams or in the name of particularly pungent body lotions — it's a real, bona fide ingredient, and it can add more flavor than your run-of-the-mill imitation extract will ever know.
"Using real vanilla is a unique experience because the bean is the most sophisticated food in the world," says Brett Beach, Lawrence native and co-owner of Madécasse, a vanilla and chocolate producer. "Natural vanilla has up to 500 natural compounds, many of which science has not been able to identify. The captivating aroma of natural vanilla cannot be replicated by using a synthetic product."
What do I do with ...
Got a food that intimidates you? We'd love to hear what foods you'd like to know more about. E-mail Sarah Henning at shenning@ljworld.com.
Next food up? Jicama
Using the real bean can elevate a dish to the next level, says Marcelo Gonzalez, pastry chef SaraBeth's Bakery in New York City. In fact, Gonzalez can't think of a dessert he makes without the beans, which he gets from Beach at Madécasse.
"Wow, I make almost everything with it," he says before launching into a long list of puddings, fillings, cakes, cookies and other desserts. "It looks beautiful and gives more flavor to (the dessert)."
Rick Martin, head chef at Free State Brewing Co., says the restaurant makes its own vanilla extract out of Madécasse's beans and uses the resulting liquid to enhance its desserts and sometimes even savory dishes.
"Most do not realize that it is much more economical to make your own vanilla extract, and the flavor is far superior," Martin says. "We use three split vanilla beans and one 750 milliliter bottle of McCormick Rum for our extract."
Similarly, Sula Teller, director of food services at The Community Mercantile, 901 S. Iowa, says the store's in-house chefs use beans to make their own extract with Kansas vodka and add the seeds to several of its creations.
"We use the pure vanilla bean pulp where we will make the greatest difference in flavor — shortbread cookies, custards, delicate cakes or perhaps a lemon-vanilla pound cake," Teller says. "Other times, we make vanilla sugar or we make our own vanilla extract to use in cookies, baked fruit, chocolate cake, carrot cake and in pies or muffins. Our chef might use vanilla beans and a fortified wine or spirit (bourbon) to make a sauce or marinade for a holiday or special event dinner."
Teller says that by buying raw ingredients, the Merc is able to assure the standard of its bakery products right down to the smallest of additions.
"Buying and using whole vanilla beans allows us to control the quality in every way — we know that we are purchasing fair-traded beans, we know that we are using a quality vodka or brandy to make our own extract, and we can use every bit of the beans when we use the pods to make vanilla sugar," Teller says.
Home cooks can use the bean just as expertly as any of these professional chefs. Making extract is easy, as is simply splitting a bean, retrieving the seeds, and using them to impart flavor and a real vanilla look — aka visible flecks of seeds — in baked goods, sauces and, of course, homemade ice creams. The resulting pod can also be cut up and used to flavor creme brulee, sauces or shakes.
It may sound like a lot of work, but Teller says it's completely worth it.
"Vanilla lifts and rounds and mellows the flavors of other ingredients — chocolate seems brighter and richer with vanilla, eggs take on a mellower flavor. Pears roasted with Marsala wine and whole vanilla beans and topped with cream whipped with a little homemade vanilla extract are so delicious and lovely," Teller says. "Using the whole vanilla bean make me feel like smarter cook as I experiment with different liquors for extract and as I roast the empty pods for sugar."
— Staff writer Sarah Henning can be reached at 832-7187.
How to Seed a Vanilla Bean:
Place a bean on a cutting board.
Using a sharp knife, split the bean lengthwise, but try to leave the underside intact.
Run a spoon lengthwise down the seam you just created. The seeds will cling to the spoon as you scrape the length of the pod clean.
Vanilla Bean Facts
What it is: Vanilla beans are actually fruits produced by Vanilla planifolia, the only orchid that produces an edible pod. The pods are harvested green and then fermented and cured to develop their vanillin content, which ups the flavor factor. The result is an oily, brown pod.
How to pick: Choose vanilla beans that are supple, oily and dark in color — avoid those that look brittle or overly dried, says Aliza Green in the "Field Guide to Herbs & Spices." Note that the region where the bean was grown may affect the bean's taste. Bourbon vanilla pods from Madagascar tend to be full-bodied, as do pods from Indonesia. Meanwhile, Mexican vanilla pods have a muted, woody flavor, and Tahitian vanilla beans are noted for their fruitiness.
How to store: Vanilla beans should be stored in an air-tight container, out of the light and in a cool place. Brett Beach, co-founder of vanilla producer Madecasse, says that when stored properly, beans should not dry out and can last up to five years. Should you come across a dried-out bean, Beach says the pod can be rehydrated by putting it in a bit of rum.
Recipes
Vanilla Extract
1 cup of 80 Proof vodka
For 1X strength: 6 vanilla beans
For 2X strength: 12 vanilla beans
For 3X strength: 18 vanilla beans
For 4X strength: 24 vanilla beans
1/4 teaspoon corn syrup (optional)
Split the beans with a sharp knife and chop into half-inch pieces. Place vodka, chopped beans and corn syrup in an airtight glass container. Store in an cool place for 3-6 months to allow the extraction to take place. You will have usable extract in about 1 month give or take. Shake the container once a week.
Use the extract in your recipes that call for vanilla but for 2X use 1/2 of the recipe amount, 3X use 1/3 of the recipe amount and for 4X use 1/4 of the recipe the amount.
— Recipe from the Boston Vanilla Bean Company, www.bostonvanillabean.com
Vanilla Sugar
1 cup sugar
1-2 vanilla beans
Place the beans in the sugar in a sealed container for 2 weeks or more.
— Recipe from the Boston Vanilla Bean Company, www.bostonvanillabean.com
Shrimp with Coconut Vanilla Sauce
2 pounds of medium to large shrimp
2 tablespoons olive oil
1/2 cup dark rum
1 cup heavy cream
1 vanilla bean, sliced open lengthways
3/4 cup coconut milk
Salt, to taste
Freshly ground pepper, to taste
Lemon wedges, for garnish
Parsley, for garnish
Peel and clean shrimp, keeping tails on. Heat the olive oil in a frying pan or wok. Saute the shrimp for two to three minutes and or until they have turned pink. Remove them from the pan and set aside. Remove the balance of olive oil from pan.
Add rum and the vanilla bean to the frying pan and reduce the rum until it is nearly evaporated (down to about 2 tablespoons). Add the cream and coconut milk, and reduce the mixture by 50 percent. Scrape seeds out of the vanilla pod and discard pod. Add salt and pepper to taste.
Shrimp can either be mixed into the sauce and served or mounded on a rice pilaf and the sauce poured over all. Garnish with lemon wedges and parsley.
— Recipe from www.vanilla.com.
Fish with Tahitian Vanilla Sauce
4 fillets of seabass (Tuna or Mahi Mahi)
1 shallot
1 cup heavy cream
Butter
1 glass of dry white wine
1 teaspoon beef bouillon
2 teaspoons of vanilla extract
Salt
Pepper
In a pan, lightly fry the fish fillets in butter until golden brown. Remove fish from pan and keep warm.
Lightly sauté shallots in pan with butter (without browning). Next, add two teaspoons of vanilla extract. Promptly add one teaspoon of beef bouillon and glass of white wine. Stir until dissolved. Slowly mix in cream, salt and pepper
Finally, add the already fried fish fillets into the cream sauce and sauté on a low flame for 3 to 4 minutes.
Serve with hot (jasmine) rice.
— Recipe from www.vanillafromtahiti.com.
Old Fashioned Vanilla Ice Cream
3/4 cup sugar
4 1/2 teaspoons flour
1/8 teaspoon salt
1 1/4 cup milk
1 cup whipping cream
1 beaten egg
1/2 to 1 whole vanilla bean, to taste
Combine sugar flour and salt in sauce pan. Gradually stir in milk.
Split the vanilla bean in half and remove the seeds with the edge of a paring knife. Add seeds and bean to the mixture.
Cook over medium heat approximately 15 minutes or until thickened, stirring constantly. Gradually stir about 1 cup of hot mixture into the beaten egg. Add egg mixture to the remaining hot mixture, stirring constantly. Cook 1 minute, remove from heat.
Refrigerate for 2 hours. Remove bean pod. Combine whipping cream and chilled mixture, stirring with a wire whisk to combine. Freeze as directed in your ice cream maker directions.
— Recipe from the Boston Vanilla Bean Company, www.bostonvanillabean.com.
Mango and Vanilla Bean Jam
3 large mangoes, peeled
1/4 cup fresh lemon juice
1-1/4 cups white sugar
2 vanilla beans, split lengthways
Cut mango flesh from stones and roughly chop. Place into a large, heat-proof microwave-safe bowl or jug with lemon juice and sugar. Stir well to combine. Scrape seeds from vanilla beans. Add seeds and pods to mango mixture.
Microwave, uncovered, for 35 to 40 minutes on high power, stirring every 10 minutes.
Remove jam from microwave and stand for 10 minutes. Remove vanilla pods. Ladle hot jam into hot sterilized jars. Seal and turn upside down for 2 minutes. Turn upright and allow to cool.
Label jars and store in a cool, dark place for up to 3 months. Once opened, store in fridge for up to 4 months.
— Recipe by Janelle Bloom for www.vanilla.com.