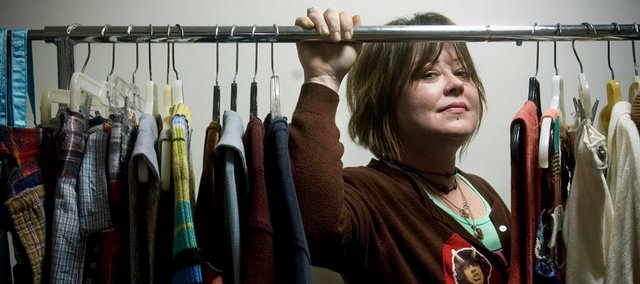 The Lawrence Spring Arts and Crafts Fest
• 9a.m. to 4 p.m. Saturday, March 6, at the Douglas County 4-H Fairgrounds, Building 21.
• The event, sponsored by the Lawrence Parks and Recreation Department, will feature 80 booths with artists displaying and selling a wide variety of arts and crafts.
• The free show draws 4,000 to 5,000 attendees every year.
• For more information, contact Duane Peterson at 832-7940, or at dpeterson@ci.lawrence.ku.us.
What can you make with an old license plate?
Lawrence artist Loni Hosking has found several ways to turn the seemingly useless metal plates into bracelets, earrings, and even purses.
The accessories are just a few examples of the "eco-art" that Hosking will display at Saturday's Spring Arts and Crafts Fest at the Douglas County 4-H Fairgrounds.
Hosking has been creating her unique artwork for several years using entirely recycled materials, anything from old ties that she turns into skirts, to old rubber tires she makes into purses.
"I just try to recycle anything I can get my hands on," Hosking said.
Inspired by a desire to make "green" art, Hosking said she strives to make something out of materials others easily discard, such as dresses out of old coffee bags.
"I take it as a challenge," said Hosking, who was inspired to create art at an early age by her mother, who was a fashion designer.
Hosking uses her Lawrence home as her studio and travels the region selling her art at various fairs, as well as marketing her products online.
Hosking said one of her goals with her art is to help others think creatively.
"I think it inspires people," she said. "It gets them thinking outside the box."
More like this story on Lawrence.com