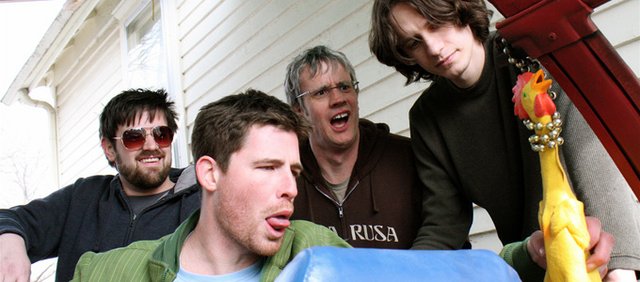 Album Mp3s

Mental Hygiene
Past Event
Friday, March 5, 2010, 10 p.m.
Jazzhaus, 926 1/2 Mass., Lawrence
21+ / $4
Audio clip
Tommy Dimmel shares his theory on how Cosmopolitics are pushing the evolutionary envelope
During his weekly dinners at Ixtapa, Luke Stone developed a curious habit.
The Lawrence drummer made it a custom to pick up two Britney Spears stickers from a vending machine on the way out the door. He put them on his practice pad at home, inspiring him to practice his rudiments.
"She's a big influence of mine — physically," Stone says. "Is that weird?"
Musicians like Stone — who spend hours and hours woodshedding each day — have a unique distaste for pop stars like Spears. The floozy who spends more time shopping than rehearsing gets the fame and fortune, while the guy who's mastered his instrument plugs away in his small college town for audiences who can't figure out how to dance to his mathematically complex beats.
Stone's band, Cosmopolitics, fits the profile of the latter. But while his group may be small potatoes in the national sense, it's connecting with local listeners like Tommy Dimmel in a cosmic sense.
"They're one of the best bands in the country right now," says Dimmel, a friend of the group who plays drums for the Brody Buster Band.
"When people are (at their shows) and they get it, it's one of those sort of magical evenings. Somehow the intention behind their music produces certain sonic vibrations which act as catalysts to chemicals inside people's brains and they start firing off neurons and tryptamine compounds and whatnot."
Dimmel says he considers Cosmopolitics "important players in the game of evolution." He attends the group's shows faithfully and praises its ability to push boundaries, even going so far as to say that he's "robbing musicians like the Cosmopolitics" by playing in a workaday blues band.
"I'm under the suspicion that we're living in a period of history that requires that people do things that have meaning of some type," Dimmel says. "I see the Britney Spears-type of stuff as what the CIA would have called 'useful idiots.'"
Not noodling around
Like their prog-rock forbearers in the '70s, Cosmopolitics' sole intent is to make music that blows minds. It's an endeavor that's fraught with challenges, perhaps none more so than getting people to dance in time signatures with 13 beats. Then again, people don't go to a King Crimson concert to get their groove on, so maybe there's hope yet.
Cosmopolitics' new disc, "Mental Hygiene," lives up to its title with a brain-flossing brand of instrumental fusion-rock inspired by acts such as Yes, Rush, Mr. Bungle and Genesis.
Just don't call Cosmopolitics a "jam band."
"Don't ever even mention Phish and our band in the same sentence," Stone asserts, shortly before revealing that he spent 12 years of his life obsessed with the band.
"If you compare yourself to Phish as a band, you're a nerd, and you need to go home."
In many ways, Stone is a musician defined by his contradictions. He loves Phish, but he wants no part of the hippie dippy noodle-jam scene. He hates the idea of "jam" bands, but he recognizes that those are the people who come to his shows.
"Your audience defines you as a jam band," Stone says. "If you have a lot of hippies at your show, you're a jam band. I'd say we're in the jam scene, but we're not a jam band. Our music is too composed."
Cosmopolitics' chartable compositions stem from the brain of bandleader Matt Gader. An equally accomplished drummer and guitarist, Gader is a prolific riff-machine who thinks in complex meters and three-part movements. His favorite Phish songs are 15 minutes long, and he's the proud owner of a potent collection of Steve Vai DVDs.
"I see the world of progressive rock as unlimited," says Gader, who plays guitar for Cosmopolitics and drums for Sonic Sutra. "I never think that there's nothing new you can write, because you can take it in so many directions."
Sober, clothed, more productive
With bassist Andy Kroeker and keyboardist Ken Lovern helping Gader realize his wildest musical fantasies, the Cosmopolitics bandwagon has been rolling for nearly five years now. The group has toured in Colorado and California, but its most memorable show occurred three years ago in its own backyard.
Booked for a prime 2 a.m. appearance at the Wakarusa Music Festival, the group was informed shortly before midnight that the music was being shut down due to curfew. So Cosmopolitics promptly did what any resourceful and slightly intoxicated festival act would do: The members stole a generator and set up shop in the campgrounds.
"We had at least 200 people circled around us," Stone recalls. "We've played for people in California that are like, 'Dude, we saw you set up in the campground at Wakarusa.'"
The show ended around 4 a.m. — approximately the time when a caravan of nudists joined the party.
"The sausage fest pulled into the station and then we left," Kroeker recalls. "I had checked out long before then. We got pictures, so I know it happened."
That experience aside, Cosmopolitics typically performs in a much more sober state.
Past Event
Thursday, March 11, 2010, 10 p.m.
Jazzhaus, 926 1/2 Mass., Lawrence
21+ / $5
"You can get a buzz on, but you don't want to be hammered," says Lovern, who also plays in Ken Lovern's OJT, a local organ-jazz trio. "Learning to feel those weird time signatures naturally has been one of the most exciting things about this band for me. At some point they all start to feel just like music. Some take longer than others."
Each member of Cosmopolitics dabbles in numerous projects. Lovern and Stone recently teamed up to form Sequel (a tribute to Medeski, Martin and Wood), and Stone is firing up an old-school funk band called Fuzz Nasty.
Rest assured that neither will be performing Britney Spears songs.