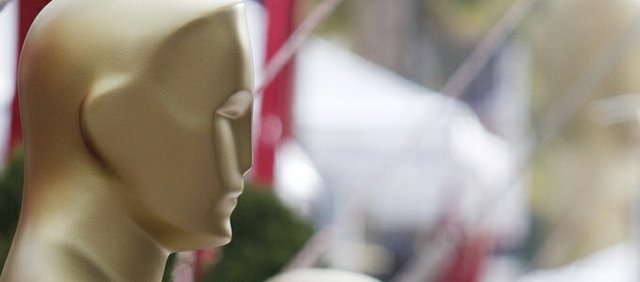 For some, watching the Super Bowl or the Olympics or even the presidential election pales in comparison.
That's because the Academy Awards are still the ultimate touchstone for drama and glamour, sentiment and lunacy.
Routinely among the most-watched live events in the world, the Oscars telecast (at 7 p.m. Sunday on ABC) is considered by many to be the most revered night of viewing television has to offer all year. And it's a great excuse to throw a party.
"We looked up the Oscars date six months ago, and we've been talking about it ever since," Carley McGinnis says.
"I like all the glamour, the dresses. It's an event - almost an all-day event."
The Lawrence resident and 2006 Kansas University journalism grad is preparing to host her sixth annual Oscars party. In addition to the customary food, drinks and Oscar-pool gambling, McGinnis hopes to add a new twist to this year's event.
"We always want to dress up, but we always end up going casual," she says. "Everyone sitting on a couch doesn't necessarily make for good dress-up time."
McGinnis is one of the Journal-World readers who responded to our blurb inquiring about tips for throwing a sensational Academy Awards party despite being 1,323 miles removed from Hollywood.
"Three things are essential to hosting an Oscar-worthy Oscars party," explains Robert Bishop.
"First, set up an Oscars pool to build some tension throughout the night. Nothing builds tension like the chance to win some cash. Second, have guests bring themed snacks. Some of the ones we're proud of from recent years include 'Atonemint' Mint Chocolate Chip Cookies, and President Richard Nixon's Im-Peach-Ment Bruschetta for 'Frost/Nixon.' Third, you need at least one person with terrible taste in movies that you can mock relentlessly. This year, that person will be the one that is rooting for 'The Blind Side.'"
Edgy folks
While themes and props can add to the entertainment, personalities seem to be the most valuable Oscars party commodity.
"You gotta have cynical people," says Jacki Becker, who alternates between hosting her own viewing shindig in Lawrence each year and attending someone else's.
"People willing to scream at the TV, laugh at the fashion, make fun of the lack of humor that often accompanies a bad host of the event (on TV). Much of this can be propagated via good food and plenty of drink, to make all a bit more randy when it comes to judging those who act."
Becker believes the success of the party is often dependent on the quality of the broadcast.
"A bad host can ruin the Oscars. I mean David Letterman, just not that funny when he isn't behind his desk. A bad opening montage can also ruin an Oscars party. So can bad, bad, bad, song and dance numbers," she says.
Bishop disagrees as to the impact of the show's host - or in the case of this year's awards, co-hosts (Steve Martin and Alec Baldwin).
"A bad Oscars host can't ruin a party," he says. "In fact, if your guests unite for some good old-fashioned heckling, that might make your party even better. Whoopi Goldberg? Bring it on! The death of an Oscars party is a mediocre host, because that's where it gets boring. I'm looking at you, Billy Crystal."
Highs and lows
Certain Oscars years become more remembered for the low points during telecasts: the streaker, the Rob Lowe/Snow White musical number, Marlon Brando's boycott fiasco, "Driving Miss Daisy."
But the show has also yielded its share of amazing moments, often best shared with company.
Becker claims her favorite Oscars memory involves the late indie musician Elliott Smith performing his theme to "Good Will Hunting" flanked by Celine Dion.
"It was just so precious yet so completely and totally awkward," Becker says of the 1998 appearance.
"My favorite moments watching the Oscars, and I feel horrible saying this, are the train wreck reaction shots of devastated losers," Bishop says. "I'm sorry, I mean 'non-winners.' Like when Sam Jackson lost for 'Pulp Fiction.' It's actually really uncool for the director to even cut to them in the first place, but there they are and I can't not look. The best is the glassy-eyed stoicism of Annette Bening, who has lost twice - and lost both times to 'The Next Karate Kid's' Hilary Swank. Bening should win an Oscar for those two performances. If Hilary Swank ever turns up dead, the smart money is on Annette Bening."
Tamara Falicov, chair of KU's film and media studies department, never misses the annual Oscars party she attends with a group of friends. For her, the most powerful viewing moment came courtesy of Halle Berry's speech after being honored as best actress in 2002 for "Monster's Ball."
"She was so passionate in her speech that I just bawled," Falicov recalls. "I couldn't contain myself. We were witnessing a historic moment that was long overdue in our history. Who says that movies don't matter?"
---
Ways to liven up your Oscars party
Need to elevate your Academy Awards viewing party to the next level? Here are a few suggestions:
Red carpet: Literally unfurl a red carpet at the entrance of your home for guests to trod upon. Even better, have homegrown "paparazzi" snapping photos as folks arrive.
Dress code: Just because you're far removed from the Kodak Theatre doesn't mean that renting a tux is out of the question. And if anybody has a spare Vera Wang gown, all the better.
Multiple TVs: If it's a real party, guests are going to naturally migrate to the kitchen, so make sure spare televisions are tuned to the telecast at multiple places in the household. Yes, even in the bathroom.
Themes: You can base the party around one of the nominated pictures. Even if it might be too difficult to duplicate the "Avatar" world of Pandora, perhaps a World War II theme a la "Inglourious Basterds" or an airplane motif in honor of "Up in the Air" could work.
Gambling: Nothing compels people to get more involved in an activity than a friendly wager. But only one ballot per guest, please. That way individuals have to totally commit to a single predicted outcome.
Awards: Present a cheap plastic Oscar or a bottle of pink bubbly to the winner of the pool. Or bestow it upon the best-dressed guest. Whoever wins is obligated to make an acceptance speech.