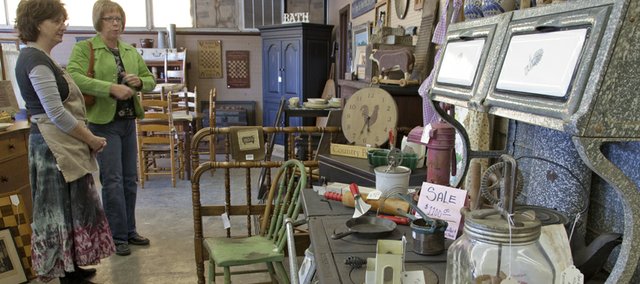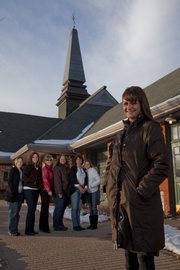 In North Lawrence, you're both in and out of town. The river is a powerful psychological divide.
With its blue collar, live-and-let-live vibe and roomy backyards with abundant vegetable gardens, its biker bars and tattoo parlors, auto shops and endless soundtrack of train whistles, North Lawrence feels like frontier country, a place far removed from the bustle across the river.
While the North Lawrence vibe has long attracted artists and musicians, its housing prices have lately caught the attention of young families and first-time home-buyers. Small businesses, too, are jumping the river for cheaper rent and off-path allure — none more readily, it appears, than the antiques and resale home furnishings trade.
Amy Ballinger was the first to make the leap. In 1998, she opened Amy's Attic, a "gently used" furnishings shop, in an old warehouse at the intersection of Locust and Seventh streets. "I was the only one here for a long time," she says, "but I had plenty of customers."
Blue Heron's return
Ballinger was still the only one when she closed her shop in 2004 to devote time to her family, but the seeds were sown. Today, there are four furnishings stores on Locust: Bebe's Cottage, Locust Street Marketplace, Antiques Plus and the soon-to-be-resurrected Blue Heron, another jumper from downtown.
"The rent's affordable here," says Blue Heron owner Galen Tarman, "and I like the spirit of the place."
Though not a resale store — "It will be a downsized version of what I had downtown," says Tarman — Blue Heron has strong ties to North Lawrence.
"We started out at 500 Locust about 27 years ago," Tarman says, "so it's like coming home."
The new Blue Heron, which will open in April, will have store hours Wednesday through Saturday.
On the east end of Locust, Beth Riddell, a psychotherapist by day, operates her once-a-month furniture boutique, Bebe's Cottage, from a shed in her yard. Riddell and husband Bruce Meyer restore and refinish old wooden furniture — he does the repairs; she does the finishes.
Riddell's monthly openings are popular events. "With my work schedule, once a month is about all I can handle right now," Riddell says. "But lots of people show up. We do pretty well."
Some businesses are planned, and others just happen. For Janette Kroeger, a part-time crossing guard and owner of Antiques Plus, the passion for "picking" started with her famous yard sales.
In 2005, when her stock outgrew her home, Kroeger moved to 642 Locust and became the unofficial booster for the North Lawrence resale community. She notes that the alliance between Locust Street resale shops is a casual one, based more on moral support and shop referrals than advertising schemes and branding strategies.
"Each of the stores has its own specialties," Kroeger says. "When people come looking for something I don't have, I send them to one of the other stores."
Beth Riddell agrees.
"All the antique ladies have different styles and approaches," she says. "We don't step much on each other's toes."
Though each shop is unique in character, the practices are decidedly similar.
For each, their businesses are the results of hobbies grown large. And nearly all take pieces on consignment — they sell your item for a percentage of the price.
And they all report brisk sales — despite, and thanks to, the economy.
Jessica Lusk is the new kid on the block, but her store, Refurniche, at 1845 E. 1450 Road, is a good three miles off the Locust strip. She's part of the community anyway. "Janette and the ladies stopped in just after I opened," Lusk says. "We send each other customers all the time."
Future "antique zone"
Lusk, 23, who graduates Washburn in May with a degree in communications, is a go-getter. "Little wheels are always turning in my head," she says. She visualizes North Lawrence in the future as an "antique zone," and Refurniche, opened in September 2009, as a "modern general store." Along with home furnishings, she also sells heirloom seeds, handmade candles and displays local artists on consignment.
Her first love is rustic furniture — "primitives" in the trade. She hunts for patina, the hand-rubbed shine of longtime use — and prizes pieces with local provenance. Antique pie safes, massive wood-burning stoves and oversized bedsteads vie for attention with bargain-priced sofas, armchairs and dining room sets in her 4,500-square-foot warehouse, formerly home to a boxing gym.
Knowing better than to put all her eggs in one basket, Lusk dedicates a significant amount of floor space to a vintage clothing department owned and operated by her friend Susan Dark, known online as the Vintage Peacock.
Dark specializes in clothing "from the mid-'60s and older," mostly for women. "The textiles, the styles and the quality of workmanship you see in vintage pieces are hard to find today, even in haute couture," Dark says, adding, "I steer clear of most mass-produced things."
With Refurniche bringing the number of North Lawrence resale shops to five, does Kroeger have plans to formalize their alliance? "The more, the merrier," she says. "We'll just keep doing what we're doing. When you start formalizing things, the rules usually get in the way."
And what of Amy Ballinger, the NoLaw resale trailblazer? Well, she's back in the same warehouse, and partnered with another Amy to boot. Ballinger and Amy Mumford, a designer and merchandiser, established Locust Street Marketplace at 700 Locust in 2008.
How do things look now to the one who started it all?
"I'm seeing more and more people coming in from farther away," Ballinger says. "Business is good. The word is out. I think we're on the right path."