Originally published March 9, 2010 at midnight, updated March 9, 2010 at 10:50 a.m.
Wild Party Patrol complaints
Lincoln police say the number of party disturbances they've responded to the last several years has gradually decreased. They say it's a direct result of the Lincoln community's approach to combating high-risk drinking among college students.
2005: 1,862
2006: 1,813
2007: 1,479
2008: 1,238
2009: 1,061
Source: Lincoln Police Department
Document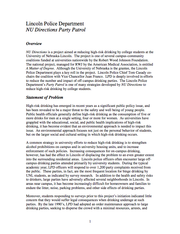 Lincoln, Neb. — As soon as Jason Goodwin gets out of his car and starts walking down O Street, he becomes an instant magnet for inebriated college students wanting to put their arms around him and ask him silly questions.
"Order, maintenance and advice," the Lincoln police sergeant explained about his typical night on the job.
On a recent Friday night, Goodwin and several other officers played along with the crowd in the two-block bar district in this capital city that is home to University of Nebraska-Lincoln. It's a routine repeated weekend night after weekend night.
The Lincoln officers' presence is a reminder that anyone participating in or contributing to illegal drinking activity will be held accountable.
"The climate has changed quite a bit in Lincoln in the past 10 to 12 years," said Tom Casady, Lincoln police chief. "We've had a turnaround that has saved lives."
The college town environment is different here in Lincoln, as there are rules and serious consequences for just about everything regarding high-risk drinking.
Along with a greater police presence in the bar district, drinking is not allowed on campus or in fraternities and sororities. Landlords and police have cracked down on out-of-control house parties. And bar owners work closely with police to ensure patrons' safety.
All the efforts have generated an environment in Lincoln that community leaders claim is leading to less binge drinking among college-age students in the city.
Bar checks commonplace
A sound of thumping came from the back room of Woody's Pub on O Street, where a crowd of older students was passing time throwing bean bags back and forth at a target. In the main bar area, two bartenders tripped over each other while pouring beer after beer, shot after shot, and mixed drink after mixed drink.
Suddenly, officer Ben Seeman walked through the front door in his black police coat with reflective police lettering. In some communities, his presence would be a sure sign that something was wrong or someone was in trouble. But here, the game of Baggo continued and the servers hardly flinched.
In random bar checks that have become commonplace in downtown Lincoln, Seeman was conducting serious business. Officers routinely patrol the inside of the city's drinking establishments to ensure liquor isn't being served to anyone who's underage or someone who's already intoxicated. If so, the bar can receive a citation, known as a tavern violation.
The frequent bar checks, which occur two to three times a week, keep bar owners on their toes. They know the only way to avoid trouble is by following the rules, checking IDs closely and monitoring how intoxicated their patrons become.
No Animal House here
In the stereotypical Greek culture, a visitor to a fraternity house might expect to be greeted by empty beer or liquor bottles, and sticky floors. But at UNL's Sigma Phi Epsilon fraternity house, a soup bowl sitting on a table was about the only thing out of place.
Fraternity members take pride in the cleanliness of their home and they attribute it to a long-standing rule at UNL. There's a no-tolerance policy for drinking in the 32 Greek living units that sit in the middle of campus. Even though the houses are privately owned and are on private property, the Greek community has agreed to follow the same alcohol-free policies enforced on campus.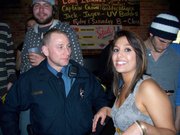 Violators can be expelled from school.
"The overall atmosphere, you can tell, is affected by that," said Matt Pederson, UNL senior and Sigma Phi Epsilon member. "This isn't an animal house; we're not 'those guys.'"
Some fraternity and sorority members in Lincoln simply move their partying elsewhere, but even then they face big risks. Partying in an off-campus rental house can have major consequences, including eviction, fines, jail time and even embarrassment, as the police give violators' names to the media for public distribution.
Though high-risk drinking hasn't been eliminated in Lincoln, there are safety mechanisms in place and stiff ramifications for doing so illegally.
Community leaders say their efforts have made a big difference in curbing drinking problems among students and associated crime, including fights, rapes, vandalism, property damage and home invasion robberies.
Officials boast about statistics showing that the binge rate among college students has decreased, from 62 percent of the student body in 1997 to 45 percent in 2008, and the number of wild party complaints has gone down significantly, making neighborhoods safer and residents happier.
"Although we still have plenty of problems, we have been one of the very few places in the country where you've seen a reduction in high-risk drinking rates by college-age young people," Casady said.